Number of far-right referrals to counter-extremism programme Prevent rockets 36% in a year
Islamist referrals fall by 14% in 2017-18 as security services warn of shifting threat to UK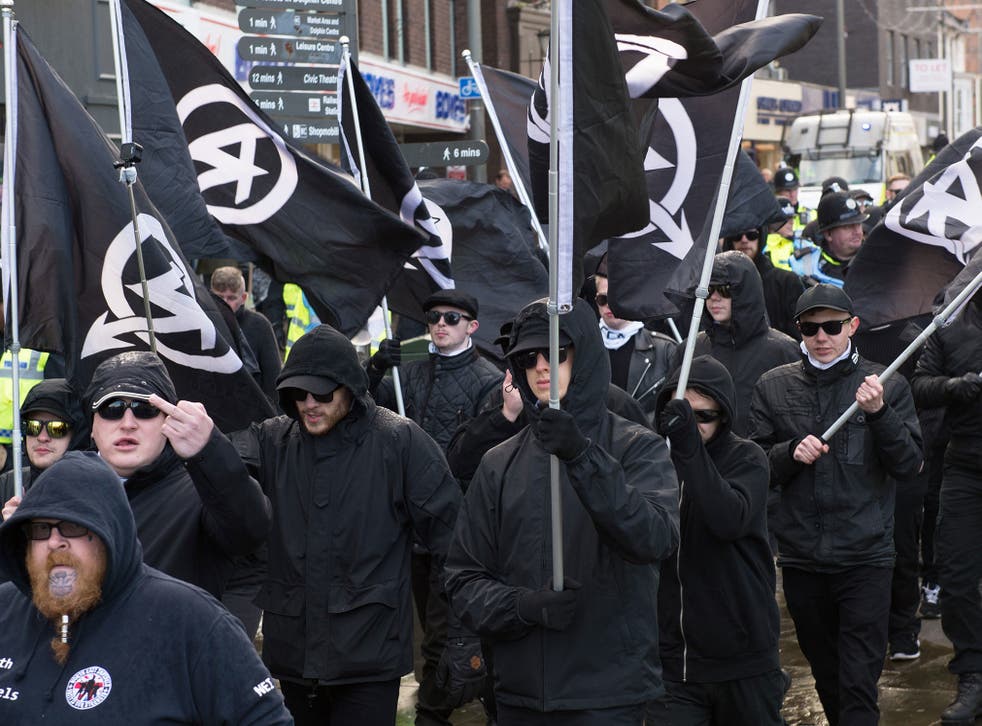 The number of people referred to the Prevent counter-extremism programme over suspected far-right extremism has rocketed by 36 per cent in a year.
Referrals over Islamist extremism fell by 14 per cent in the same period, new Home Office figures show.
Officials said the number of suspected far-right extremists had been rising since 2015, amid increasing awareness of the threat posed by groups like banned neo-Nazi group National Action and atrocities including the murder of Jo Cox.
Overall, the number of people flagged to Prevent rose by 20 per cent in 2017-18 to more than 7,300.
In a period that saw four terror attacks in London and Manchester, the alarm was mainly raised by teachers and the police, and 42 per cent of referrals resulted in no action being taken.
Another 40 per cent were signposted to other services, such as mental health, for support and 18 per cent were considered by the counter-radicalisation arm Channel.
"Individuals discussed at a Channel panel with concerns related to right-wing extremism were proportionately more likely to receive Channel support (41 per cent) than those with concerns related to Islamist extremism (27 per cent)," the Home Office said.
"For the first time a similar number of individuals have received Channel support for concerns relating to Islamist (179) and right-wing extremism (174)."
The National Police Chiefs' Council said only 3 per cent of referrals come from friends and family members, and is working to build confidence in the system.
The lead for Prevent, Chief Constable Simon Cole, said that officials "will respond proportionally and with sensitivity".
Number of white people arrested for terror offences outstrip any other single ethnic group, new figures show
"Families and friends are often best placed to spot the changes in a person that could indicate they are being influenced by dangerous radicalisers," he added.
"An early intervention to the many partners that support the Prevent programme could stop someone they care about becoming the subject of one of the 700 investigations counterterror policing is currently managing."
The past year has seen a step-change in the priority given to far-right extremism by the security services, with MI5 taking an intelligence lead on investigations that were previously led to police.
The Independent understands that a turning point came in the meeting of the government's Cobra emergency committee that followed the Finsbury Park terror attack in June 2017.
When Theresa May asked MI5 for their assessment of perpetrator Darren Osborne, who had ploughed a hired van into a Muslim crowd, killing one man, she was said to be surprised as representatives answered that they had no information and he was not their responsibility.
Awareness has been growing over the link between Islamist and far-right extremism, with the head of UK counterterror policing recently warning MPs that both ideologies were "feeding each other".
Metropolitan Police Commissioner Neil Basu said: "The overriding threat to the UK remains from those inspired by Isis and the resurgent al-Qaeda, but our operations reflect a much broader range of dangerous ideologies, including very disturbingly rising extreme right-wing activity."
Of around 700 live terror investigations being carried out by police and MI5, around 80 per cent are currently looking into jihadis and 20 per cent "other", including a "significant proportion from the right wing".
The Home Office has been recruiting more far-right "intervention providers" for Prevent to cope with the increased workload, including former neo-Nazis who can use their experience to help people earlier in the radicalisation process turn away.
In 2017-18, of the 7,318 individuals referred, the vast majority were male (87 per cent) and more than half were aged 20 or under – partly as a result of the reporting duty on the education sector.
The median age of people flagged to Prevent by teachers was just 14, while local authorities were 17, friends and family 22, police 24, the prison and probation service 27, community 28 and health sector 29.
The largest proportion of referrals came from London, followed by the northeast and northwest of England.
Finsbury Park attack

Show all 14
Participation in both the Prevent and Channel programmes is voluntary, and some officials have questioned whether the process should be obligatory after terrorists slipped through the net.
The teenage asylum seeker who attempted to bomb a Tube train at Parsons Green station last September had been referred to Prevent, after telling officials he was trained as an Isis child soldier in Iraq and being caught watching the group's propaganda.
Ahmed Hassan told his college mentor it was his "duty to hate Britain" and she raised the alarm after seeing a WhatsApp message on his phone reading "IS [Islamic State] has accepted your donation".
He was referred to Prevent and a Channel panel formally met to discuss his case nine times between June 2016 and September 2017 but did not request ideological mentoring.
Days before he partially detonated a homemade bomb on a packed Tube train, officials considered closing his case.
A review found they had not taken full account of Hassan's background, mental health concerns, behaviour and remarks, wrongly believing that his academic success was a "protective factor".
Another would-be terrorist who plotted to bomb Downing Street and behead Theresa May was referred to Prevent but "disengaged" from the process.
Naa'imur Zakariyah Rahman's uncles were known Isis supporters, and one was killed in Syria, but counterterror police did not start investigating him until a separate probe into indecent images uncovered terrorist communications on his phone.
Prevent has also attracted criticism from groups that accuse the programme of demonising Muslims and spreading paranoia, and there have been repeated calls for it to be reviewed or rebranded.
Diane Abbott MP, Labour's shadow home secretary, said the new statistics "raised serious issues about the operation of Prevent".
"Thousands of people are being referred to the programme but the overwhelming majority do not require any anti-terrorism procedures at all," she added.
"Prevent is alienating communities and not effectively addressing terrorism. Labour in government will undertake a thorough review of the programme."
Ben Wallace, the security minister, said Prevent plays a "vital role" in stopping vulnerable people being drawn into all forms of terrorism.
"Since 2012, the Prevent programme has stopped potentially 1,267 people from going on to become terrorists and harming our society," he added.
"The figures released today show Prevent is tackling the threat from radicalisation wherever it is found, including from the rise in the right-wing extremism.
"Through the Prevent and Channel programme, people who are vulnerable to radicalisation have received the support they need to turn their lives around."
Sajid Javid, the home secretary, said the scheme is about "safeguarding people from those who wish to do them harm", adding: "Just in the same way we want to safeguard people from child sexual exploitation, from county lines drugs gangs, you would also expect the government to work hard to turn people away from extremism."
Join our new commenting forum
Join thought-provoking conversations, follow other Independent readers and see their replies