Weeks-old lambs raised by primary schoolchildren found slaughtered and skinned
Trio of animals were stolen from barn, hooked on nearby tree and had their meat extracted – despite it not being safe to eat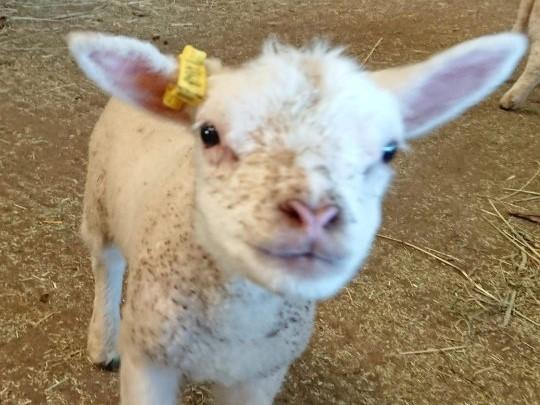 Three lambs bought by a farmer for nearby primary schoolchildren to visit and help rear have been found slaughtered and skinned.
The four-week-old triplets were stolen from a barn and killed – along with a rare Lincoln Longwool sheep – during an overnight raid at Hall Farm in the village of Messingham in Lincolnshire.
Distressing photos show the skin and entrails of the animals left scattered across a nearby field.
Hooks were found in a tree suggesting the creatures were hanged in the air by the thieves while their meat was extracted.
Farmer Jamie Quinn said: "I am currently in bits."
Ewe greedy beasts! Lambs sheltering from icy cold weather feast on a quarter of a million chocolate Easter eggs
Show all 2
The 57-year-old RAF veteran added: "I got a call from police saying they had found lamb and sheep skins across the road from my farm.
"When I arrived, I found the skins and entrails of three of my animals strewn across the ground. It was a sickening sight.
"I bought the lambs so that children from a school in Scunthorpe could come and enjoy them. The kids would come a couple of times a week and help feed them and that kind of thing.
"They were extremely tame, so I'm sure they would have happily approached anyone that went into the barn. How am I supposed to tell the children about this?"
He revealed that, although the trio – called Ethel, Chunk and Ugs – were likely stolen for their meat, they may not actually be safe to eat. All three were originally bred for wool and have been given worming treatments that are banned when animals are bred for the dinner table.
In a statement, Humberside Police said they were investigating. The force said: "A barn was broken into between 6pm on Friday 1 and 7am on Saturday 2 March.
"A sheep and three four-week-old lambs were taken. The animals' skins and carcasses were found nearby. Damage was caused to the farm and its fencing during the burglary.
Support free-thinking journalism and attend Independent events
"This is clearly a very upsetting incident and the theft of livestock from farms is a serious matter. We are investigating this case, looking for forensic evidence and viewing CCTV to try and identify those responsible."
Join our commenting forum
Join thought-provoking conversations, follow other Independent readers and see their replies