Prince Andrew: He's just trying to massage export figures
As yet another relationship lands him in trouble, the Duke of York vows to turn over a new leaf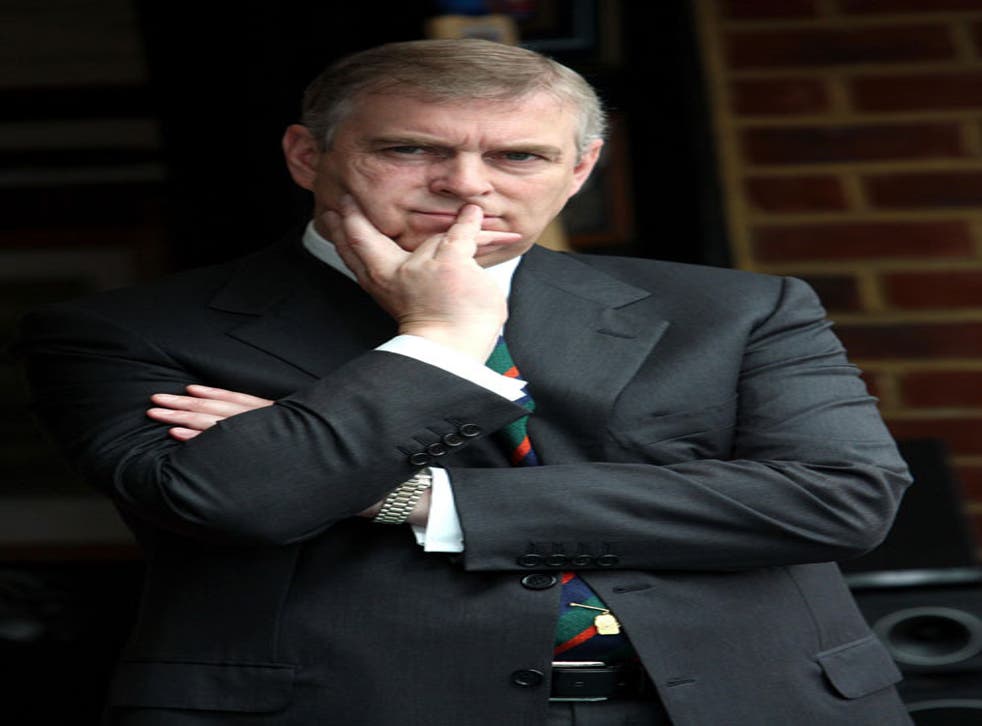 Even as the film telling how his grandfather's sense of duty and honour helped him overcome a crippling stammer was being showered with accolades in Hollywood, knives were being sharpened for the Duke of York. There is a fair chance that, had King George VI witnessed this weekend's headlines linking Prince Andrew to a convicted paedophile, no amount of therapy would have helped.
Pictured in a daily paper with his arm round the waist of a 17-year-old "erotic" masseuse, the Duke, 51, looked relaxed and comfortable. It is unlikely he was quite so comfortable if he read the accompanying story. It questioned his fitness to carry out his role as a special trade representative of his mother's government.
The masseuse was Virginia Roberts, a native of Florida who revealed the details of her relationship with the Duke, whom she met while working for the billionaire US businessman Jeffrey Epstein. While there is no suggestion of any sexual activity between the Duke and Ms Roberts, it was alleged he enjoyed massages from young women as a guest at Epstein's Florida home.
Sources close to the Duke let it be known that following the latest furore, he was cutting his ties with the controversial businessman. If correct, then it was an abrupt end to a friendship which has lasted since the early 1990s and has been cordial enough for the two men to be pictured as recently as last December walking together in New York's Central Park.
During their friendship, Epstein, 58, was accused of sex offences by a number of under-age girls and was sentenced to 13 months in jail in 2008 for soliciting a minor for prostitution.
Buckingham Palace declined to comment on the matter yesterday but a royal source was quoted as saying: "It would be fair to say that you are not going to see photos of the Duke of York with Jeffrey Epstein again." In a letter to a newspaper yesterday, the Duke's Private Secretary, Alastair Watson, noted: "There has been widespread comment on the Duke's relationship with Jeffrey Epstein.... The insinuations and innuendos that have been made in relation to the Duke are without foundation."
Andrew's friendship with Epstein is the latest in a series that is causing critics to question publicly the Duke's fitness for public office. Last week, Labour's justice spokesman, Chris Bryant, said Prince Andrew was a "very close friend" of Saif Gaddafi, son of the Libyan dictator. Bryant also linked him to convicted Libyan gun smuggler Karuk Taituni and asked David Cameron whether it was time the Duke's services were dispensed with.
Bryant's question brought a rapid warning from the Speaker, John Bercow, who said that MPs' references to the Royal Family should be "very rare, very sparing and very respectful. We have to be very careful in our handling of these matters."
Such attitudes mean that questions or debate about Prince Andrew's role as the UK's special representative for international trade and investment has been limited. Hitherto, it has been confined to criticism of the extravagant style in which he and his entourage travel. The latest figures show he spent £500,000 on hotels and flights in the year to April 2010. Not for nothing is he known as "Airmiles Andy". His other soubriquet, "Randy Andy", reflects the divorcee's colourful social life.
Mr Bryant, the Labour MP for Rhondda, will try to table further parliamentary questions this week about the Duke's public role. Royal critics and constitutional experts alike will be watching closely to see if and how far the authorities in the House permit him to shed light on this shady corner of government business.
Outside Parliament, the Duke has repeatedly provoked controversy. Sir Ivor Roberts, a distinguished British diplomat, has remarked that Prince Andrew is rude to foreign dignitaries, while another senior diplomat described him as "boorish". His behaviour abroad was noted by Tatiana Gfoeller, the US Ambassador to Kyrgyzstan, whose report that the Duke called the Serious Fraud Office "idiots" for investigating bribery claims around the al-Yamamah arms deal were revealed by WikiLeaks.
That outburst prompted Vince Cable, the Secretary of State for Business, to remark that it would be better if the Duke avoided matters such as anti-bribery laws. Mr Cable, who has said the Duke does a "valuable" job, refused to comment on whether he should continue in the role. Senior ministers are said to be concerned that further revelations about the Duke could damage his reputation as a flag waver for British business abroad. Aides to the Duke, who is fourth in line to the throne, anxiously canvassed support from the government yesterday. An email said to be from the Duke's staff, sent inadvertently to a newspaper instead of the Ministry, asked: "Will UKTI stand behind him? We need some government backing here." His defenders back his work as a trade emissary hailing his "valuable and unsung" contribution to British industry, notably in the Middle East.
The Duke is said to believe that he and his family have been unjustly targeted by intrusive tabloid newspapers. This may have some substance: last year, his former wife, Sarah, Duchess of York, was filmed by the News of the World arranging to receive £500,000 for obtaining access to the Duke and his business contacts. His staff denied he was aware of the deal. The 19th-century journalist Walter Bagehot argued that the Royal Family's strength was in bringing down the "pride of sovereignty to the level of petty life".
Some critics claim that "Randy Andy's" antics increasingly resemble those of a black sheep. Even supporters fear his behaviour may undermine the very institution his grandfather helped to reinvigorate in the public's affections.
Join our new commenting forum
Join thought-provoking conversations, follow other Independent readers and see their replies