Prince Philip car crash victim calls Duke of Edinburgh 'insensitive and inconsiderate' for driving without seatbelt two days later
'I feel that his treatment has not been the same as mine,' claims Emma Fairweather, whose wrist was broken in smash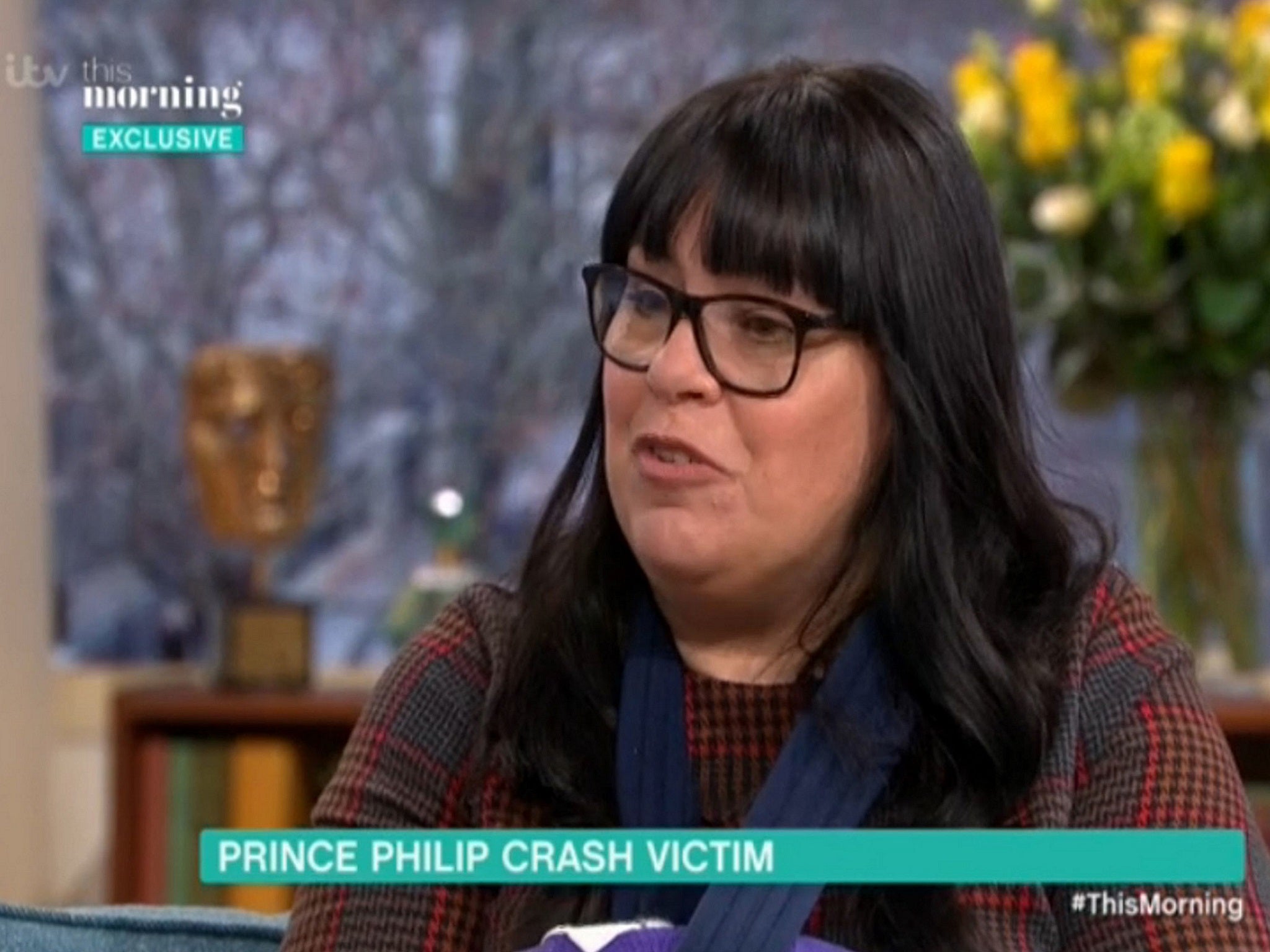 The passenger who broke her wrist in a crash involving Prince Philip says the royal should be prosecuted if found to be at fault for the collision.
Speaking on ITV's This Morning, Emma Fairweather branded the Duke of Edinburgh "highly insensitive and inconsiderate" after he was spotted driving without wearing a seatbelt two days after the crash.
"There needs to be a decision as to whether Prince Philip and I are from the same walk of life here or not," the 46 year old told the programme's presenters, Holly Willoughby and John Barrowman.
"I feel that his treatment has not been the same as mine."
The mother of two said the duke being seen not wearing a seatbelt was "highly insensitive and inconsiderate towards me and everybody involved".
Ms Fairweather was injured when the Kia she was travelling in was hit by a Land Rover Freelander being driven by 97-year-old Philip near Sandringham on Thursday.
The force of the crash flipped the 4x4 onto its side, while the Kia was also badly damaged.
Her 28-year-old friend and her nine-month-old baby were also involved in the crash.
Ms Fairweather said a member of the Queen's staff left a voice message after trying to contact her to see how she was, but she was "surprised" the duke had not tried to contact her personally.
She said it was confusing to receive a message from someone's partner, who wasn't involved in the accident.
World news in pictures
Show all 50
"I'm still quite surprised that Prince Philip hasn't felt he wants to contact me and inquire as to how I am," she told the Daily Mirror.
Norfolk Police are continuing their investigation into the crash, which happened on the A149 shortly before 3pm.
Support free-thinking journalism and attend Independent events
Philip reportedly said "I'm such a fool" as he was pulled from the wrecked car by Roy Warne.
The 75 year old told The Sun he heard the duke telling police he had been "dazzled by the sun".
Nick Freeman, the celebrity lawyer dubbed Mr Loophole, said the duke could be prosecuted for driving without due care and attention if he was deemed to have made a mistake.
But he added: "If the sun was so low and right in your eyes, sometimes it's impossible to see, and that may well have been the case, and that would afford him a defence."
Police spoke to the duke about the legal requirement to wear a belt and he also underwent an eyesight test, which he passed.
Join our commenting forum
Join thought-provoking conversations, follow other Independent readers and see their replies