Princess Diana: William and Harry view tributes left in memory of their mother at Kensington Palace
The 20th anniversary of Diana's death is being commemorated on Thursday
Tony Jones
Wednesday 30 August 2017 22:54 Comments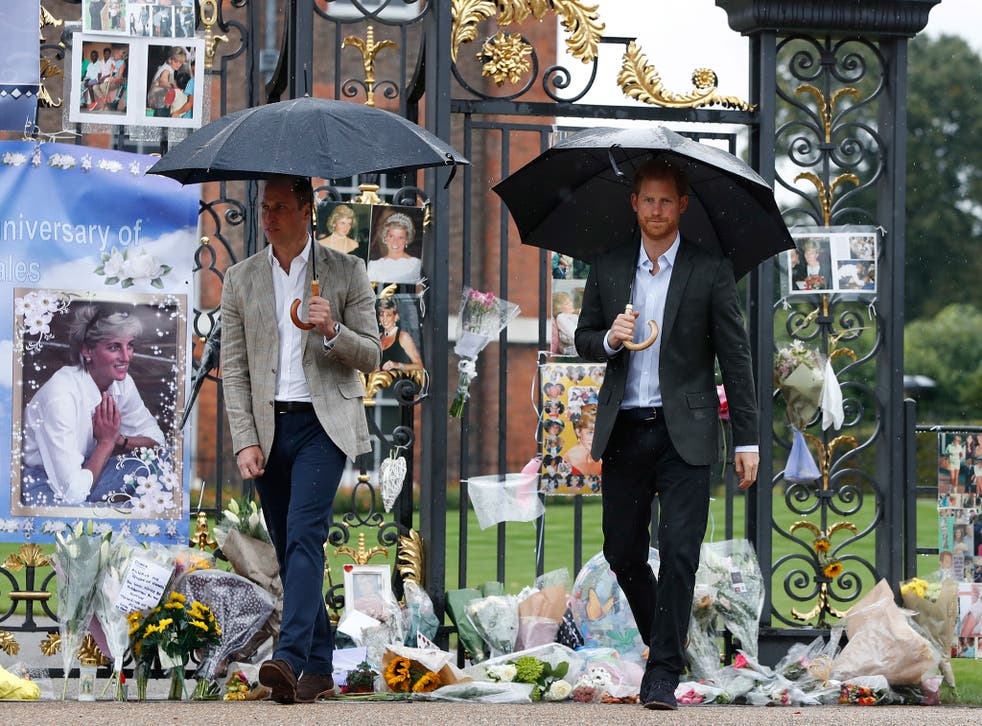 The Duke of Cambridge and Prince Harry have made a personal pilgrimage to view the floral tributes left in memory of their mother as Harry confessed "all of us lost somebody".
William and Harry stopped to look at the heartfelt messages, pictures and flowers left in remembrance of Diana, Princess of Wales at the gates of her former home Kensington Palace.
The 20th anniversary of Diana's death will be commemorated on Thursday and the royal brothers, with Kate, earlier honoured her memory by visiting a nearby memorial garden in the grounds of the palace created for the Princess.
Charity chiefs from organisations associated with Diana met the royals after their tour and Harry told one group of campaigners about how his mother's death was a tragedy for them - as they were preparing to work with the royal - as well as his family.
He said: "I can imagine for a lot of you it was like 'right here we go, now we've got her, we've got the thirst, we've got the attention, now let's do something' then suddenly she's snapped away - if I can put it (this way) all of us lost somebody."
The royal brothers had spent an hour touring the temporary memorial White Garden in the grounds of the palace with Kate before making the short journey to the gates, which is fast becoming a shrine to their mother.
Sheltering from the heavy rain under an umbrella William knelt down to look at some of the bouquets left in tribute to his mother then later pointed out a picture to his brother that appeared to make him laugh.
PA
Register for free to continue reading
Registration is a free and easy way to support our truly independent journalism
By registering, you will also enjoy limited access to Premium articles, exclusive newsletters, commenting, and virtual events with our leading journalists
Already have an account? sign in
Join our new commenting forum
Join thought-provoking conversations, follow other Independent readers and see their replies