Princess Michael of Kent wears 'racist' brooch to Queen's Christmas lunch attended by Meghan Markle
'Apparently wearing slavery-inspired brooches is the ultimate royal holiday tradition,' says one Twitter user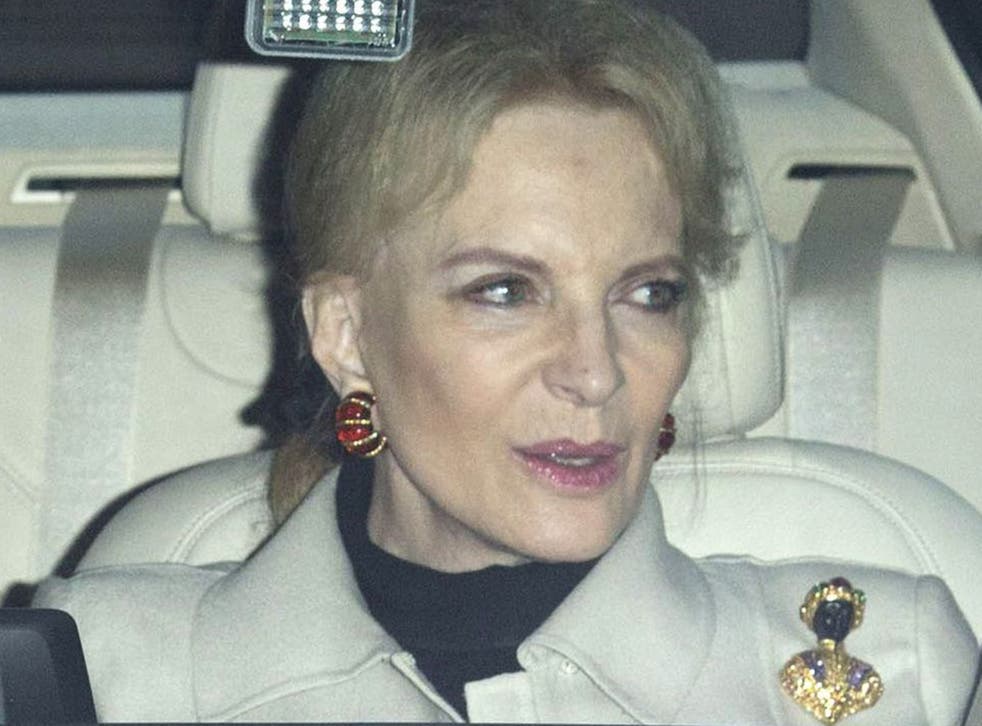 Princess Michael of Kent has caused controversy by wearing a "racist" brooch to the Queen's Christmas lunch at Buckingham Palace, that was also attended by Prince Harry's mixed-race fiancee Meghan Markle.
The princess, who is married to the Queen's cousin, was pictured wearing a prominent piece of "blackamoor" jewellery pinned to her coat as she arrived at the annual royal family gathering.
She is thought to have been introduced to Ms Markle, who was attending her first such lunch after her engagement to Harry was announced last month.
It is not clear if Princess Michael was still wearing the brooch - which depicts a black man in a gold headdress - as the two met. But she was widely condemned for wearing the "blatantly racist" piece to the Palace.
Blackamoor art, mostly made in the 18th century, often depicts dark-skinned Africans in subservient roles in sculptures, figurines and jewellery. Some have suggested that it fetishises racial conquest.
"Apparently wearing slavery inspired brooches is the ultimate royal holiday tradition," wrote one Twitter user. "Can't believe she wore this for the Queen's lunch."
Another said: "As a Republican I find the behaviour of Princess Michael of Kent to be obnoxious, outrageous and offensive."
Another added: "It's hard to believe that wearing a blackamoor brooch by Princess Michael was not a deliberate insult to Meghan Markle at the Queen's lunch."
Ms Markle, whose mother is black and father is white, has spoken of experiencing racism in her youth. She also said her racial identity had led to barriers in her acting career.
"I wasn't black enough for the black roles and I wasn't white enough for the white ones, leaving me somewhere in the middle as the ethnic chameleon who couldn't book a job," she said.
The brooch is not Princess Michael's first brush with racial controversy. In 2004, she denied telling a group of black New Yorkers to "go back to the colonies" because she felt they were being rowdy in a restaurant.
A spokesman for Princess Michael said she was "very sorry and distressed for any offence caused".
"The brooch was a gift and has been worn many times before," he added.
Join our new commenting forum
Join thought-provoking conversations, follow other Independent readers and see their replies