Priority one for the next Archbishop of Canterbury: Get the books in holy order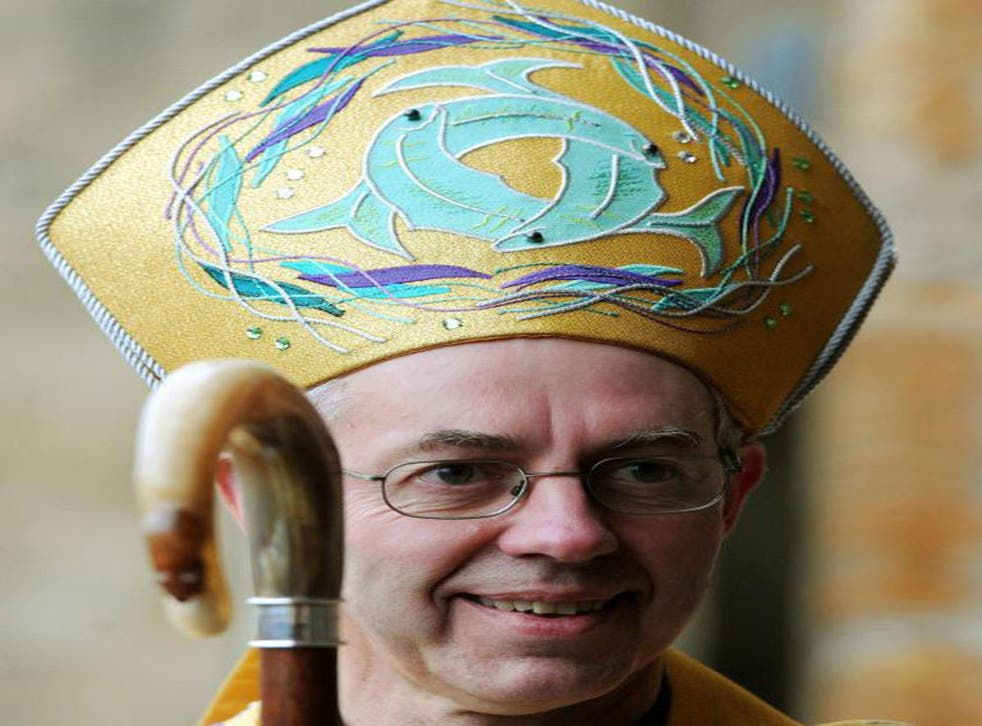 As the next Archbishop of Canterbury in all but name made his way into the Houses of Parliament, a police officer made a point of congratulating him on his new post. The response of Bishop Justin Welby was to laugh and raise his hands self-deprecatingly in defence.
It is a gesture that the former oil executive, who was in Westminster to sit on the parliamentary commission on banking standards, may have to repeat frequently in the months to come as his response to a succession of difficult questions and thorny issues comes under close scrutiny.
The current Bishop of Durham will have to grapple two schism-threatening doctrinal headaches in the shape of women bishops and gay marriage following today's expected announcement from Downing Street and Lambeth Palace that he is to be the 105th head of the Church of England.
But of equal, if not greater, importance is the peril posed to the CofE by its finances, which currently lie in a predicament that will not be made up by the cascade of bets on Bishop Welby that earlier this week prompted bookmakers to close their book on the next Archbishop of Canterbury.
As wags pointed out that David Cameron will soon not be the only Old Etonian in charge of an arm of the state seeking to reverse an unsustainable deficit, Bishop Welby, 56, who studied at both Eton and Cambridge, must fix a hole in the pension fund for retired clergy estimated at £500m.
When placed alongside a structural and financial to-do list that ranges from church maintenance bills to debt-riddled dioceses and reform of the CofE's governing body, the General Synod, it is not hard to see why the panel choosing the head of the established church alighted on a man whose CV boasts considerable experience outside Anglicanism in the sharp-elbowed world of big oil.
Christian Rees, a member of the General Synod, said: "He is someone who is going to have deal with the realities of finance. The Church has weathered the economic crisis pretty well but we have to pay attention to our finances and he'll be able to lead us very well on that - he understands that world."
Others quibble with the idea that the Church has ridden out the financial crash well. Through the Church Commissioners, it presides over holdings of about £4bn and has met criticism of the decision by its fund managers to invest much of its £1.1bn pension holdings into riskier assets such as shares and property with respectable returns of 7.1 per cent over the last three years.
But a recent report on the Clergy Pension Scheme found that its deficit has risen from £262m to £507m a year ago. It is estimated that the shortfall, which funds modest retirement funds for 32,000 clergy and lay workers, remains around £500m, prompting the General Synod to warn that it might have to abandon its final salary scheme for clergy.
Another synod member said: "There are several elephants sitting in the corner for the Church and Anglicanism as a whole but one of the biggest is how we live within our means. No Anglican clergyman is going to be rich in retirement but we have to remember pensions are paid for by parishioners, who they aren't getting younger or, in the present climate, richer."
Indeed, dioceses, who are reliant for much of their income on the £1bn that the church receives each year in donations, pay pension contributions of nearly 40 per cent salaries and that figure is likely to have to increase at a time when congregations have shrunk by half in the last 40 years to about 1.1m a week.
A newly-anointed Archbishop Welby, an outspoken critic of the lack of social value in Britain's banks, will also be confronted with questions about the Church's investment strategy after it emerged this summer that it has placed £60m with hedge funds, an arm of global finance frequently criticised for its ethical record and sky-high rewards.
The ability of filthy lucre to dominate the early moments of Bishop Welby's prelacy was underlined last night when the Church appeared to lay blame for the leaking of his name as the new archbishop - and therefore a late flurry of bets - on Westminster.
Reverend Arun Arora, spokesman for the Church, it would have been "surprising" if the leak had come from with the 16-member Crown Nominations Commission entrusted with recommending the new archbishop, adding: "It may be more likely that, once it entered the political process, a wider group of people would have had access to the name."
Last night, the former Archbishop of Canterbury George Carey warned his successor that "nothing he has ever done before" can prepare him for the challenges ahead, which include convincing traditionalists that he will protect their interests while managing the aspirations of modernisers.
Bishop Welby, an evangelical who is in favour of women bishops but indicated he is a traditionalist on the issue of gay marriage, has previously made clear he is under no illusions about how being chief executive of global Anglicanism differs from his previous life in business.
He once said: "Making decisions in the oil industry is far easier than in the Church."
Join our new commenting forum
Join thought-provoking conversations, follow other Independent readers and see their replies