Prison that saw five 'drug deaths' in eight months had scanning equipment diverted to another jail
Staff trying to stop flow of drugs into jail 'immensely frustrated', inspectors find 
Lizzie Dearden
Home Affairs Correspondent
Tuesday 12 February 2019 01:07 Comments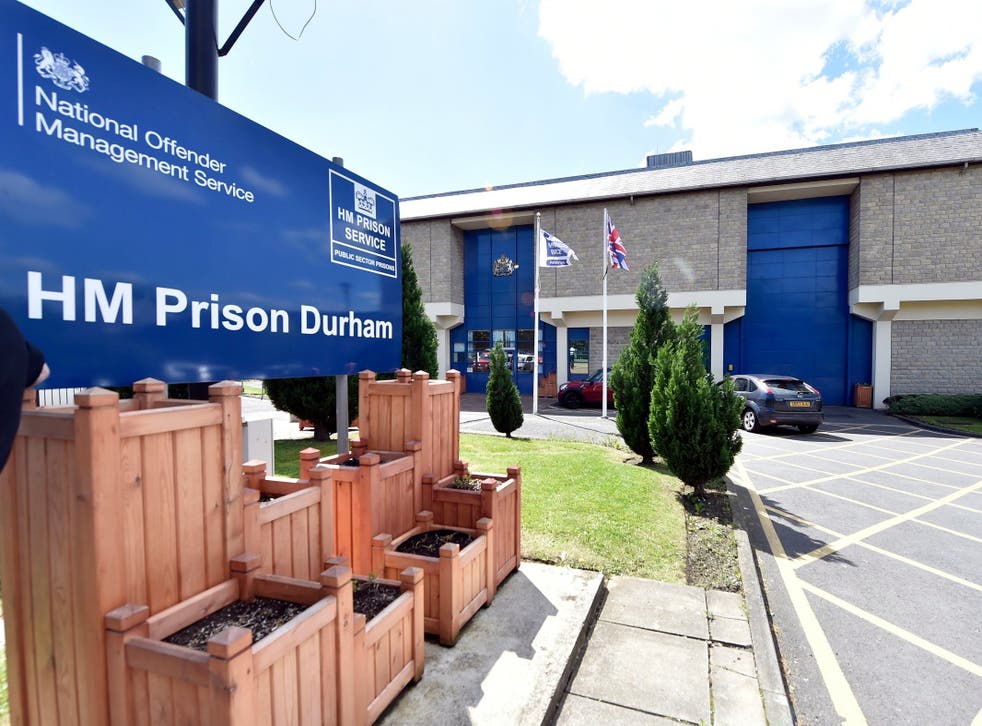 A prison that saw five suspected drug deaths in just eight months was promised scanning equipment by the government, only for it to be delivered to another jail, a report said.
Inspectors said staff at HMP Durham were "immensely frustrated by the fact that they had no modern technology available to them to help their efforts to stem the flow of drugs".
Peter Clarke, HM Chief Inspector of Prisons said: "We were told that they had been promised some modern scanning equipment but that it had been diverted to another prison. The scale of the problem at HMP Durham and the obvious linkage to all kinds of violence were such that technological support was urgently needed."
An inspection found seven prisoners had killed themselves since the last inspection in December 2016 and another five had died suspected drug-related deaths.
Violent incidents doubled in the period and the use of force by prison officers trebled. More than 350 acts of self-harm were recorded in just six months.
UK prison conditions: in pictures

Show all 8
Ian Carson, the Prison Officers' Association representative for the north-east, accused the government of prioritising 10 jails that minister Rory Stewart vowed to improve or resign.
While justice secretary David Gauke has named the spread of former "legal highs" as a driver of violence, Mr Carson told The Independent that prison officers felt "disempowered" by policy changes and budget cuts.
"The fundamental facts are relationships broke down, we had less staff and we lost control," he said.
HMP Durham is among numerous jails criticised by HM Inspectorate of Prisons, while others have been subject to rare "urgent notifications" over spiralling violence, drug use and suicide in what campaigners say is a nationwide crisis.
The "heavily overcrowded" jail held 872 inmates at the time of the inspection. Its normal capacity was 595.
Inspectors found more than 80 per cent of cells designed for one held two people.
As a reception prison, HMP Durham holds mainly inmates who are on remand or subject to recall and almost three quarters had been imprisoned there for under three months at the time of the inspection.
Significant numbers of prisoners said they arrived feeling depressed or suicidal, two thirds said they had mental health problems and a third felt unsafe.
A survey found 66 per cent said it was "easy" to obtain drugs and another 30 per cent told inspectors they had acquired a drug habit since coming into the prison.
Although one in 10 prisoners presenting a high risk of harm, many were being managed by supervisors "who had neither the training, experience nor adequate supervision to deal" with them, inspectors found.
Despite some early signs that violence was starting to decline, safety at HMP Durham remained poor, they said.
Mr Clarke said improvements were being made, including new in-cell phones, video links to courts and the use of more amenities, but he warned: "The most pressing needs are to get to grips with the violence of all kinds, make the prison safer and reduce the flow of drugs. Only then will the benefits flow from the many creditable initiatives that are being implemented."
David Gauke describes shocking videos emerging from UK prisons
The Independent understands that HMP Durham has still not received drug scanning equipment, but it is expected to arrive in the coming months.
Mr Stewart, the prisons minister, said: "We are determined to install full airport-style security with the right dogs, technology, scanners and search teams to detect drugs. We will install the technology in Durham and we will be rolling it out across our local prisons. Tackling drugs is vital for reducing violence."
Michael Spurr, chief executive of HM prison and probation service, said progress was being made on "significant challenges".
"Since the introduction of the prison officer key worker scheme, violent incidents, self-harm and disruptive behaviour have all reduced," he said. "The prison is also working closely with the police and the NHS to tackle illicit drug use. We are developing a national strategy to restrict supply, reduce demand and build recovery.
"As part of this process we will consider which measures, including technology, can be implemented to further strengthen the prison's approach to tackling drugs. We are under no illusions that there is much still to do."
Register for free to continue reading
Registration is a free and easy way to support our truly independent journalism
By registering, you will also enjoy limited access to Premium articles, exclusive newsletters, commenting, and virtual events with our leading journalists
Already have an account? sign in
Join our new commenting forum
Join thought-provoking conversations, follow other Independent readers and see their replies