Two prison officers go to A&E every day following inmate attacks, figures show
Prisoners throwing urine and excrement over staff to repay debt or to humiliate them amid soaring levels of violence in jails
May Bulman
Social Affairs Correspondent
Monday 03 September 2018 22:56 Comments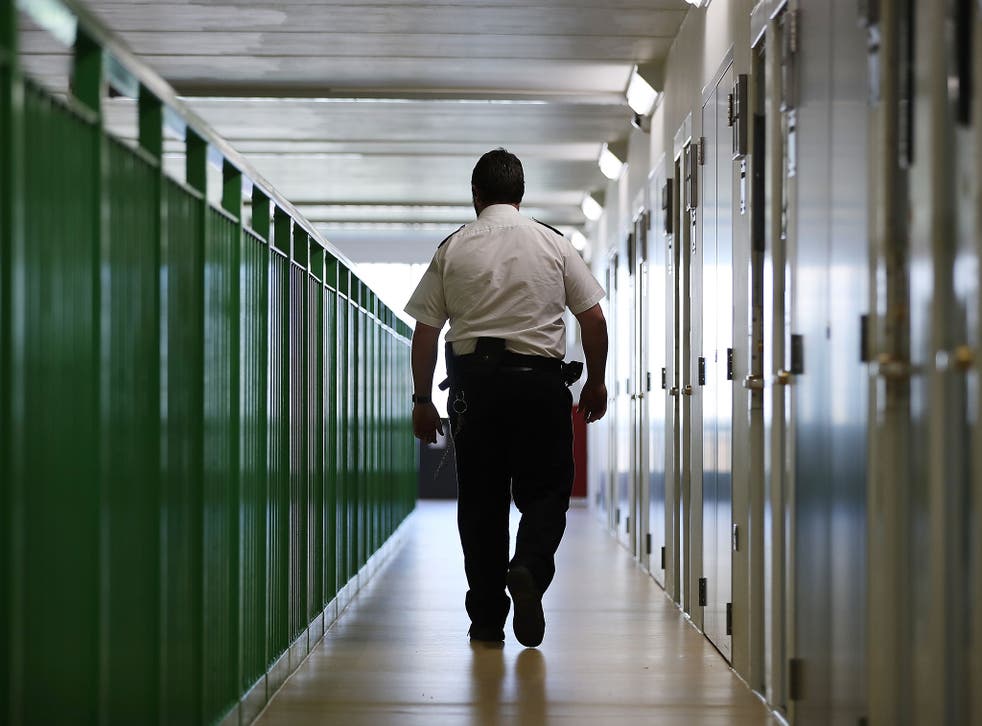 An average of two prison officers need to go to A&E every day after being attacked by inmates, new figures show, amid soaring levels of violence in jails and mounting pressures on staff.
Official data from operations reports, released by the Prison Officers' Association (POA), shows 15 members of staff across jails in England and Wales went to A&E or were rushed straight to hospital last week following prisoner assaults. A further 18 were victims of unprovoked assaults which didn't lead to serious injuries.
The nature of assaults is also becoming increasingly unpleasant, with seven "potting" attacks reported in the last seven days - a practice that is becoming more prevalent in jails and involves prisoners throwing urine and excrement over staff to humiliate them or to repay debts to other prisoners.
Thirteen inmates were also escorted to local hospitals in the last week, while there was a total of 37 prisoner-on-prisoner assaults - eight involving homemade weapons and five of a sexual nature, the figures show.
There was a spike in prisoner deaths across England and Wales in the same seven-day period, with 12 reported deaths – five of which were suicide.
The new data is the latest indicator of the levels of crisis now gripping prisons in England and Wales, as self-harm and violent attacks hit record levels for the second time in a year.
The chaos is making it increasingly difficult for the prison service to retain staff, with The Independent revealing last week that a third of prison officers who leave the service do so within a year of starting the job.
Mark Fairhurst, nation chair of the Prison Officers Assocation (POA), told The Independent he believed if the issues of overcrowding and under-investment were not addressed it would only be a matter of time until a prison officer is killed.
"Attacks on staff are going up quarter after quarter. And these are only the incidents that have been reported – there is a lot of under-reporting going on," he said.
"This down to lack for staffing, overcrowding and an increasingly violent prison population. We need to invest in staff and invest in the prison environment. If prisons weren't so overcrowded, it would give staff a chance of engaging more with prisoners.
"Currently, the support for staff is non-existent. There's no sympathy for your problems. When you go sick they want to sack you."
He added: "My biggest fear is that one of my members will die on duty because they've been seriously injured. If the government doesn't listen to us, we are going to see the death of a prison officers on duty."
Addressing the 12 reported prisoner deaths last week, Mr Fairhurst said it marked a "very rare spike", adding: "A lot of inmates have got severe mental health problems.
"Prison officers aren't trained in mental health – you only get three hours of mental health training before you start. There aren't enough mental health nurses in prisons – and they are only there during the working day.
UK news in pictures

Show all 50
"We'd have a better chance of avoiding these deaths if we had mental health care on site 24/7. Currently, we're relying on prison officers being first aid trained."
Responding to the figures, a prison service spokesperson said: "Assaults on our hardworking staff will never be tolerated. We will always push for the strongest punishment and are changing the law so that offenders who attack prison officers face even longer behind bars.
"We are ensuring prison officers have the tools they need to do the job safely by rolling out body worn cameras, 'police-style' handcuffs and restraints, and trialling PAVA incapacitant spray."
Register for free to continue reading
Registration is a free and easy way to support our truly independent journalism
By registering, you will also enjoy limited access to Premium articles, exclusive newsletters, commenting, and virtual events with our leading journalists
Already have an account? sign in
Join our new commenting forum
Join thought-provoking conversations, follow other Independent readers and see their replies