Self-harm and violent attacks in prisons hit record high as incidents rise by 20% in a year, figures show
Ministers under pressure to launch emergency prisons plan in upcoming Budget as violence and self-harm and in jails hit record levels for third time in a year
May Bulman
Social Affairs Correspondent
Thursday 25 October 2018 10:57 Comments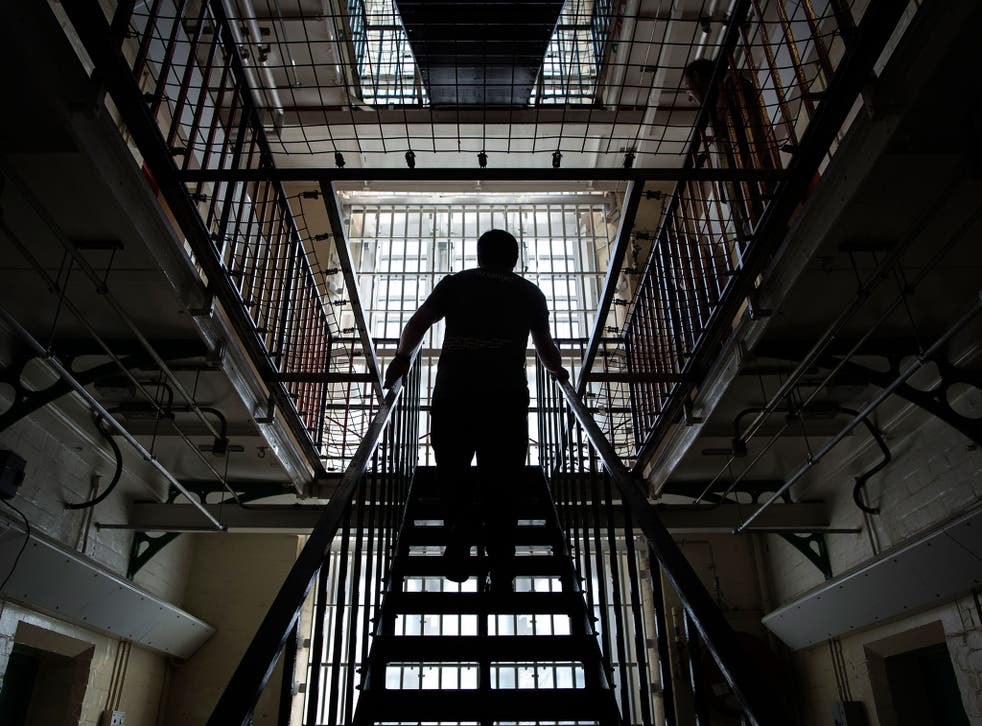 Self-harm and violent attacks in prisons have hit a new record high as incidents soar by 20 per cent in a year, new figures show.
Incidents of self-harm in jails across England and Wales increased to 49,565 in the year to June 2018, with the number of self-harming individuals up by 10 per cent, despite a reduction in the overall prison population.
There were 32,559 assault incidents – on average one every 20 minutes – the highest on record. Of these, 72 per cent were prisoner-on-prisoner attacks, while 9,485 were attacks on staff – a figure that rose by 27 per cent in the 12 months.
Suicides meanwhile increased by 12 per cent, from 78 to 87, indicating that self-inflicted deaths are on the rise again following a decline following a peak in 2016.
Campaigners said that despite efforts to curb the crisis, there was "no end in sight to the catastrophe that has engulfed some of our prisons", and urged ministers to introduce legislation for sentencing reform that would reduce prisoner numbers.
Labour said austerity was "squarely to blame" for the unprecedented wave of violence and self-harm and accused the government of failing to take responsibility, describing their actions so far as "woefully inadequate".
Shadow Justice Secretary Richard Burgon also called on the Chancellor to launch an emergency plan in the upcoming Budget to tackle widespread understaffing and overcrowding in jails, or see prison violence "continue to spiral out of control".
He added: "It is a national scandal that there is an assault every 20 minutes in one of our prisons, that a member of prison staff is attacked every hour and that self-harm is at a new record high."
Peter Dawson, director of the Prison Reform Trust, said: "The government has recruited more staff and spent money on security. But so far it has only talked about reducing the number of prisoners the system holds.
"That needs to change, with action for the short and long term which will bring the prison population back down to a level where safety can be restored."
Frances Crook, chief executive of the Howard League for Penal Reform, said: "This is yet another shameful set of statistics that shows the sheer scale of the bloodshed in prisons.
"Ministers have recognised the gravity of the situation and have announced plans to raise standards in 10 prisons with a view to improving safety across the system.
"But more needs to be done. There is only so long that the government can continue to use Brexit as an excuse for failing to introduce the legislation for sentencing reform that is needed. And, in the meantime, the courts must use custody with parsimony."
The prisons watchdog warned in July that prisoners in England and Wales were enduring the "most disturbing conditions ever seen" as authorities fail to take action to curb record high levels of violence and self-harm in jails.
The chaos is making it increasingly difficult for the prison service to retain staff, with The Independent revealing last month that a third of prison officers who leave the service do so within a year of starting the job.
Moments after the new figures were published, Justice Secretary David Gauke issued a statement expressing his "absolute determination to bring down the unacceptable levels of violence in our prisons".
Support free-thinking journalism and attend Independent events
He highlighted recent announcements that sentences would be doubled for inmates who attack prison officers and that officers would be given PAVA incapacitant spray, body-worn cameras and "police style" handcuffs to protect their safety.
"We have recruited 3,500 new prison officers over the last two years - bringing staffing in public prisons to its highest level for five years - with 2,000 more due to begin training soon," he added.
"And we are spending an extra £40m to improve safety and tackle the drugs which we know are fuelling much of the violence, including x-ray scanners, drug-detection dogs, phone-blocking technology and disrupting the kingpins who drive the illicit drugs trade.
"I know there is still more to do and we will continue our drive to tackle violence in prisons so they can be places where offenders can turn their lives around."
Register for free to continue reading
Registration is a free and easy way to support our truly independent journalism
By registering, you will also enjoy limited access to Premium articles, exclusive newsletters, commenting, and virtual events with our leading journalists
Already have an account? sign in
Join our new commenting forum
Join thought-provoking conversations, follow other Independent readers and see their replies