Violence and self-injury in prisons hit highest levels on record, figures show
Campaigners welcome drop in prisoner suicide rates but urge there is 'no room for complacency' as violence and self-injury hit record levels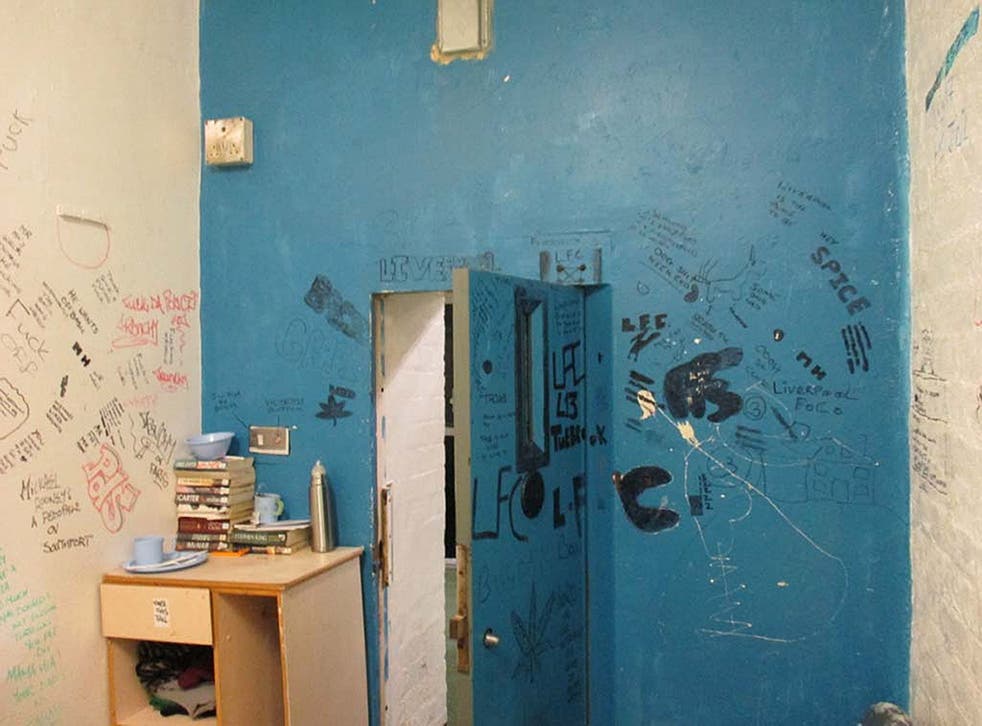 Violence and self-injury in prisons have risen to record levels, new figures show, as overcrowding continues to put pressure on jails in England and Wales.
Official data published by the Ministry of Justice (MoJ) show 28,165 assaults were recorded in the 12 months to the end of September 2017 – a 12 per cent rise on the previous year – putting incidents at their highest levels since current recording practices began in 1978.
Incidents of self-injury in jails also rose to record levels, up by 12 per cent to 42,837, with figures showing the number of incidents requiring hospital attendance had risen by 15 per cent. Quarterly self-harm incidents rose by 10 per cent to a record high of 11,904 incidents.
The figures also show a significant decrease in prisoner deaths, which were down 17 per cent from 354 the previous year. There were 70 self-inflicted deaths, down by 43 per on the previous year when there were 122.
While campaigners welcomed the drop in deaths in custody, they urged that there was "no room for complacency" when it remains the case that a prisoner dies by suicide every three days, and the wave of violence and self-injury continues to rise.
Violent incidents last year included 7,828 assaults on prison staff – a 22 per cent rise compared to the previous 12 months – and 20,346 prisoner-on-prisoner assaults, marking a 9 per cent rise on the previous year and the highest on record.
The MoJ figures come after the Government was issued with an unprecedented warning from the prisons watchdog that inmates in HMP Nottingham were being driven to take their own lives due to a "dramatic decline" in conditions.
Inspectors also revealed last week that conditions in one English jail are the "worst they have ever seen", painting a grim picture of inmates in HMP Liverpool living among dirt, litter, rats and cockroaches and occupying cells that are "dangerous to live in".
Responding to the latest figures, Andrew Neilson, director of campaigns at the Howard League for Penal Reform, said: "Against a backdrop of continued problems affecting prison safety, there has been a welcome reduction in the number of people who have lost their lives through suicide.
"Given that 2016 was the worst year on record in this area, however, improvement was a must. There is no room for complacency when it remains the case that a prisoner dies by suicide every three days."
Mr Neilson added: "As the prison system buckles under the weight of chronic overcrowding and staff shortages, the wave of violence and self-injury rises higher and higher.
"The new Secretary of State for Justice and his minister for prisons must respond boldly and urgently to this national emergency, to prevent more people being hurt.
"Reducing the prison population would save lives, protect staff and stop others being swept into deeper currents of crime, violence and despair."
Richard Burgon MP, Labour's Shadow Secretary of State for Justice, said the "chaos" in the prison system was a "national scandal", claiming the Government's "reckless cuts to staffing and budgets" had left jails "more dangerous than ever".
He added: "This is a prisons crisis of the Tories' making and instead of simply reshuffling ministers they must urgently step forward with new proposals to stop this crisis spiralling further out of control"
Lord Jonathan Marks, Liberal Democrat Justice Spokesperson, meanwhile said the Government's "continued failure" to get violence and self-harm in prisons under control was "utterly disgraceful", urging that the new Minister for Prisons, Rory Stewart, make this his top priority.
He added: "The Conservatives claim to want to turn our prisons into places of reform but with no attempt being made to address overcrowding they will likely remain squalid warehouses that only serve to harden criminals."
Deborah Coles of charity INQUEST, which supports the families of inmates who die in custody, said: "While we welcome a reduction in deaths since the record-breaking highs of 2016, the number has simply returned to a level consistent with patterns over recent decades.
"Deaths in prison remain a morally indefensible systemic issue across the prison service. The rate of self harm continues to soar. Now is not the time for complacency.
"The solution to systematically unsafe prisons is to dramatically reduce the prison population, invest in community alternatives and divert those with health and social care needs away from places of serious harm."
UK news in pictures

Show all 50
Prisons Minister Rory Stewart said: "We will only transform our prisons into places of rehabilitation if we ensure that we address basic issues such as cleanliness, decency and safety.
"The levels of suicide, self-harm and violence are too high and I am looking very closely at what more can be done to help reduce those figures as quickly as possible.
"These issues will not be resolved overnight, but the work we are doing to improve the quality of prison accommodation and the investment of £100m to bring in an additional 2,500 frontline prison officers are a key part of our strategy to transform our jails."
Register for free to continue reading
Registration is a free and easy way to support our truly independent journalism
By registering, you will also enjoy limited access to Premium articles, exclusive newsletters, commenting, and virtual events with our leading journalists
Already have an account? sign in
Register for free to continue reading
Registration is a free and easy way to support our truly independent journalism
By registering, you will also enjoy limited access to Premium articles, exclusive newsletters, commenting, and virtual events with our leading journalists
Already have an account? sign in
Join our new commenting forum
Join thought-provoking conversations, follow other Independent readers and see their replies