Prisoner seriously assaulted every 45 minutes in Britain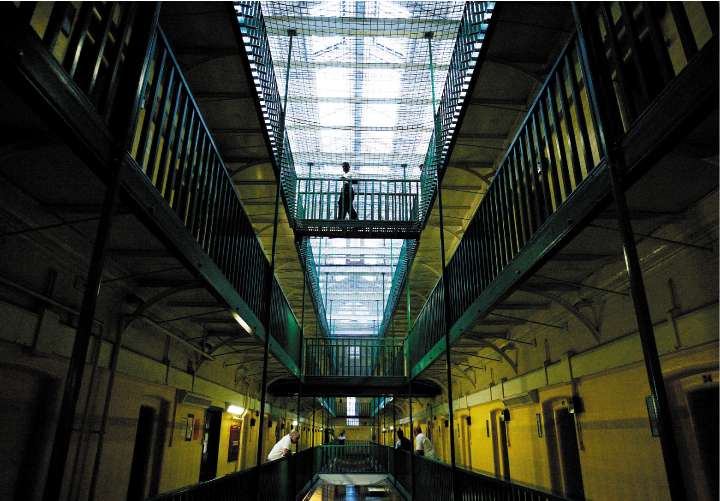 One serious attack takes place every 45 minutes in the overcrowded jails of England and Wales as prison staff struggle to cope with soaring levels of violence. Ministry of Justice figures reveal the number of assaults on prisoners by cellmates have rocketed from 1,790 in 1996 to 11,826 last year, a rise of 561 per cent in just over a decade.
The total has risen every year since the mid-1990s, and an inmate now faces a one in eight risk of being attacked by another prisoner in a year. The figures do not include the hundreds of attacks on prison officers a year.
They underline the crisis gripping the country's jails, which are currently holding a record total of 82,180, more than 150 prisoners above their official "operating capacity".
The Conservatives will pledge today to increase the number of prison places by 5,000 as part of a package of measures to tackle prison overcrowding. David Cameron, the Tory leader, launching a green paper entitled Prisons with a Purpose, will outline the plans to fund the extra places from private-sector money raised by selling off out-dated prison land and buildings for redevelopment. He will stress that the Tories will not release prisoners early, shorten sentences or fetter judicial discretion.
Nick Herbert, the shadow Justice Secretary, will say: "Under Labour, reoffending by criminals has risen, jails are in crisis and over 18,000 prisoners have been released early on to the streets. A new approach is desperately needed."
Under the Tories, jails would focus on rehabilitating prisoners before and after their release, he said. "By driving down re-offending, we will break the cycle of crime and make Britain a safer place."
Penal reformers said the increase in violent attacks in prisons was inevitable given the rising tensions causing by crowding more offenders into cramped conditions often far from their homes. Juliet Lyon, the director of the Prison Reform Trust, said: "It would be grotesque if this level of violence became accepted simply as normal. As we see numbers in prison rise, and constructive activity decline, it should be of no surprise that assault rates have climbed so steeply."
Jenny Willott, a Liberal Democrat spokeswoman on justice, who obtained the figures, said: "The Government's addiction to criminal justice legislation has left our jails packed to the rafters.
"Prisoners are kept in ever closer proximity, hard-working prison officers are stretched even further and the inevitable result is an increase in violent behaviour. Ministers must realise we cannot build our way out of the current prison crisis."
Jack Straw, the Secretary of State for Justice, is considering further emergency steps to ease the pressure on jails. The ministry is refusing to rule out any option.
One possibility is that the "end of custody licence" scheme, under which non-dangerous offenders are released from jail up to 18 days early, be further extended. Or he could opt for a one-off "early executive release" of thousands of low-level offenders. He has already announced that 11,000 foreign nationals currently in jails will have their sentences, reduced by nine months rather than the current four and a half months.
Join our commenting forum
Join thought-provoking conversations, follow other Independent readers and see their replies