Prison officers enduring 'most violent and hostile workplace in western Europe', warns union
Union warns jails continue to 'lurch from crisis to crisis' after six officers require hospital treatment following major disturbance in HMP Long Lartin
May Bulman
Social Affairs Correspondent
Monday 01 October 2018 15:06 Comments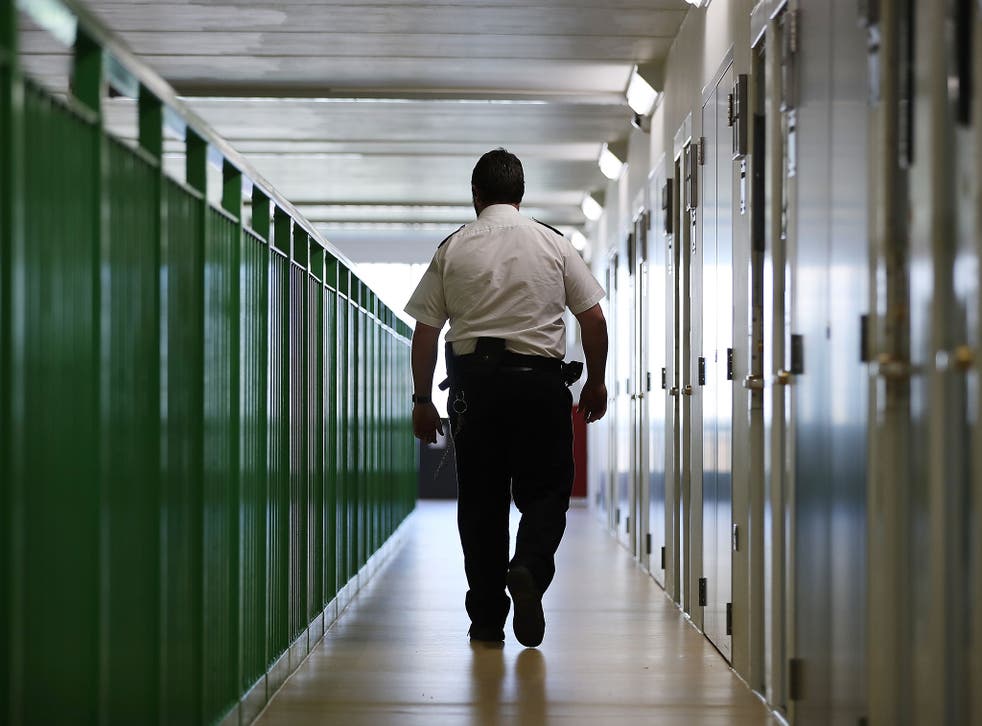 Prison officers in England and Wales are operating in the "most violent and hostile workplace in western Europe", a trade union has warned, after six members of staff required hospital treatment following a riot in one jail.
The incident at HMP Long Lartin resulted in two members of staff suffering facial injuries, another with a suspected fractured arm and three treated for head injuries. The Prison Officers' Association (POA) said it highlighted the "intolerable" working conditions in prisons.
The riot at the Category A jail in Worcestershire on Sunday is believed to have taken place in one wing of the facility and lasted for nine hours. Special anti-riot officers had to be sent to end the disturbance.
Seven prisoners were placed in isolation to be transferred to other prisons and the six injured members of staff were admitted to hospital, the Prison Service said. West Mercia Police are now investigating the incident.
The POA, which represents prison officers across the UK, said the disturbance proved British jails continued to "lurch from crisis to crisis", and said officers needed better protective measures to "quell the unprecedented levels of violence they face".
Mark Fairhurst, national chair of the POA, said: "This incident yet again highlights the intolerable working conditions [our] members endure in the most violent and hostile workplace in western Europe."
He called for staffing levels to be restored to pre-austerity levels and for protective measures to be put in place to quell violence, as well as investment in prisons that ensure "decent living and working conditions".
"Once again, it was brave prison staff that responded and restored order. Expecting prison officers to work in this environment until they are 68 is unrealistic and must be addressed," Mr Fairhurst added.
"We now expect that the judiciary react and ensure the full weight of the law is afforded to the perpetrators."
England and Wales have the highest rate of imprisonment in western Europe, at 148.3 prisoners per 100,000 population, compared with 137.9 in Spain, 98.3 in France and 77.4 in Germany, according to the latest penal statistics from the Council of Europe.
Responding to the disturbance at HMP Long Lartin, shadow justice secretary Richard Burgon said Conservative cuts to staffing and budgets had "unleashed an unprecedented crisis in our prisons".
"Without urgent action to tackle understaffing and overcrowding, this crisis will deepen even further," he added.
"Instead of tinkering at the edges, the government needs to implement an emergency plan, with substantial new Treasury funds, to turn our prisons around."
A Prison Service spokesperson said: "Violence in prison is never tolerated and our prison officers do vital and important work which is why we have doubled the sentences for those who attack them.
"We have given prison staff the biggest pay rise in a decade and are rolling out body worn cameras, 'police-style' handcuffs and restraints, and trialling Pava incapacitant spray to ensure they have the tools they need to do the job safely."
The spokesperson said the service had also hired over 3,500 additional officers in the last two years and was investing £40m to improve the prison estate and tackle the drugs problem that drives much of the violence.
Register for free to continue reading
Registration is a free and easy way to support our truly independent journalism
By registering, you will also enjoy limited access to Premium articles, exclusive newsletters, commenting, and virtual events with our leading journalists
Already have an account? sign in
Join our new commenting forum
Join thought-provoking conversations, follow other Independent readers and see their replies