Third of private rented homes fail basic health and safety standards, new analysis finds
Exclusive: Millions of UK people living in rented properties with dangerous hazards, despite private rents soaring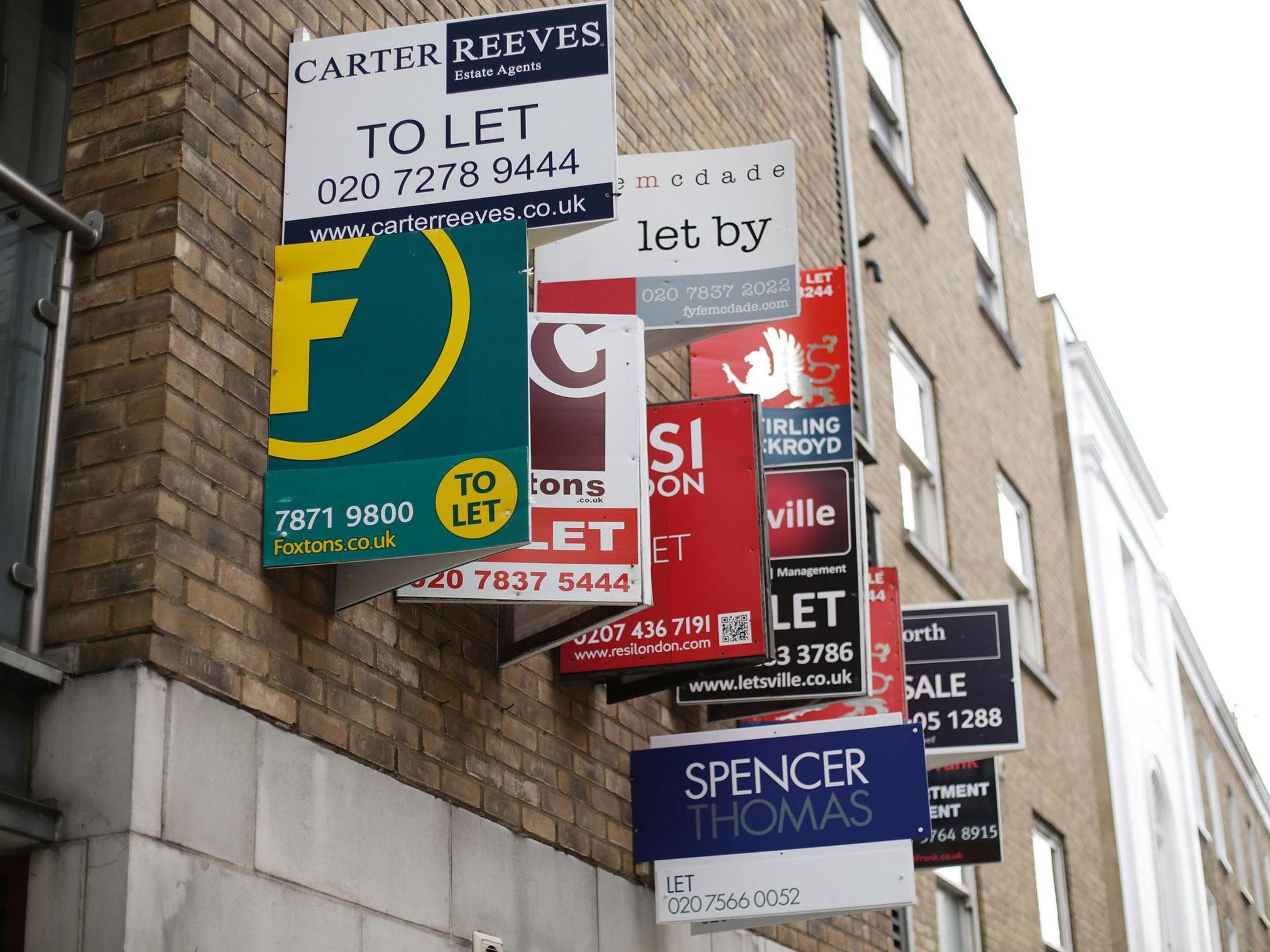 The extent of the crisis facing Britain's private renters is revealed today as new analysis shows millions of tenants are living in homes that contain dangerous safety hazards and have been deemed unfit for habitation under Government standards.
Almost a third (29 per cent) of homes rented from private landlords fail to meet the national Decent Homes Standard – meaning they either contain safety hazards or do not have acceptable kitchen and bathroom facilities or adequate heating – according to exclusive analysis by The Independent.
In total, 1.4 million households containing several million people are currently living in unsafe or unsuitable rented accommodation – almost 20,000 more than in 2013. While local councils and social housing landlords have a legal obligation to act if their homes are deemed to be substandard, there are far fewer obligations on private landlords.
It means potentially lethal hazards are consistently being unreported or ignored, leaving millions of families at risk.
Data from the latest edition of the annual English Housing Survey reveals 795,000 homes rented from private landlords – 17 per cent of the total – currently contain the most dangerous type of safety hazard – a rise of 53,000 in the last three years. These "Category 1" hazards include dangerous boilers, exposed wiring, overloaded electricity sockets and vermin infestations.
As the plummeting number of social homes and the soaring cost of ownership forces more and more people into the private rented sector, the new data raises fresh fears about safety risks and the impact on health and quality of life for those residing in homes unfit for human habitation.
Private landlords are significantly worse at maintaining their properties than homeowners or social housing providers. Just 18 per cent of owner-occupied properties and 13 per cent of social homes are considered to be sub-standard – much lower than the 29 per cent of private rented homes.
And private landlords are more than twice as likely as social landlords to be renting out a property containing a serious safety hazard. The Independent revealed last month that half a million social homes are sub-standard but the problem is much worse in the private rented sector.
Almost one million privately rented homes are deemed to be in a state of "substantial disrepair", while 442,000 have damp in one of more rooms.
The 'pod homes' that sit on stilts above car parks designed to crack the housing crisis
Show all 7
In addition to being classed as "non-decent" or having a Category 1 safety hazard, two other criteria, one relating to damp and the other to the state of disrepair, are used to determine if a home is in "poor" condition.
Around one in ten privately rented homes fail on three or four of the four measures of poor-quality meaning they are likely to be unsafe, "non-decent", in a state of serious disrepair and ridden with damp.
The Government has repeatedly refused calls to introduce compulsory licensing for private sector landlords and last year voted down a parliamentary amendment, tabled by Labour, that would have made it a legal requirement for landlords to ensure their properties are "fit for human habitation".
Earlier this year ministers announced that councils would be given the power to impose fines of up to £30,000 on landlords who do not keep their properties in an adequate condition.
However, sources told The Independent that cash-starved councils are struggling to clamp down on rogue landlords in the face of government-imposed budget cuts of up to 50 per cent. More than 1,200 staff in councils' environmental health departments were cut between 2010 and 2012 alone.
Idris Elba savages housing benefit cuts at Shelter fund-raiser
In response to the latest figures, councils urged ministers to commit more money to helping them enforce regulations.
"It's essential that new private rented sector properties are built to a high standard, and that those already built are also maintained to a high standard," said Councillor Martin Tett, the Local Government Association's housing spokesman.
"The vast majority of tenants in the private rented sector are satisfied with their accommodation, but it's concerning that so many homes are not meeting the Decent Homes Standard.
"In order to address this, councils need more resources from government to help councils build more homes for rent, supported by adequate infrastructure and services, and incentives to help raise standards in the private rented sector."
The proportion of sub-standard homes in the private rented sector plummeted from 47 per cent in 2006 to 30 per cent in 2013 after the then Labour government introduced the Decent Homes Standard, accompanied by billions of pounds of funding to help landlords improve the quality of homes. While the money went predominantly to landlords in the social sector, experts say it had a knock-on effect on housing standards across the board.
Since 2013, however, the rates of improvement has plateaud, with a decrease of barely more than 1 per cent.
It's social housing – so why are the needy locked out?
Show all 4
Labour said rogue landlords are "ripping off renters and taxpayers" and vowed to introduce "proper minimum standards to put renters back in control".
John Healey, the Shadow Housing Secretary, said: "Renters too often don't have the basic consumer rights that we take for granted in other areas. In practise you have fewer rights renting a family home than you do buying a fridge-freezer. As a result, too many are forced to put up with poor quality and sometimes downright dangerous housing.
"Most landlords provide decent homes that tenants are happy with, but there are unfortunately some rogue landlords that are ripping off both renters and the taxpayer by making billions from rent and housing benefit letting out sub-standard homes.
"After seven years of failure the Conservatives clearly have no plan to fix the housing crisis. The next Labour government would call time on bad landlords. We'd introduce proper minimum standards to put renters back in control, and give councils the powers they need to tackle the worst offenders."
In response, Alan Ward, Chairman of the Residential Landlords Association, said: "Every tenant should rightly expect their property to be safe, legal and secure.
"With over 400 regulations affecting the sector there are already plenty of powers available to councils to ensure standards are upheld. What is lacking is the ability of cash strapped councils to properly enforce them, letting down tenants and good landlords.
"We need a new system that frees councils up to focus their limited resources on finding and rooting out those criminal landlords, operating under the radar, who provide sub-standard housing and have no place in a modern private rental market."
Despite many of their homes failing basic health and safety standards, renters are being charged more and more to live in them.
Private rents have risen by 22 per cent since 2010, suggesting landlords are raking in sizeable profits on homes that in many cases are ridden with damp, inadequate heating and unsafe wiring.
Tenants, however, remain fearful of voicing concerns. New figures released by the Ministry of Justice reveal almost 51,000 private renting households were put at risk of eviction last year - the equivalent of 14 renters every hour. Almost 20,000 private renting households were evicted by bailiffs.
According to housing charity Shelter, in 2014 300,000 renters were threatened with eviction for highlighting poor conditions in their home. While councils now have powers to clamp down on "revenge evictions", more than half have never used them.
High costs mean a significant majority (almost two thirds) of private renters have no savings or investments but instead live hand-to-mouth each month, putting many at risk of homelessness if they cannot keep up with rising rents. One in ten tenants, and one in five single parents, are in rent arrears, with cuts to benefits being listed as one of the most common causes.
Almost a third of renting households say they struggle to pay their rent each month – a figure rising to over 50 per cent for single parents and 40 per cent for all families with children. Meanwhile soaring prices mean almost a quarter of private renters are now forced to claim housing benefits to help pay their rent, costing the state billions of pounds each year.
"Capitalism is breaking": meet the 25-year-old London politician fighting the housing crisis
As a result, private renters are now the biggest group of people being made homeless – almost one in three new homelessness cases are renters reaching the end of their tenancy.
Data also shows that private renters are now more likely than ever to be families with children as home ownership is pushed further and further of reach. In 2015-16, 37 per cent of those renting privately were families with dependent children – up from 30 per cent a decade earlier.
Campaigners called on the Government to do more to protect private renters.
Anne Baxendale, director of communications, policy and campaigns at Shelter, said: "Too many private renters are having to shell out huge chunks of their monthly wages for the privilege of living in grim, damp, mould-riddled flats.
"It's not uncommon for us to hear from renters who feel powerless and worry they could be evicted if they complain to their landlord, so decide to put up with these poor conditions instead.
"The government needs to do much more to help private renters and can start by giving them longer tenancies so they have the clout to complain to landlords without worrying about being thrown out."
Dan Wilson Craw, director of Generation Rent, said: Private renters who live in unsafe homes rely on local council officials to force their landlord to make improvements. Recent changes to the law – to protect such tenants from eviction, and to help councils recover the costs of their enforcement work – have not been fully tested yet, but the deep budget cuts will continue to restrict councils' capacity to carry out inspections, let alone root out the worst offenders.
A spokesman for the Department for Communities and Local Government said: "While the number of homes failing to meet the Decent Homes Standard has gone down since 2007, we know there's more to do.
"Our Housing and Planning Act introduced strong measures to crack down on rogue landlords and drive up standards. We're also looking at further action, set out in our recent Housing White Paper, to improve the decency and safety of rental properties. This includes greater protection for thousands of vulnerable tenants."
Join our commenting forum
Join thought-provoking conversations, follow other Independent readers and see their replies