Number of private renters made homeless has trebled since 2010, figures reveal
Exclusive: Private renters account for 96 per cent of the rise in homelessness since 2010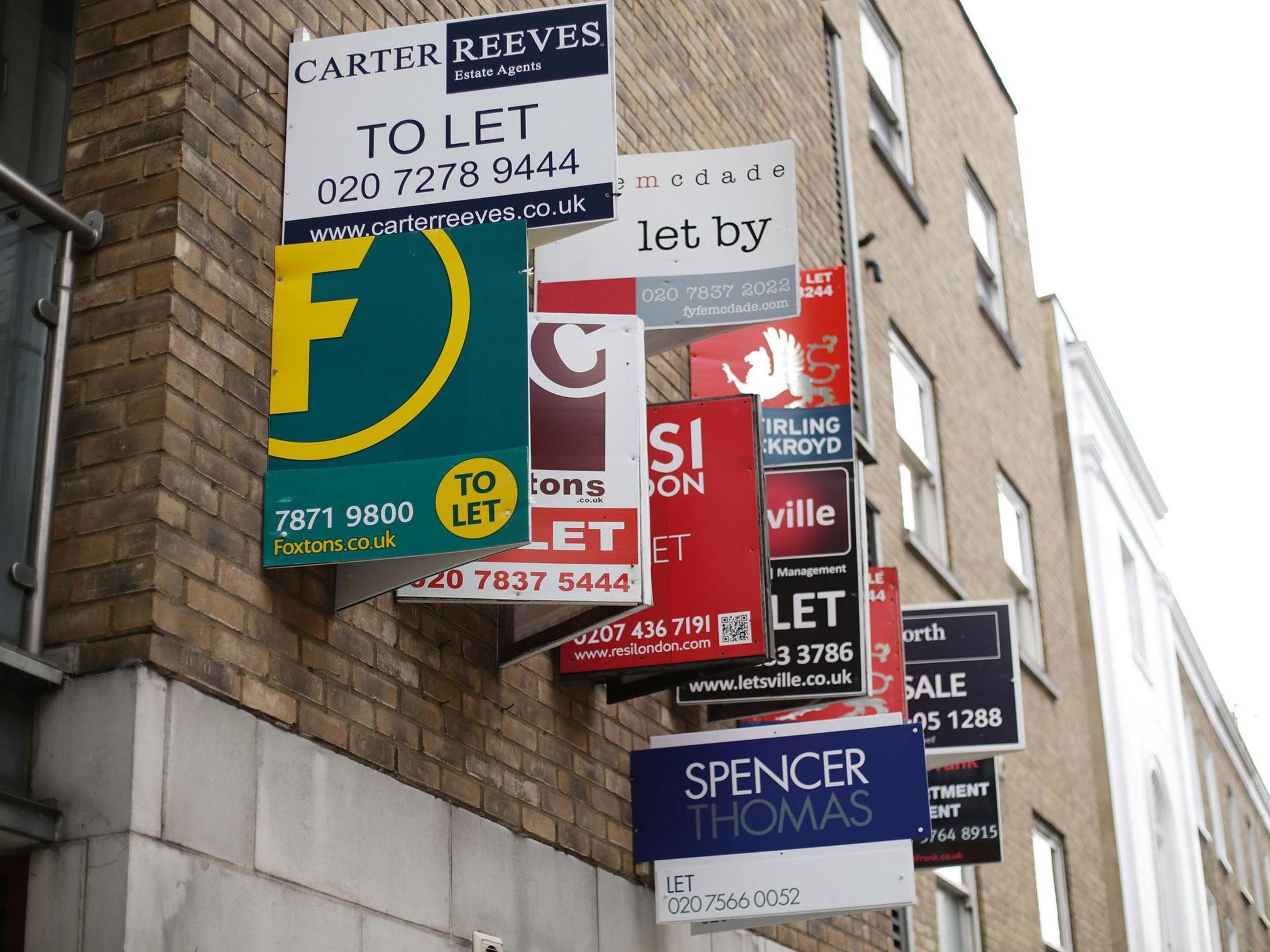 The number of private renters being made homeless is at a near-record high and has more than trebled under the Conservative government, an analysis of new official statistics by The Independent has found.
Thousands of renters each month are being deemed officially homeless by local councils after being evicted by private landlords and struggling to pay rents that have risen across the country by more 20 per cent since 2010.
The figures show a huge rise in people becoming homeless at the end of assured short hold tenancies (ASTs) – the most common agreement used by private landlords – since 2010.
In the year to September 2016, 18,820 private renting households were made homeless, compared with just 5,580 in the year to September 2010.
Critics accused Government ministers of "sitting on their hands" while renters face increasingly stark consequences if they fail to keep up with soaring rents.
The analysis reveals soaring levels of homelessness since the Conservatives took office are explained almost entirely by the unaffordability and instability of the private rental market forcing renters to register as homeless.
Of the thousands more households that became homeless between the summer of 2010 and the summer of 2016, a staggering 96 per cent are accounted for by private renters losing their homes. The total number of homeless households has increased by a quarter in the last six years.
Labour said the statistics should "shame us all…but the Government most of all".
John Healey MP, the Shadow Housing Secretary, said: "It should shame us all that in a country as decent and well off as ours the number of people finding themselves homeless is rising rapidly.
"This growing homelessness should shame the Government most of all. The spiralling rise in street homelessness results directly from decisions made by Ministers since 2010 on housing, and on funding for charities and councils.
"In particular government Ministers have sat on their hands while the number of private renters living in insecure and unaffordable housing has ballooned."
End Youth Homelessness Sleep Out 2016
Show all 14
Private renters at the end of their tenancies now make up one in three of all homeless households - up from just one in seven in 2010, meaning the proportion has more than doubled in just six years.
Tenants being evicted by a private landlord at the end of a tenancy is now the most common cause of homelessness.
In London the problem is even more severe. The number of private renters becoming homeless in the capital has increased more than eight times over since 2010 – from 950 to 7,940. A huge 40% of homeless people in London are private renters who lost their home – up from just 11 per cent in 2010.
The figures were released following a period in which rents have risen by over 20 per cent. The average rent in England and Wales is now £830 according to the LSL Buy-to-Let Index - an increase of 21 per cent on the average of £684 for the same point in 2010. In London, rents have risen from £969 to £1295 – a 34 per cent rise.
Dan Wilson Craw, a spokesman for campaign group Generation Rent, said policy changes were needed to tackle the problem: "The ability of landlords to take back their property without giving a reason is the underlying cause of the rise in homelessness, and sets up a precarious existence for the growing numbers of families renting privately.
"Private renting needs urgent reform if it is to serve the needs of its long-term population. The government could create stability, and prevent homelessness, by forcing landlords who evict a blameless tenant to foot the bill of finding a new home. That would deter opportunistic evictions, while giving unlucky tenants a basic safety net."
The figures were revealed as The Independent campaigns with the charity Centrepoint to raise funds for the first nationwide Young and Homeless Helpline, which will be able to offer assistance to the thousands of 16 to 25-year-olds who face homelessness in the UK every year.
Balbir Chatrik, Centrepoint's director of policy and engagement, said: "We face a housing crisis of epic proportions where ordinary families are losing their homes but cannot find an affordable place to rent. In 2010, one in seven private renters lost their tenancy compared to one in three in 2016.
"With a dire shortage of affordable homes being built, rents continuing to rise, and restrictions to housing benefit, 2017 is likely to see yet more people facing the misery of homelessness."
Jeremy Corbyn attends homeless appeal event
Centrepoint's own research has suggested that as local authorities struggle with austerity cuts, up to one in three young people seeking help with homelessness are currently being turned away unaided by English local councils.
Without proper central government funding, Ms Chatrik warned, it would be hard for measures in the Homelessness Reduction Bill currently going through Parliament to work effectively.
Ms Chatrik said: "Centrepoint welcomes the Homelessness Reduction Bill, in particular the new duties for local authorities to assess, prevent and relieve homelessness. But without additional funding, cash-strapped councils will be able to do very little to prevent more people facing homelessness."
The number of households becoming homeless at the end of private tenancies more than halved in the decade between 2000 and 2010, having peaked in 2001, but since 2010 has continued to rise significantly.
Housing charity Shelter said the trend reflected a failure to build enough affordable homes.
Roger Harding, the charity's Director of Communications, Policy and Campaigns, said: "The government's recent ban on letting fees will provide some welcome respite for renters. However, people will continue to struggle unless we commit to tackling the long term cause of this problem by building more affordable homes that people on ordinary wages can actually afford to buy or rent long term."
The government's legislative programme for 2016-17
Show all 20
The Government said it was acting to tackle homelessness across the board, including by investing in new affordable rented homes. Ministers have previously rejected calls from charities and Labour to introduce a cap on private rents and extend the default tenancy from one year to three years.
A DCLG spokesman said: "This Government is committed to supporting the most vulnerable in our society and ensuring our country works for everyone.
"That's why we're investing over £550 million to tackle and reduce homelessness, on top of supporting Bob Blackman's Homelessness Reduction Bill to prevent more people from becoming homeless in the first place.
"We're also investing £9.4 billion in affordable housing over the course of this Parliament including affordable rented housing."
Join our commenting forum
Join thought-provoking conversations, follow other Independent readers and see their replies