Prominent climate change sceptic set to make millions by digging giant open-cast mines on Northumberland family estate
The Ridley family have been mining coal on their 18th century Blagdon Estate since the 1940s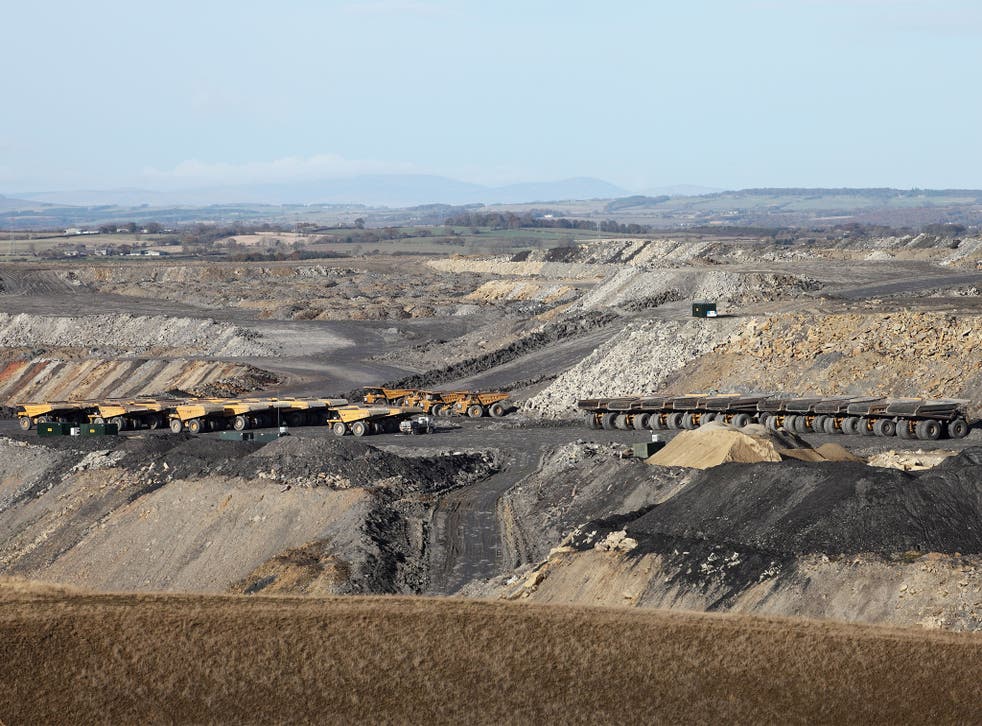 Viscount Ridley, a prominent climate change sceptic, is to dig two giant open-cast mines on his national park family estate in Northumberland that will produce an estimated £20m of coal – increasing criticism that his championing of fossil fuels is tainted by self-interest.
The Ridley family have been mining coal on their 18th century Blagdon Estate since the 1940s. The present Viscount Ridley – the Conservative peer, science writer and former banker Matt Ridley – was granted permission for two new mines in 2014.
The Shotton Triangle mine is forecast to produce about 290,000 tons of coal while the Shotton South West site has a target of about 250,000 tons. The mines, first reported by the website DeSmogBlog.Com, could generate £21.5m at the current coal price.
The Ridley family will receive only a fraction of this sum in the form of a "wayleave" payment for allowing access to the coal, because mining royalties go to the government.
Lord Ridley, a brother-in-law to the climate change sceptic former Environment Secretary Owen Paterson, has frequently dismissed concerns about global warming and advocated fossil fuels in his newspaper columns.
In an article entitled Fossil Fuels will Save the World (Really) in The Wall Street Journal this month he wrote: "The environmental movement has advanced three arguments in recent years for giving up fossil fuels…These days, not one of the three arguments is looking very healthy.
"A more realistic assessment of our energy and environment situation suggests that, for decades to come, we will continue to rely overwhelmingly on the fossil fuels that have contributed so dramatically to the world's prosperity and progress."
In pictures: Changing climate around the world

Show all 15
Viscount Ridley disclosed his involvement in the coal industry in the article.
Climate change campaigners said Lord Ridley's commercial interests raised questions about his global-warming views. Dr Robin Russell-Jones, an environmental scientist, described him as: "A prominent climate change sceptic with a vested interest in climate change denial. His views are largely self-serving."
Greenpeace UK chief scientist Doug Parr said: "Viscount Ridley's long-standing financial interest in coal, and similarly long-standing relaxed attitude to global warming would appear to be conveniently aligned. As Upton Sinclair observed, it is difficult to get a man to understand something when his income depends upon his not understanding it."
Speaking on behalf of Lord Ridley, Blagdon Estate chief executive Robert Downer said: "The mining operations on Estate land are owned and operated by long-established regional employer The Banks Group, rather than by the Estate, and the coal that is mined is owned by The Crown, with the Estate receiving a small wayleave for enabling access to it and as compensation for lack of agricultural access to the land."
He added: "Matt Ridley has always been clear and open about his mining interests, having declared them both in the House of Lords and in his numerous writings, and that his views on climate and energy policy would be the same regardless of the amount of mining revenue that the Estate was receiving."
Register for free to continue reading
Registration is a free and easy way to support our truly independent journalism
By registering, you will also enjoy limited access to Premium articles, exclusive newsletters, commenting, and virtual events with our leading journalists
Already have an account? sign in
Register for free to continue reading
Registration is a free and easy way to support our truly independent journalism
By registering, you will also enjoy limited access to Premium articles, exclusive newsletters, commenting, and virtual events with our leading journalists
Already have an account? sign in
Join our new commenting forum
Join thought-provoking conversations, follow other Independent readers and see their replies