Prostitutes should be free to work without fear of arrest in 'managed' red-light districts, says campaigners
Demands for street prostitution zones where Britain's estimated 80,000 sex workers and their customers can freely mingle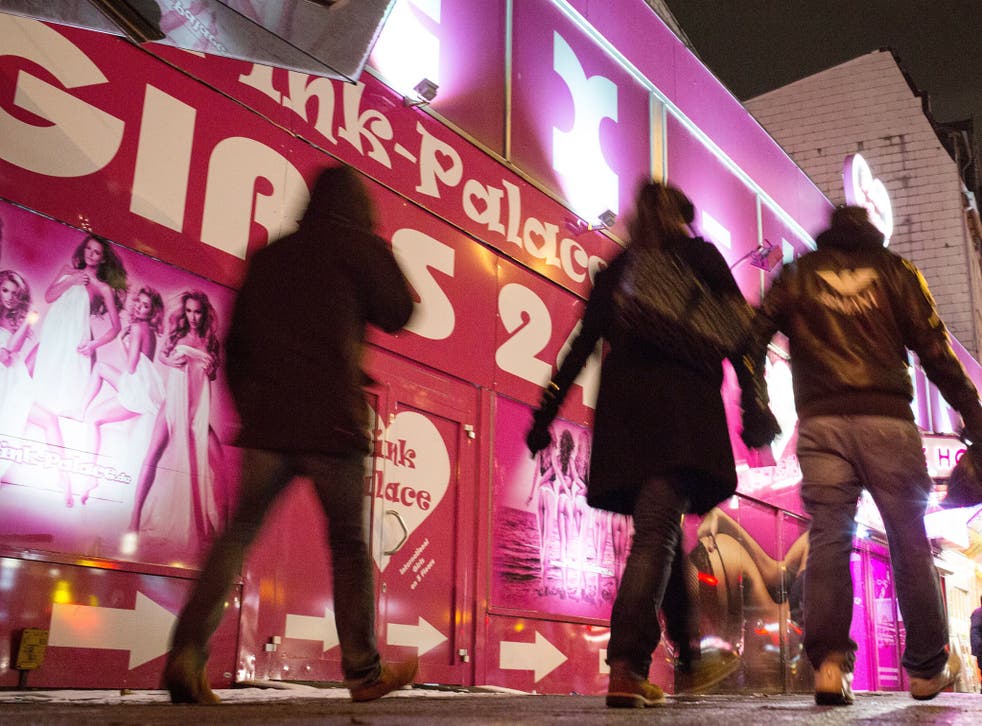 Prostitutes should be free to work the streets without fear of arrest in "managed" red-light districts in major UK cities, to help protect them from attack, according to campaigners.
Calls are being made for police forces across the country to consider setting up street prostitution zones where Britain's estimated 80,000 sex workers and their customers can freely mingle.
This follows the establishment this week of a permanent zone in Leeds where prostitutes can work between 7pm and 7am without the risk of prosecution.
Figures seen by The Independent show that there has been a huge increase in the number of prostitutes willing to report violent crimes in Leeds thanks to the police's more tolerant approach.
In the first year after the scheme launched as a pilot project in 2014, more than 60 per cent of sex workers said they were willing to report crimes to the police compared with just 7 per cent before the scheme began.
This increased to 100 per cent in the first quarter of 2015-16, according to figures from National Ugly Mugs, a project that seeks to end violence against sex workers.
In contrast, prostitutes working in areas of the country covered by police forces with high enforcement levels make just a handful of reports about violence.
"There has been a massive sea-change in Leeds," said Alex Feis-Bryce, the chief executive of National Ugly Mugs. "If sex workers do not feel able to report violent crimes to the police, the offenders get away with it and then everybody in the community is less safe.
"Police forces in other areas should now consider this scheme to protect women on the streets, who are the most vulnerable to attack."
More than one sex worker is raped or attacked every day in the UK, according to figures from 2014. London has the highest number of reported incidents, totalling more than two a week.
Suggestions are now being put forward for "managed" schemes in cities like London, Bradford and Newport. The Home Office says it would be up to individual police forces to decide. The Conservative London Assembly member Andrew Boff plans to put the idea to London's Mayor, Boris Johnson.
In a 2012 report, Mr Boff said sex workers in London were 12 times more likely to be murdered than the national average for women in general, and that three-quarters of them were likely to be assaulted or raped in the course of their work, but they were less likely to trust the police or report a crime.
"The scheme in Leeds has been overwhelmingly successful," Mr Boff told The Independent. "I would like to see such zones come to London as well. We have a number of problems with street prostitution in London, but this scheme isn't something you can just pick up and drop anywhere. It's about seeing where we can manage the issue."
Gwent Police said last summer it was considering plans to introduce "managed prostitution" in Newport, a city where it was claimed girls of 14 were selling sex on the streets for £2. They were waiting on the results of the Leeds scheme and said extensive consultations would take place before any decisions were made.
In Bradford, a senior councillor, Andrew Mallinson, has also made calls for a "managed zone" on the back of the project in Leeds, but says he was criticised by police officers for "not having a full understanding of the support already in place".
He said: "Bradford has its issues. If I don't know what support is in place, then how are other people going to know. I'd welcome this scheme. Prostitution relates to so many other problems such as drug abuse, poor housing and homelessness – it should be a priority."
Dr Kate Brown, a lecturer in social policy and crime at of the University of York, one of the architects of the Leeds scheme, said the city has now seen a "dramatic increase" in reports of crime against sex workers.
"Dangerous offenders have been convicted as a result and enhanced support for women has been put in place where previously there were Asbos, cautions and fines. We'd be happy to talk to other authorities about the results."
But there are some in Leeds who are concerned about the creation of the permanent prostitution zone, the announcement of which followed the recent death of 21-year-old sex worker Daria Pionko, who was found with fatal injuries inside the "managed zone".
Ian Staines, who runs a business in the heart of the industrial district where prostitutes are allowed to operate, said he is "fed up" with finding condoms and drug needles, and seeing people having sex near his premises.
"It shouldn't be up to the police to decide whether or not they enforce the law in a particular area. They have already said they have limited resources. They should be enforcing the law and they are not doing their job."
A spokeswoman for the English Collective of Prostitutes, which campaigns for the abolition of prostitution laws, said: "A managed zone is no substitute for decriminalisation. Some women complain that the police wash their hands of the area and they feel segregated from the protection of the local community.
"Only decriminalisation will improve sex workers' safety by allowing women everywhere to report violence, exploitation and abuse without the threat of arrest."
Join our new commenting forum
Join thought-provoking conversations, follow other Independent readers and see their replies