Two thirds of public concerned by plans to 'criminalise protest', polling shows
Exclusive: Campaigners say there is 'no appetite' for controversial protest laws proposed by government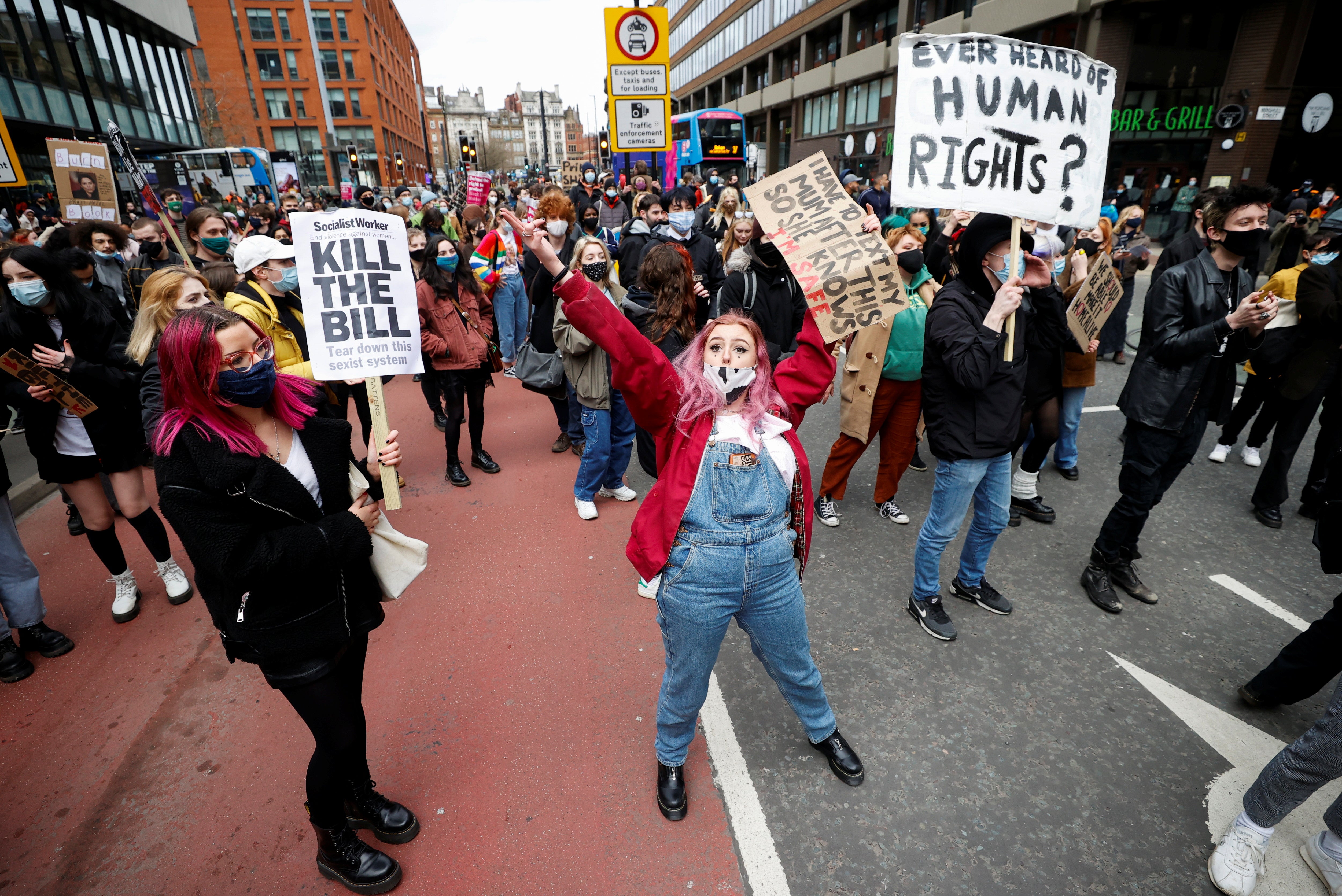 Two thirds of British people would be concerned by government plans to "criminalise protest", polling shows.
Research seen exclusively by The Independent suggests that two thirds of the population also agreed with the statement that people "have the right to attend a protest to stand up for what they believe in".
It comes as the government backs a suite of controversial protest laws that would increase police powers to impose restrictions.
Last week, parliament's Joint Committee on Human Rights said proposals to restrict demonstrations on the basis of noise were "oppressive and wrong".
The Police, Crime, Sentencing and Courts Bill would also create a new "public nuisance" offence, give the home secretary the power to define "serious disruption", allow police to ban one-person protests and increase prison sentences for non-violent crimes related to demonstrations.
The government insists it is not clamping down on the right to demonstrate or violating human rights laws, but campaign groups have accused it of "threatening the right to protest".
Polling by nfpSynergy, which was commissioned by the Liberty human rights group, found that 63 per cent of respondents agreed with the statement: "People should have the right to attend a protest to stand up for what they believe in".
A further 70 per cent agreed that "people should be able to stand up to power and challenge injustice".
Asked whether they would be concerned about "plans to criminalise protest", 62 per cent of respondents said they were and 28 per cent said they were not.
NfpSynergy polled 1000 adults between 30 March and 29 April for the research.
Liberty's head of policy and campaigns, Sam Grant, said: "These findings show that there is no appetite for the government's dangerous proposals, and widespread concern over such a broad attack on our rights. Those in power must listen to the chorus of opposition they are facing and scrap these plans.
Bristol riot: Police clash with protesters at 'Kill the Bill' rally
"By protecting our right to protest, we protect each other, safeguard our rights, and ensure we can all stand against oppression and injustice, and for a fairer society."
The proposed protest laws are contained within the wide-ranging Police, Crime, Sentencing and Courts Bill, which is currently undergoing parliamentary scrutiny after being backed by MPs in March.
It has sparked a wave of demonstrations, including some that saw vandalism and violence against police officers, amid accusations that the government was stifling the right to protest.
Parliament's Joint Committee on Human Rights found that plans to allow police to restrict "noisy" demonstrations were "not necessary in a democratic society" and should be dropped.
Chair Harriet Harman said police already had access to "perfectly adequate" powers, and that protests themselves should be given explicit statutory protection in the law.
The report found that political rhetoric had been "downplaying the importance of the right to peaceful protest and treating it as an inconvenience", and that public authorities should be reminded of their obligation to "refrain from interfering unlawfully" with the right to demonstrate.
In March, a report by HM Inspectorate of Constabulary that was commissioned by Priti Patel found police had been "tipping the balance too readily in favour of protesters", against disrupted businesses and members of the public.
But a Supreme Court ruling handed down on Friday said there "should be a certain degree of tolerance to disruption to ordinary life, including disruption of traffic, caused by the exercise of the right to freedom of expression or freedom of peaceful assembly".
The case, over protesters prosecuted for blockading a London arms fair in 2017, resulted in the court finding that protests can be a "lawful excuse" to block roads.
Hours later, the Metropolitan Police launched raids targeting Extinction Rebellion protesters, ahead of a planned "uprising" over the weekend.
The force said it had seized bamboo structures and equipment that "could be used to cause criminal damage and obstructions", adding: "We will not tolerate disruptive or unruly behaviour."
A Home Office spokesperson said existing public order legislation was out of date and the proposed laws would "enable police to better manage demonstrations so that legitimate protest groups can make their voices heard without disrupting the lives and livelihoods of others".
A statement added: "The right to protest is a cornerstone of our democracy our proposed measures are in line with human rights legislation and in no way impinge on the right to protest."
Join our commenting forum
Join thought-provoking conversations, follow other Independent readers and see their replies