Crowds of drinkers in London's Soho celebrate pubs reopening 'like VE Day'
City's Covid Marshalls not enforcing social distancing measures, says one man in the area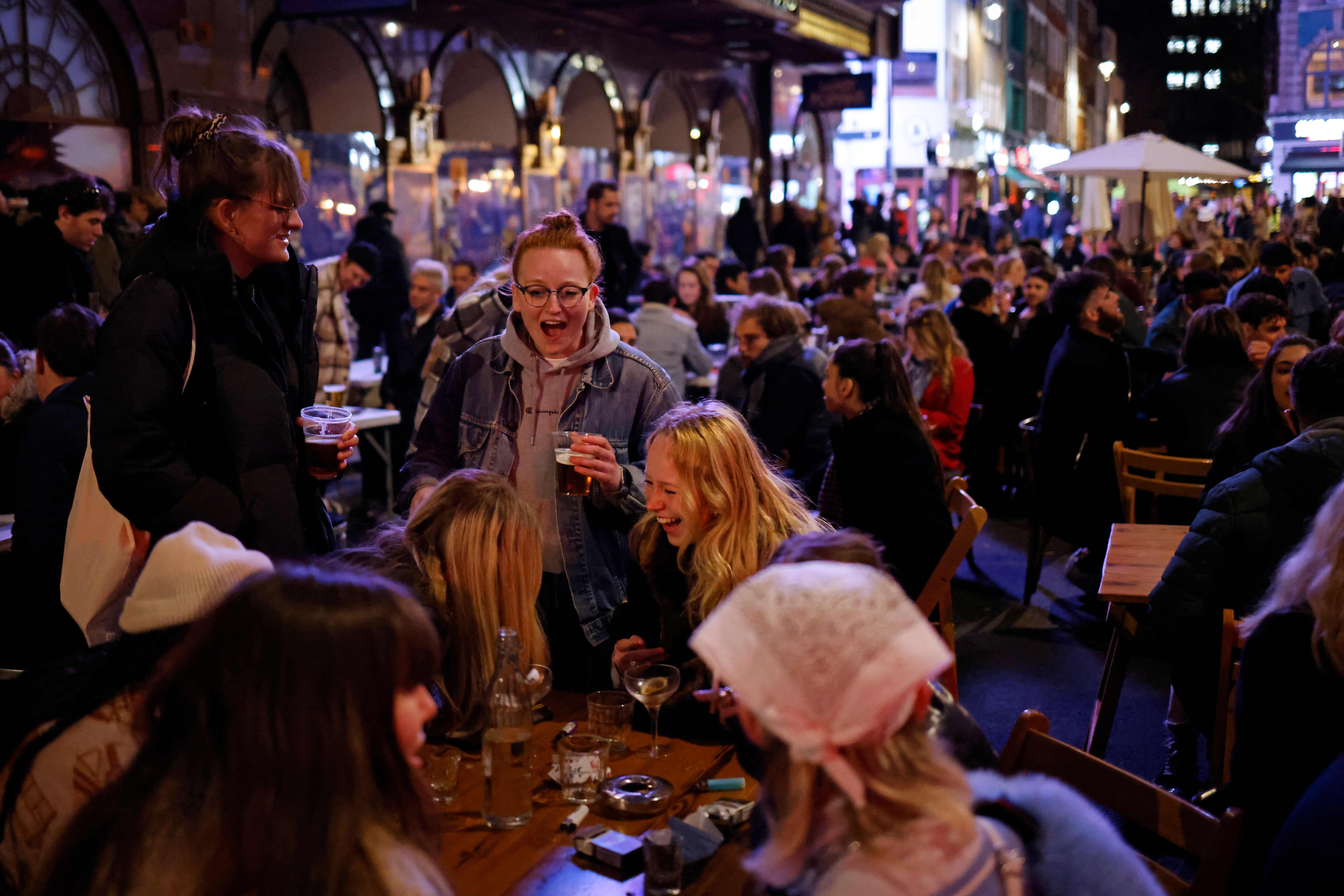 London's Soho was busier than ever on Monday night — although some of those enjoying the reopening of pubs admitted there was "very little" social distancing being adhered to.
Police patrolled central London as crowds flocked to Old Compton Street, signalling the end of certain lockdown restrictions and the reopening of pubs and bars' outdoor areas across England.
Several West End streets were even closed to traffic between 5pm and 11pm, to create outdoor seating areas as part of measures implemented by Westminster City Council to support hospitality businesses.
Pictures and videos being shared online show people packed onto tables, while dozens more stood on the streets raising a glass to England officially entering into stage two of Boris Johnson's roadmap out of lockdown.
Attila Kulcsar, a media communications manager, said the crowds felt "like a return to the real Soho of the 1990s".
"Tonight's atmosphere beats the whole of last summer ... it really is like how I imagine VE Day," the 54-year-old told the PA news agency. "It's almost like watching Hogarth paintings come to life in 2021. There is a wonderfully raucous hysteria everywhere. It's very celebratory.
But he added: "There is very little social distancing. A distinct sense that people feel the Covid restrictions have ended.
"There are lots of police around Soho as well as Covid marshalls, but there is no word from them about social distancing ... if anything they seem to be joining in the festivities."
Westminster City Council said it was aware of "isolated incidents of crowding" and that it was working with businesses to ensure they are operating "responsibly and safely in line with guidance".
A council spokesperson said: "We are pleased that visitors can return to the city and enjoy the shops and outdoor hospitality safely.
"We also have Covid marshalls and city inspectors working across the city to help businesses support accessibility, social distancing and to respond to any issues."
It comes after the prime minister issued a warning earlier to the public, urging everyone to "behave responsibly" as non-essential shops, gyms, swimming pools, nail salons and zoos reopened their doors once more as well.
A member of the government's Scientific Pandemic Influenza Group on Modelling (Spi-M) issued a warning earlier, reminding people to continue to follow the rules "still in place".
Dr Mike Tildesley, a reader of infectious disease modelling at the University of Warwick, said: "We might expect it could have a resurgence, but it's really, really important therefore that people follow the rules that are in place with this relaxation.
"All the signs are pretty good at the moment – cases have been going down for many weeks now, we're seeing hospital admissions and deaths go down to very low numbers, and we really hope that continues."
He added to Times Radio: "It is great news that people can get out and go to non-essential shops and go to pubs and restaurants and so forth. But, of course, follow the guidelines that are still in place."
Additional reporting by PA
Join our commenting forum
Join thought-provoking conversations, follow other Independent readers and see their replies