Trophy hunters paying to shoot 100 puffins at a time during trips to Iceland
Promise of trip to shoot endangered birds being sold online for £3,000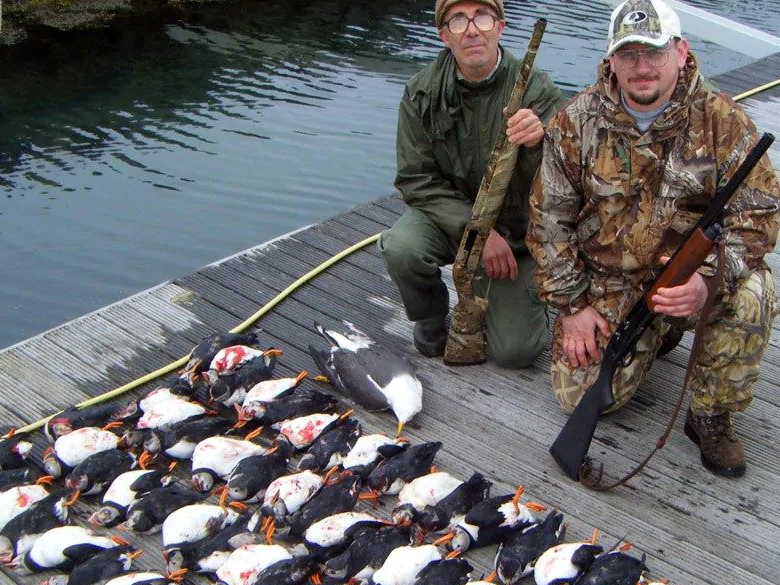 Trophy hunters are killing up to 100 puffins at a time during hunting trips to Iceland despite efforts to protect the endangered bird, according to animal rights activists.
Hunters are signing up to special tours, some costing as much as £3,000, to go puffin hunting in the Atlantic island nation.
Killing, injuring or interfering with puffins and their nests is against the law in the UK, but the iconic birds are not protected in Iceland.
Websites advertising the trips prominently feature pictures of rifle-wielding hunters in camouflage outfits smiling as they stand over dozens of bloodied puffin carcasses.
While there is no evidence that Britons are taking part in hunts, campaigners and MPs are demanding the UK ban any import of puffin trophies in an effort to stamp out the grisly trade.
World's most endangered animals
Show all 17
Populations of the popular seabird are declining across their habitats, with numbers in Iceland dropping by about 1.5 million in recent years.
Since 2015, the birds have been listed as "vulnerable" by the International Union for Conservation of Nature, meaning they face a high risk of extinction in the wild.
Many of those hunted in Iceland are then served as food to curious tourists; the once ubiquitous birds have been part of Icelandic culture and cuisine for centuries.
Britain's new environment secretary, Theresa Villiers, is being urged to ban imports of puffins which have been killed in trophy hunts and push CITES, the international organisation which regulates animal trade, to list the seabirds for global protection.
Eduardo Gonçalves of the Campaign to Ban Trophy Hunting said: "The puffin is now in danger of becoming extinct, and uncontrolled hunting has been identified as a leading cause.
"There should be an immediate moratorium imposed before it is too late.
Puffins land on remote Scottish island in stunning footage
"CITES keeps no data on how many puffins are shot for recreation or traded. It is incredible that such an iconic species has been forgotten by the international community."
Sir Roger Gales, chair of the Conservative Animal Welfare Foundation, told The Daily Telegraph he believed Ms Villiers would be open to banning puffin trophy imports.
"Personally I regard the whole practice as abhorrent. I don't believe in trophy hunting at all for any species. I don't think there is any excuse for it.
"I believe there is much more tourism to be generated by preservation and conservation rather than by killing puffins."
Other Tory MPs, including Henry Smith, have also thrown their weight behind the campaign.
"We have seen a huge decline in puffins especially along the West Coast [and] it is extremely distressing to see that a much-loved bird is being killed as trophies in Iceland," Mr Smith told the newspaper.
A spokesperson for the Department for Environment, Farming and Rural Affairs said: "Puffins are one of the nation's most iconic seabirds and, as with all wildlife, their protection is a high priority for this government.
"We take the conservation of species seriously and work with organisations such as CITES to agree tough global guidelines to protect animals at risk."
Join our commenting forum
Join thought-provoking conversations, follow other Independent readers and see their replies