Q. So just how much unpaid overtime does the average UK worker do each week? A. 7hrs 18 mins
TUC says study of official statistics highlights 'pointless presenteeism' with staff judged on the hours spent at desk rather than work they do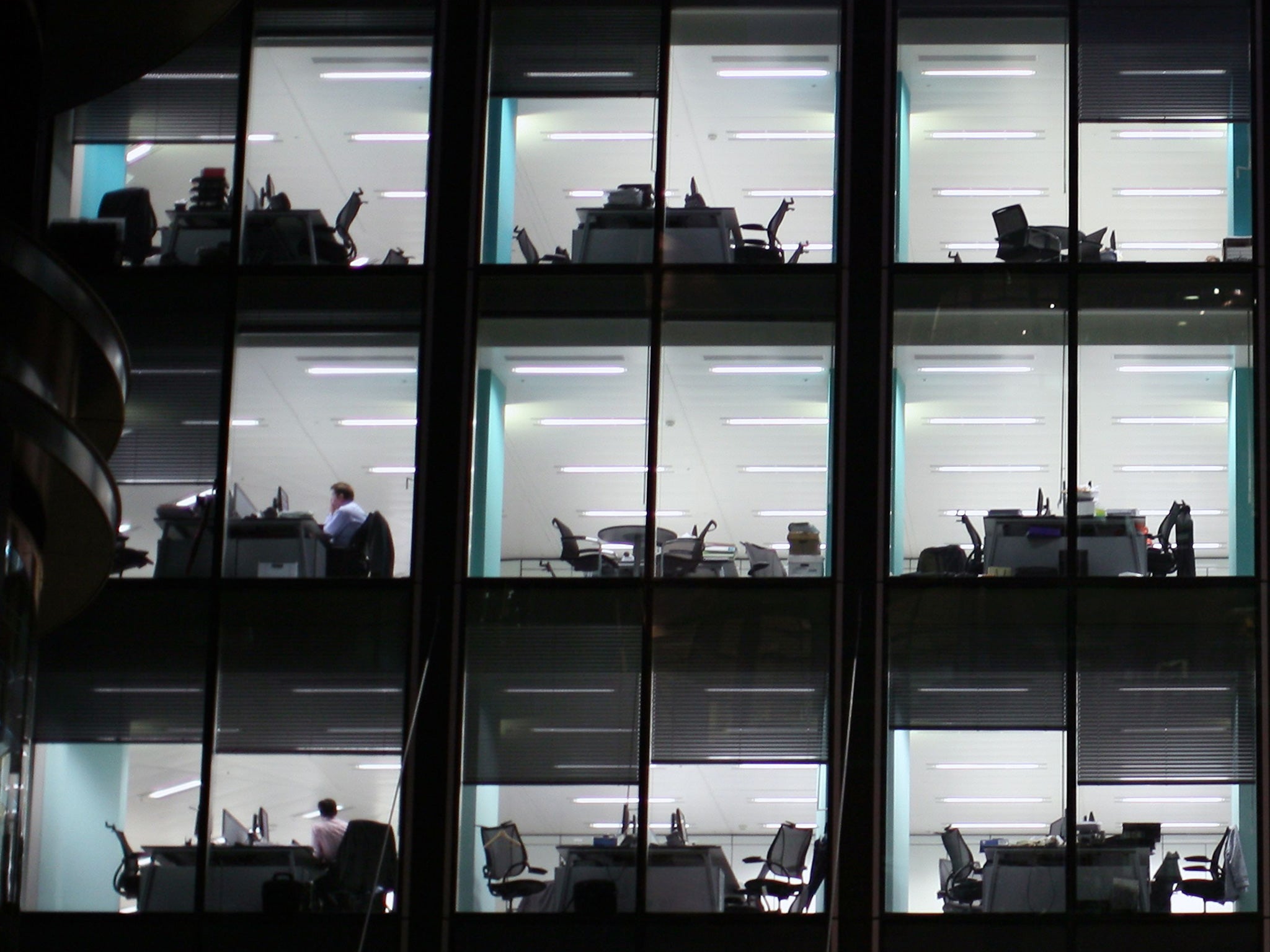 One in five workers is regularly putting in seven hours of unpaid overtime every week, a new study has revealed, confirming the UK's long-hours culture.
The TUC said half of teachers, legal professionals and finance managers were working more than their contracted hours for no extra pay.
Other long-hours professions include the media, health and social services, said the union organisation, as it launched its annual Work Your Proper Hours Day, encouraging people to take a proper lunch break and leave on time.
Around five million people worked extra hours without being paid last year, at an average cost of £5,600 per person, adding £28.3 billion to the economy, said the TUC.
The number of people working unpaid overtime fell by 200,000 last year, although the average amount of extra hours worked increased by six minutes to seven hours 18 minutes, according to the TUC's study of official statistics.
Londoners were most likely to work unpaid overtime.
Public sector employees worked 620 million unpaid hours last year, a 3% increase on 2011, as the number of jobs in the sector fell by 100,000.
The TUC said some unpaid overtime was down to heavy workloads, but it believes much of the extra hours being put in were down to "pointless presenteeism", with staff judged on the hours spent at their desk rather than the work they do.
TUC general secretary Frances O'Grady said: "Millions of UK workers go above and beyond the call of duty each year to ensure their businesses and organisations stay afloat.
"This has especially been the case in the public sector where, in the face of large-scale job cuts, those staff remaining have had to put in even more unpaid overtime.
"While most staff don't mind doing a few extra hours, working time needs to be properly managed or excessive hours can become a drag on the business.
"A significant part of the nearly two billion hours of unpaid overtime worked every year could be wiped out by smarter management practices, such as focusing on the work staff actually do rather than the time spent at their desks.
"Where employees regularly have excessive workloads, businesses should be considering whether a few more members of staff might help make everyone less stressed and more productive.
"A long-hours culture is bad for workers' health and their family life - whether the hours are paid or not."
Christine Blower, general secretary of the National Union of Teachers, said: "It comes as no surprise that teachers work more hours in unpaid overtime than almost any other workers.
"Teachers' commitment to their job is unquestionable, yet Government continues its onslaught of attacks on a profession which is manifestly overworked."
University and College Union general secretary, Sally Hunt, said: "Today's figures confirm that our teachers and lecturers continue to go above and beyond the call of duty. While the Government cuts resources, staff continue to deliver for their students, despite the worrying increase of their workloads.
"This simply is not sustainable and the Government cannot continue to expect more for less. Long working hours impact on staff and students and on the education students receive."
The Transport Salaried Staffs Association said over half of all rail staff are working unpaid overtime.
General secretary Manuel Cortes said: "These are worrying figures, especially when the McNulty Report wants to close 750 booking offices and axe thousands of jobs to achieve savings of more than £1 billion at Network Rail over the next few years.
"A culture of longer hours and a demoralised and reduced staff will have long term implications for the safety of our railways.
"A properly staffed railway will be a much safer railway."
PA
Join our commenting forum
Join thought-provoking conversations, follow other Independent readers and see their replies