Queen Elizabeth II: Monarch's 90th birthday souvenirs unveiled – with sizeable price tags
Average British family faces a bill of more than £200 if they want to mark the occasion with a traditional cup of tea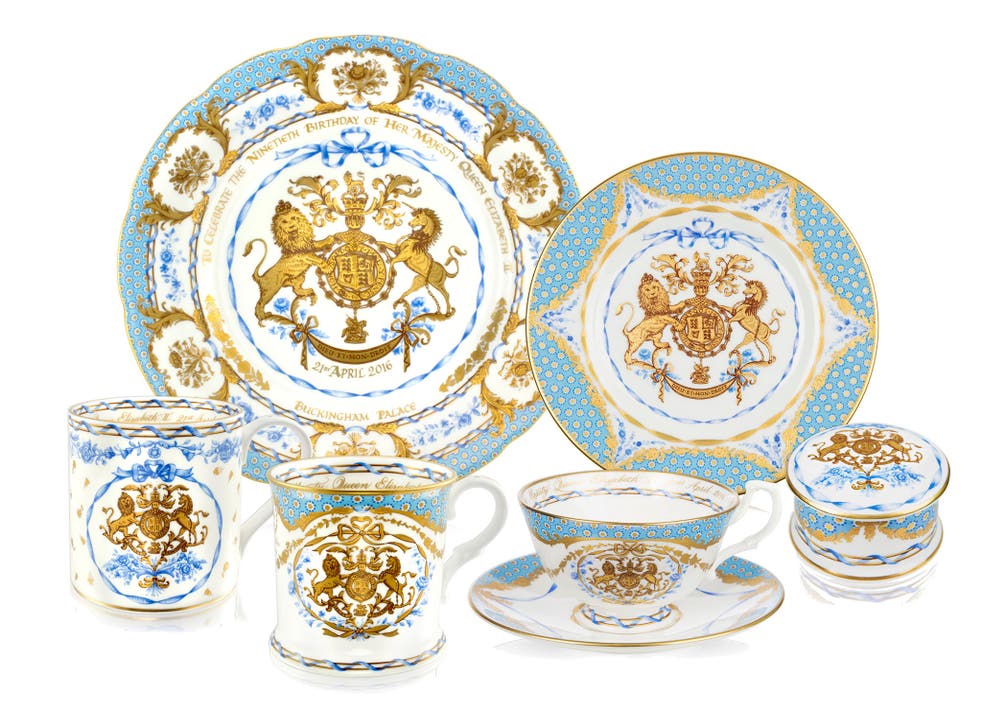 The royal event of the year may be months away but the scramble to cash in on the Queen's 90th-birthday celebrations is in full swing, led by the official range of commemorative china launched on Monday.
Promoting an expensive collection of crockery beyond the reach of many of Her Majesty's humble servants, the Royal Collection Trust (RCT) wants people to part with sizeable sums of money.
The average British family faces a bill of more than £200 if they are thinking of marking the occasion with a traditional cup of tea, since a single cup and saucer costs £55. The cheapest item is a mug costing £25. And people wanting to buy a single plate will be charged £89. Other items include a pillbox costing £29; and a tankard and a side plate, both priced at £39. The souvenirs, featuring the Queen's coat of arms and flowers such as forget-me-nots and cornflowers, are made by hand in Britain using English fine bone china and finished with 22-carat burnished gold, according to the RCT, a department of the Royal Household.
But the announcement of the official souvenirs does not refer to a sharp drop in sales in the past two years. Instead, the RCT's retail director, Nuala McGourty, says: "We are proud that the china has been designed and manufactured exclusively for us in the English Potteries, with whom Royal Collection Trust has a longstanding association."
But she neglects to mention that retail income fell from £17.5m in 2013/14 to £14.2m in 2014/15 – a drop of 19 per cent. In the same period, the number of people paying to visit various Royal attractions, such as Buckingham Palace, went down by 82,000.
"The absence of a royal anniversary or event made 2014–15 a challenging year for retail," admits the RCT's latest annual report. "Commemorative china constitutes an important part of the overall retail offer, especially for the wholesale market, and this is particular saw a reduction in sales volumes this year," it adds.
However, there were no such challenges in previous years. The wedding of Prince William and Kate Middleton, in April 2011, helped propel retail sales to £17m in 2011/12 – up on £11.7m the previous year. And sales reached just over £18m in 2012/13, driven by the Queen's Diamond Jubilee celebrations.
Companies are already selling everything from tea towels to teddy bears to capitalise on the Queen's landmark birthday this year.
But there are no signs of the hype that was generated over the royal wedding of Prince William and Kate Middleton in April 2011, when sick bags, knit-your-own royal couple sets and even commemorative condoms sold.
The Queen's birthday is on 21 April, but that is just the start – with a series of expensive events in the following months.
Tickets to a horse pageant at Windsor Castle in May cost up to £195 each. And a public ballot opened last Friday for tickets to a Patron's Lunch in the Mall in London in June. There are 2,000 tickets up for grabs. But there's just one catch, as those wanting to join the party will be charged £150 for what amounts to a glorified packed lunch. In contrast, the Diamond Jubilee concert held outside Buckingham Palace in 2012, which featured artists such as Sir Elton John and Sir Paul McCartney, was free.
The Patron's Lunch, to celebrate the Queen's charitable work, has been embroiled in controversy in recent weeks, and not just because of the ticket prices.
The event is being organised by the Queen's grandson, Peter Phillips, who is managing director of the company, Sports & Entertainment, being paid to organise the event. Any profits will go to the Patron's Fund charity, to be distributed to worthy causes, but earlier this month it emerged that Mr Phillips resigned as trustee of the Patron's Fund last November to avoid a conflict of interest.
The event is described as a "street party" and Mr Phillips has said the Queen "is really excited by this – she thinks it is a great idea".
Register for free to continue reading
Registration is a free and easy way to support our truly independent journalism
By registering, you will also enjoy limited access to Premium articles, exclusive newsletters, commenting, and virtual events with our leading journalists
Already have an account? sign in
Register for free to continue reading
Registration is a free and easy way to support our truly independent journalism
By registering, you will also enjoy limited access to Premium articles, exclusive newsletters, commenting, and virtual events with our leading journalists
Already have an account? sign in
Join our new commenting forum
Join thought-provoking conversations, follow other Independent readers and see their replies