Rachel Riley says government will be to blame for deaths if it fails to create register of domestic abusers
Exclusive: '16 women have been murdered by men since Sarah Everard was killed,' says Countdown presenter
Maya Oppenheim
Women's Correspondent
Monday 26 April 2021 17:29 Comments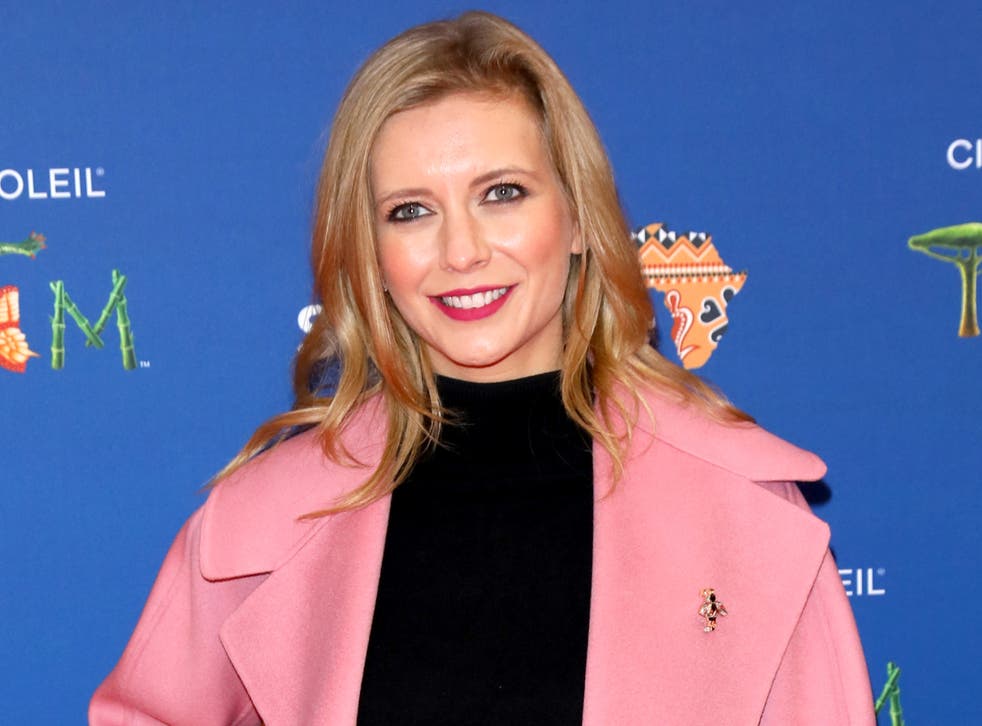 Rachel Riley has said she will hold the government personally responsible for the next death from domestic abuse if it fails to introduce a register for serial offenders.
The Countdown presenter said deeply entrenched misogyny and myths about domestic abuse pervade the criminal justice system as she argued ministers failed to follow through on promises to tackle violence against women after Sarah Everard's killing.
Her comments come after The Independent revealed a government U-turn on plans to place serial domestic abuse and stalking perpetrators on the existing violent and sexual offenders register and monitor them in the same way serious sex offenders.
Priti Patel, the home secretary, suggested the government would look again at creating a national register of repeat abusers last month but the government has backtracked.
However, ministers are again facing mounting pressure to introduce such measures — with the Lords twice voting for the proposals — via the domestic abuse bill. MPs were due to vote on the Bill on Monday evening.
Ms Riley said: "The government arguments don't make any sense. 16 women have been killed by men since Sarah Everard was killed.
"They said they were going to treat violence against women seriously and they need to. There is no excuse not to do this. It will save money. It will save lives. It is recommended by the experts. They need to take domestic abuse as seriously as other sexual violent offences."
A woman is killed by a current or ex-partner every four days in England and Wales, while one in four women will suffer domestic abuse at some point during their lives.
Ms Riley warned that individual MPs need to look at the issue and vote "based on their common sense and morality" rather than being at the mercy of a whip.
The presenter added: "There will be more murders without this and they will be preventable because so many of them are. Women are actually calling the police and asking for help and not getting it because they are not piecing the puzzle together.
"This will do that. I will hold them personally responsible for the next murder that happens if they don't put the legislation through. For not making the change that is in front of them to make a difference."
Ms Riley warned domestic abuse and stalking is a "patterned crime" - adding women make "repeated calls" to the police "crying out for help" before later being murdered by their abusive partners.
She added: "It is scandalous. Perpetrators need to be monitored. They need to be held accountable. They shouldn't be able to go around controlling and ruining women and children's lives because nobody is watching them or caring or monitoring what they are doing.
"There are cases of women calling police 80 times or more and them acknowledging the perpetrators a serious threat and they don't do anything."
She noted that police forces around the country differ widely in their approaches to such issues, and said one female police officer told a friend that she did not believe victims could be in an abusive relationship for more than 10 years as nobody would stay in one for so long.
"I'm a maths geek," Ms Riley added. "I like statistics. I like evidence. From all the interactions I've seen, I just can't see past it, every time a man says something untrue, even when there is evidence, there is video, he gets believed. The woman is questioned. She is not believed. You just can't get past the misogyny. The distrust of women."
She said society perpetually "makes excuses" for domestic abusers, claiming "he is a lovely bloke, that can't be true", but people need to understand someone can seem kind and "be a monster" at home. Ms Riley warned domestic abusers are "master manipulators" who are "practised at lying and charming" - adding this is the way they lure their partners in initially.
The presenter has experienced online harassment herself and was inundated with online death threats and violent messages by a man several years back. He was sectioned under the mental health act back in 2014 and handed a five-year restraining order after he subjected her to more than 500 threats of abuse.
Ms Riley said: "At that stage, I had never experienced anything like it at all. It wasn't fun. He was very weird. He lived not far from where I was. I remember you go through in your mind, what would happen if someone came into your house and where the exits are. But that is not going to help you at all. You go through all those scenarios in your mind."
Ms Riley's calls for perpetrators of domestic abuse and stalking who are "high risk" or who repeatedly abuse victims to be placed on a register are backed by Labour MP Yvette Cooper who drew up the amendment.
Laura Richards, an expert who helped Ms Cooper write the amendment, told The Independent: "If stalking and stopping stalkers is a priority for the government, as Robert Buckland, Priti Patel and Victoria Atkins stated at the start of National Stalking Awareness Week, they would include stalkers in a comprehensive perpetrator strategy.
"And commit to serial stalkers and domestic abusers being identified, assessed and managed by police, prison and probation services. Since Sarah Everard's death, 16 women have been killed, seven of whom were constituents of Conservative MPs."
The figure of 16 women killed by men since Everard's death originates from a project started by Karen Ingala Smith called Counting Dead Women.
The former top Metropolitan Police violent crime analyst argued it was unacceptable of the government to vote down an amendment to generate concrete change to better protect women and children.
"These ministers have the power to create real change but their words and actions are not aligned and women are paying with their lives," Ms Richards added. "It's unacceptable."
A spokesperson for the Home Office denied there was any "u-turn" and said they had never fully committed to a national register - adding the Lords Amendment is not calling for a register but for serial abusers and stalkers to be effectively managed under the existing framework, Multi-Agency Public Protection Arrangements (MAPPA).
The representative added: "And we agree that high-harm domestic abuse perpetrators need to be effectively monitored and supervised so victims are protected. This is why serial and high harm domestic abuse offenders are already eligible for management under MAPPA.
"We have committed to strengthening the MAPPA Statutory Guidance to include sections on domestic abuse and stalking to ensure that all agencies involved take steps to identify domestic abuse perpetrators whose risk requires further management and monitoring."
Register for free to continue reading
Registration is a free and easy way to support our truly independent journalism
By registering, you will also enjoy limited access to Premium articles, exclusive newsletters, commenting, and virtual events with our leading journalists
Already have an account? sign in
Join our new commenting forum
Join thought-provoking conversations, follow other Independent readers and see their replies