More than half British people support racial profiling of Muslims and Arabs for security reasons, survey reveals
Survey shows stark differences between opinions held by Leave and Remain voters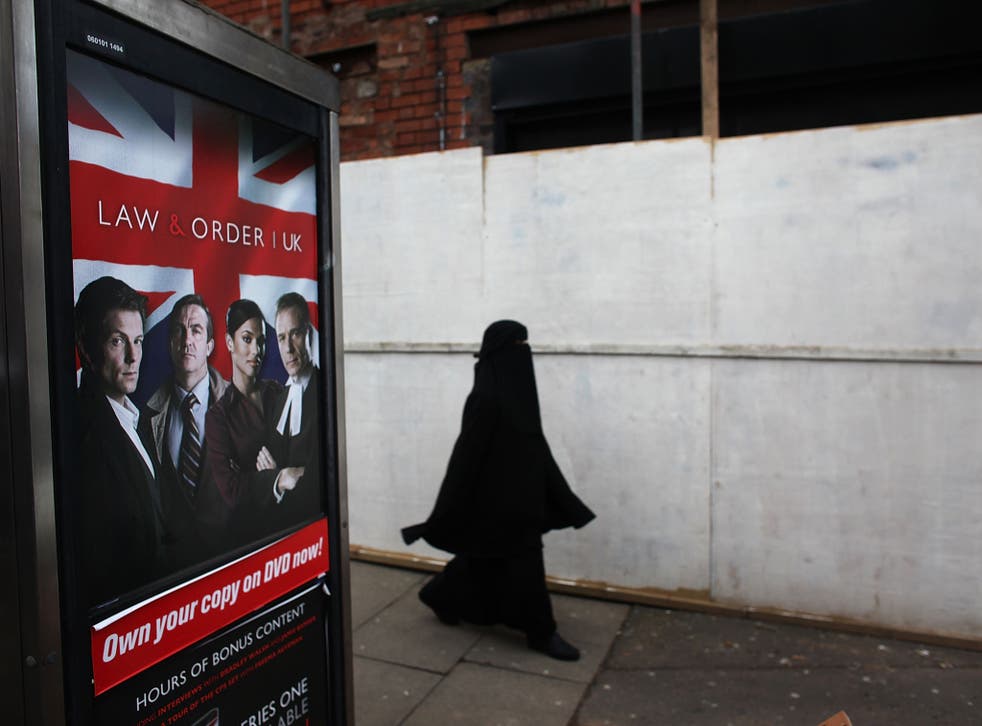 More than half of British people would support the racial profiling of Muslims and Arabs for security reasons, a survey has revealed.
The "UK attitudes toward the Arab world" poll showed stark differences between the views held by Conservative, Labour and Liberal Democrat supporters, and those on opposing sides of the Brexit debate.
Almost 80 per cent of Leave voters, for example, believed the Arabs who migrated to the UK "have failed to integrate in Western societies and live in isolated communities", but only 45 per cent of Remain voters felt the same, bringing the average down to 63 per cent.
Around two thirds of pro-EU respondents said Britain should welcome more refugees from Syria and Iraq, but 91 per cent of Brexiteers thought the UK should take in fewer people fleeing the conflicts.
Overall, only 28 per cent thought migrants and refugees from the Arab world were beneficial to Britain.
When respondents were asked if they would support racial profiling against Arabs or Muslims for security reasons, 55 per cent agreed and 24 per cent disagreed overall.
But when split by how respondents voted in this year's general election, 72 per cent of Conservative voters supported the suggestion, followed by 40 per cent Labour and 40 Liberal Democrat.
Muslim Council of Britain: Newspapers are helping to spread Islamophobia
But almost three quarters believed that Islamophobia was worsening in the UK and that statements by politicians, commentators and public figures were increasing the risk of hate crime.
More than 2,100 people were surveyed by YouGov in the weighted poll for Arab News in conjunction with the Council for Arab-British Understanding (Caabu).
Chris Doyle, the director of Caabu, said racial profiling would not be the "right cure" for the continued terror threat against the UK following four Isis-linked terror attacks this year.
"It is clear that lot of people are fearful and concerned about security in the aftermath of attacks in Britain," he told The Independent.
"A lot more needs to be done looking at how racial profiling would not make people more secure and could have a very detrimental effect and cause a lot of antagonistic feeling.
"The result reinforces other findings on the attitudes to refugees, immigrants and Islamophobia."
More than half of respondents associated Arab culture with strict gender roles and Islam, with a quarter linking it with extremism and 14 per cent with violence, while statements like "innovative" and "forward thinking" were on 1 per cent.
Most respondents said they felt British foreign policy in the region had been ineffective at upholding human rights and promoting global security, while 83 per cent believe Britain was wrong to go to war in Iraq in 2003 and 53 per cent support continued military involvement against Isis.
British jets prepare for air strikes in Syria

Show all 10
Despite giving opinions on wide-ranging subjects including the status of Israel and the Occupied Palestinian Territories, more than half of respondents admitted having "limited knowledge" of the Arab world and another 25 per cent said they "don't know anything" about the region.
Most people said they would not travel to the region and a large proportion of respondents also wrongly identified countries including Iran, Afghanistan, Israel and Turkey among those being considered for the survey's purposes.
Mr Doyle said it was concerning that the vast majority of people said they knew nothing about the Middle East when understanding is needed "more than ever".
"Levels of ignorance provide the base for increasing hostility," he added.
"If we're going to be a truly global Britain, that is going to impact very negatively - we need to embrace the outside world."
Mr Doyle pointed to "stereotypes" revealed by the survey, including the perception that all Arab nations are wealthy and less than 1 in 100 people linking Christianity to the region.
He urged politicians to avoid "dehumanising" language when discussing immigration and refugees, adding that changes to the UK's "Eurocentric" education system could increase understanding, alongside more positive media coverage of the Middle East.
Faisal J Abbas, the editor of Arab News, said: "The poll results strongly suggest that the UK public is dissatisfied with British diplomatic intervention in the Arab world, but that Brits also lack knowledge about some of the complexities of the region."
Register for free to continue reading
Registration is a free and easy way to support our truly independent journalism
By registering, you will also enjoy limited access to Premium articles, exclusive newsletters, commenting, and virtual events with our leading journalists
Already have an account? sign in
Register for free to continue reading
Registration is a free and easy way to support our truly independent journalism
By registering, you will also enjoy limited access to Premium articles, exclusive newsletters, commenting, and virtual events with our leading journalists
Already have an account? sign in
Join our new commenting forum
Join thought-provoking conversations, follow other Independent readers and see their replies