RAF fighter jets not fitted with safety systems to prevent civilian collisions despite Government pledge
Less than half of Tornado jets fitted with TCas system despite Government promising to install them almost 20 years ago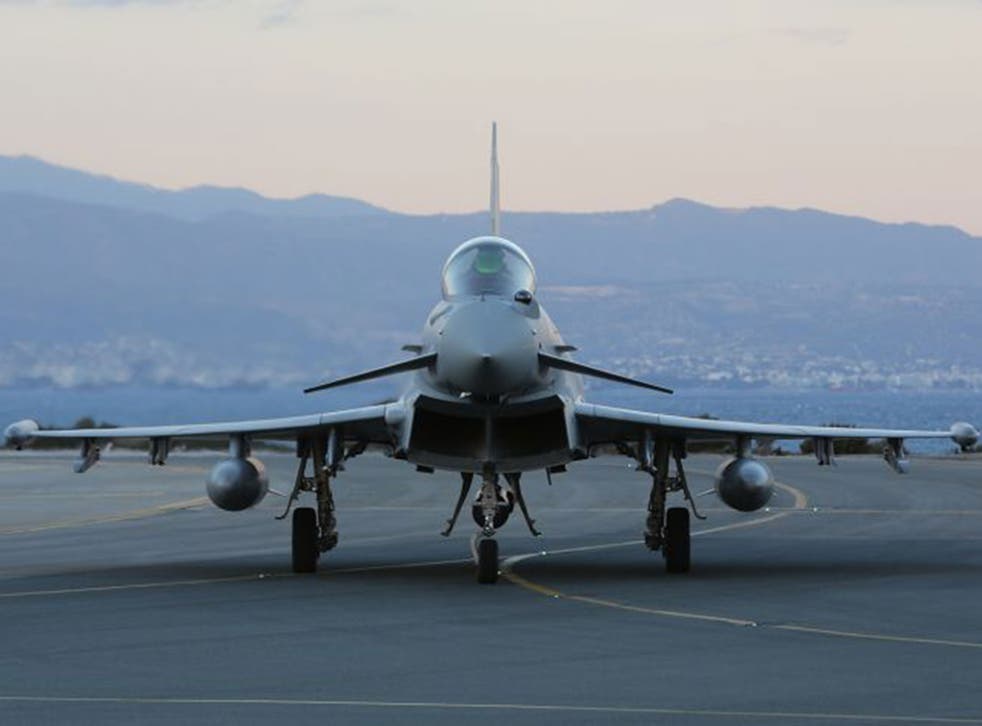 The majority of Britain's fighter jets have not been fitted with safety systems that would help prevent a catastrophic mid-air collision with a passenger plane, despite the Government pledging to install them almost 20 years ago, The Independent on Sunday can reveal.
The failure to act has been branded a disgrace by MPs, and shadow Defence Secretary Emily Thornberry has demanded the Government now makes it a top priority.
New figures from the Ministry of Defence (MoD) show that less than half of Britain's 90-strong Tornado fleet is fitted with a traffic collision avoidance system (TCas). This is a type of electronic collision warning system (CWS), which uses radar to show the position of other planes, and automatically alerts pilots. None of Britain's 131 Typhoon fighters has it fitted, and the F-35s that Britain has ordered will not have it installed.
This is despite repeated warnings that a TCas should be fitted to the RAF's fighter jets, ever since the measure was recommended in the 1998 Strategic Defence and Security Review. There have been more than 50 mid-air collisions involving RAF jets in the past 35 years, including at least 14 Tornado jets, with more than 55 lives lost, according to the Military Aviation Authority (MAA).
Three years ago, an MAA report into a mid-air collision between two Tornado jets above the Moray Firth blamed "financially driven decisions" for the aircraft not having a CWS. It recommended that a "comprehensive plan" be put in place to fit a CWS on military aircraft. Not to fit the systems would be an "unsustainable position", it warned.
The number of reported near misses involving military aircraft in British airspace has risen in recent years, from 82 in 2013 to 94 in 2014.
The report comes a year after it emerged that Air Chief Marshal Sir Andrew Pulford, the head of the RAF, warned Defence Secretary Michael Fallon of the risk that Typhoon jets could crash into passenger planes because the fighters have not been fitted with a CWS.
Angus Robertson, SNP MP for Moray, where three RAF airmen died after a collision between two Tornado jets from RAF Lossiemouth during a training exercise in July 2012, described the delay in getting CWS installed on fighter jets as "a complete disgrace", adding, "This a dangerous and needless shambles."
Fittingthe safety feature in Britain's fighter jets "should be a top priority for the Government", said Ms Thornberry. "The MoD has the technology to bring these planes up to date by fitting them with collision warning systems. Why hasn't it done so?"
Steve Landells, fight safety specialist at the British Airline Pilots Association, said: "British pilots would like to see all aircraft they share the sky with fitted with some form of collision avoidance system."
An MoD spokesman said: "The introduction of a CWS/TCas is not, and never will, be a panacea for avoiding air collisions."
Register for free to continue reading
Registration is a free and easy way to support our truly independent journalism
By registering, you will also enjoy limited access to Premium articles, exclusive newsletters, commenting, and virtual events with our leading journalists
Already have an account? sign in
Register for free to continue reading
Registration is a free and easy way to support our truly independent journalism
By registering, you will also enjoy limited access to Premium articles, exclusive newsletters, commenting, and virtual events with our leading journalists
Already have an account? sign in
Join our new commenting forum
Join thought-provoking conversations, follow other Independent readers and see their replies