RAF quick reaction jets intercept Russian planes on more than half the days they are scrambled
Figures come a month after Typhoons shadowed two 'Blackjack' bombers skirting UK airspace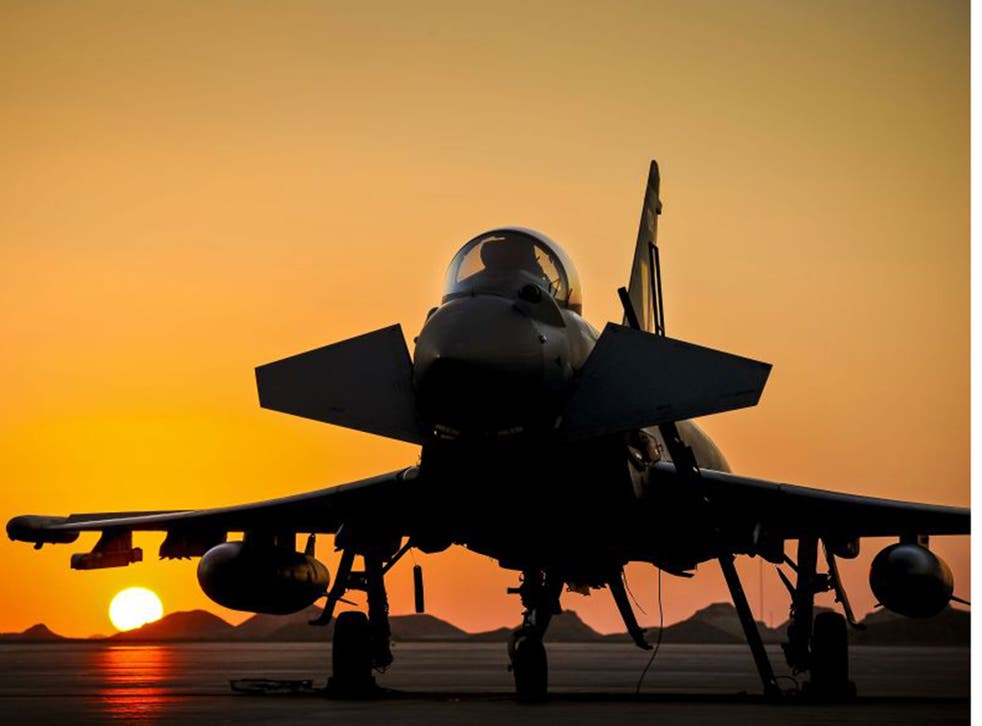 Interceptions of Russian military aircraft accounted for the majority of days on which RAF fighters were scrambled to track down unidentified planes in recent years, figures show.
Quick reaction alert (QRA) pilots were scrambled on 186 days between 2005 and 2016, according to figures released under the Freedom of Information Act.
Sorties were launched against Russian planes on more than half of those—101 days, or 54 per cent.
The Ministry of Defence (MoD) declined to release precisely how many QRA launches took place on the basis it would be "prejudicial to the defence of the UK".
Under the QRA system, Eurofighter Typhoon pilots can be in the air within minutes to intercept unidentified aircraft, military or civilian, in the UK's area of interest.
On 7 March pilots from RAF Coningsby in Lincolnshire intercepted a civilian cargo plane en route from Romania, which later landed safely at Birmingham International Airport after it lost communications.
And in February Typhoons took off to meet a pair of Russian Tu-160 "Blackjack" bombers that spent more than five hours skirting the edge of British airspace without entering.
From a high of 19 in 2007, the number of days on which fighters were launched against Russian military aircraft has tapered off. They scrambled on eight days in each of 2013, 2014 and 2015, and just five days last year.
On one day in 2014 jets were scrambled to intercept both Russian and other aircraft, the figures showed.
As well as RAF Coningsby, Typhoon interceptors also fly from RAF Lossiemouth in Scotland and from a base in the Falkland Islands.
Eurofighter pilots were tasked with shadowing Russia's smoke-belching aircraft carrier, the Admiral Kuznetsov, alongside the Royal Navy when she passed through the English Channel in January after deployment in Syria.
The carrier supported 420 sorties over two months as Russian air strikes bombarded rebel groups and Isis fighters.
The Russian Embassy referred The Independent to a statement from 2015 it said "remains fully relevant now".
It said: "Russian strategic bombers do regularly fly to remote geographical areas and will continue to do so. This is necessary in terms of training flight personnel and verifying aircraft capabilities.
"All flights are carried out in strict accordance with international regulations regarding the use of airspace. Aircraft fly over high seas without entering the airspace and violating the borders of other states, the fact that can be confirmed by radar data for each case.
"Flights of Russian military aircraft are almost always accompanied by jets from Nato countries and their partners. This is ordinary practice."
World news in pictures

Show all 50
At the time the embassy contrasted the number of Russian sorties with those carried out by Nato aircraft. It added: "It is difficult to avoid the impression of Nato persistently increasing its military capabilities in its eastern member states.
"Allegations of a 'Russian threat' are a convenient pretext for these activities. The question remains open whether their actual aim is just to ensure high military spending and a good level of 'Euro-Atlantic solidarity', or to prepare ground for some aggressive actions against Russian interests."
An RAF spokesman said: "QRA is a routine part of the RAF's air defence role to protect UK airspace.
"QRA are launched to intercept unidentified aircraft because the aircraft cannot be identified by any other means, i.e. the aircraft is not talking to civilian or military air traffic control, has not filed a flight plan and/or is not transmitting a recognisable secondary surveillance radar code.
"The paramount duty of the RAF is to control the air over the UK and, when necessary, UK interests overseas.
"QRA procedures entail RAF aircraft and crews being held at continuous high readiness 24/7, so that they can take off within minutes to protect UK or NATO sovereign airspace."
Register for free to continue reading
Registration is a free and easy way to support our truly independent journalism
By registering, you will also enjoy limited access to Premium articles, exclusive newsletters, commenting, and virtual events with our leading journalists
Already have an account? sign in
Register for free to continue reading
Registration is a free and easy way to support our truly independent journalism
By registering, you will also enjoy limited access to Premium articles, exclusive newsletters, commenting, and virtual events with our leading journalists
Already have an account? sign in
Join our new commenting forum
Join thought-provoking conversations, follow other Independent readers and see their replies