Tory plans to curb rail strikes would leave workers as 'slaves', union bosses say
'This is the hallmark of the right-wing junta, not a democratically elected British government'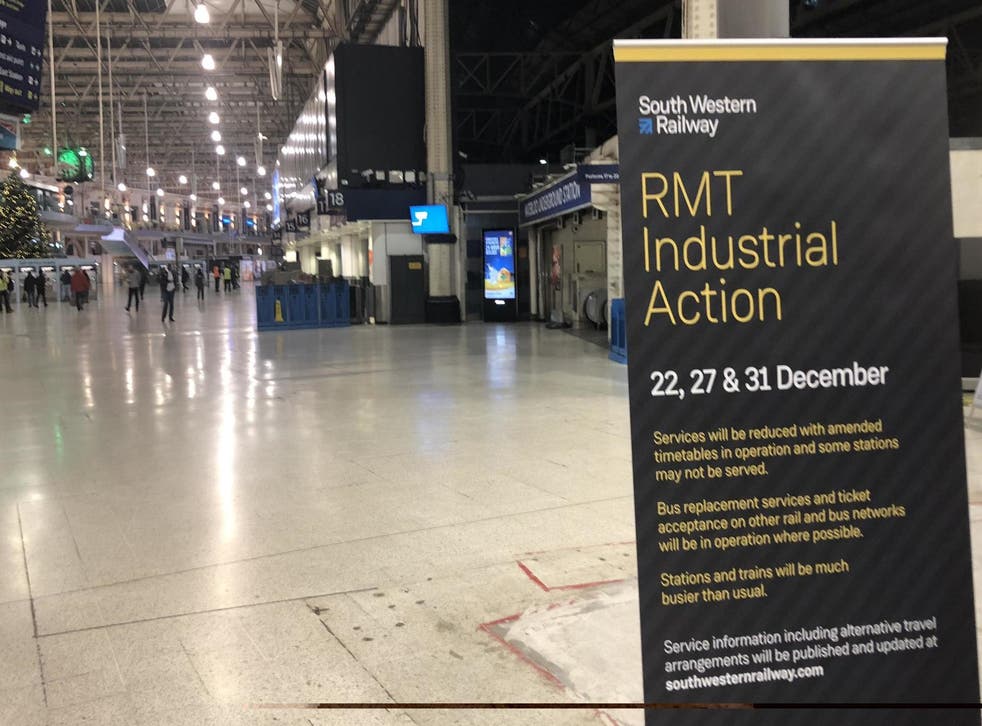 Conservative plans to introduce a ban on all-out strikes would see rail workers treated like "slaves", union bosses say.
The party wants to implement a guaranteed "minimum service" law to reduce the impact of walkouts.
It would make unlawful any strike action that resulted in train numbers falling below a set percentage of the normal timetable.
The party has not indicated what that proportion could be – although it has said that similar measures in other European countries set the mark at between a fifth and third of regular services.
"Rail strikes have a real impact on people's lives," said transport secretary Grant Shapps. "They seriously inconvenience businesses and the public, damage the economy, and force people to use less sustainable means of transport."
General election: On the campaign trail

Show all 114
But unions have been quick to condemn the policy proposal.
Mick Whelan, general secretary of the train drivers' union Aslef, told Sky News: "The right to strike – to withdraw your labour – is a fundamental human right. We are not slaves.
"Aslef has rarely called a strike and, when we have, it has always been as a last resort and as a result of management intransigence."
Mick Cash, general secretary of the National Union of Rail, Maritime and Transport Workers, added that the organisation would almost certainly fight the proposed change.
"Banning strikes is the hallmark of the right-wing junta, not a democratically elected British government," he said.
It comes as members of the RMT itself were on a walkout from West Midlands Trains on Saturday as part of a long-running dispute over the need for guards on services.
A 27-day strike, meanwhile, has also been called next month on South Western Railways over the same issue.
Register for free to continue reading
Registration is a free and easy way to support our truly independent journalism
By registering, you will also enjoy limited access to Premium articles, exclusive newsletters, commenting, and virtual events with our leading journalists
Already have an account? sign in
Register for free to continue reading
Registration is a free and easy way to support our truly independent journalism
By registering, you will also enjoy limited access to Premium articles, exclusive newsletters, commenting, and virtual events with our leading journalists
Already have an account? sign in
Join our new commenting forum
Join thought-provoking conversations, follow other Independent readers and see their replies