Railway staff vote for strikes after Easter
Dispute over job cuts to result in first national strike for 16 years from 6 April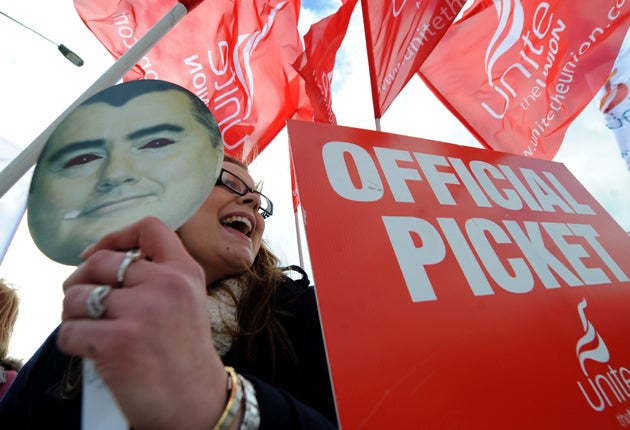 Rail workers are to walk out on strike immediately after Easter – on the same day Gordon Brown is expected to announce the general election.
The timing of the industrial action, which is likely to cripple the national rail network, could not be worse for the Government.
With British Airways (BA) cabin crew planning more strikes from tomorrow and civil-service unions threatening action next month, the Conservatives are planning during the election to accuse Labour of taking Britain back to the 1970s with a new wave of industrial militancy.
The National Union of Rail, Maritime and Transport Workers (RMT) and the Transport Salaried Staffs' Association (TSSA) last night announced the first national rail strike for 16 years in a bitter dispute over job cuts.
The unions said they had decided to spare Easter holiday travellers and call four days of industrial action beginning on 6 April, when commuters are returning to work.
It is also the day that Gordon Brown is thought to have pencilled in to go to Buckingham Palace to ask the Queen to dissolve Parliament in preparation for a 6 May election.
Three-quarters of train services could be scrapped during the four days' action, with signallers, maintenance workers and white-collar staff joining the action.
The strikes were announced after talks at the conciliation service Acas failed to settle the bitter dispute over plans by National Rail to cut 1,500 maintenance jobs and change working practices to enable more repairs to be carried out in the evenings and at weekends.
Last night, Lord Adonis, the Secretary of State for Transport, said: "A strike is in no one's interests and could cause serious disruption to passengers. Both sides should seek to resolve this dispute by negotiation and not confrontation."
Bob Crow, the general secretary of the RMT, said: "RMT negotiators have worked flat out to try and reach an agreement that protects rail safety, job security and working agreements."
He said the union had heard "nothing concrete" from Network Rail that addressed its worries and claimed the changes would "make another Hatfield, Potters Bar or Grayrigg disaster an inevitability".
Robin Gisby, Network Rail's director of operations and customer services, accused the union leadership of being "stuck in the steam age" and said he had been working on contingency plans for weeks to cope with a strike.
The RMT has also told London Underground to abandon plans to cut 800 jobs or risk industrial action in the capital. The union said it was ready to go ahead with a strike ballot to back up its ultimatum.
BA cabin crew are preparing to stage a new round of strikes starting tomorrow morning amid deepening acrimony in their long-running dispute over changes to their working conditions.
The staff are represented by Unite, the largest donor to Labour's coffers, but attempts by Mr Brown and senior ministers to bring the sides together appeared to have failed.
A three-day walkout which ended on Monday caused heavy disruption, with the airline calculating the action cost it £21m. BA claimed it would be able to run more services during the next phase of strikes and last night appealed for more volunteer cabin crew to come forward.
There is little sign of a resolution and, if anything, the sides appear to have become more entrenched, with BA threatening to remove travel perks from thousands of strikers. The union responded by accusing the management of "unacceptable anti-union bullying".
Theresa Villiers, the shadow Transport Secretary, said: "Families and businesses across the country will find it hard to sympathise with those who are content to hold the country ransom in this way."
She said Unite had given Labour £11m since Mr Brown became Prime Minister, while the TSSA had contributed more than £200,000 in that period.
The Government faces the headache of industrial action on a third front, as the Public and Commercial Services Union (PCS) decides whether to order a fresh round of strikes in its dispute over cuts to civil servants' redundancy terms. Its national executive committee met last night to decide whether to authorise fresh action next month.
Strikes - and their political implications
Unite
Who are they?
Britain's largest union. With almost two million members, it emerged from the merger of Amicus and the TGWU nearly three years ago. Despite its name, it is a mass of competing internal factions with two general secretaries, Derek Simpson and Tony Woodley.
What are they doing?
BA wants to cut to numbers of cabin crew, impose a two-year pay freeze and introduce new contracts for fresh recruits. The changes were unanimously rejected by the union. Industrial action last weekend caused widespread disruption. The next phase is due to start tomorrow.
The danger for Labour
Labour and Unite are intimately linked: the union is the party's biggest backer, having donated £11m since 2007, while 160 MPs are members of Unite. David Cameron taunted Gordon Brown recently: "Your party is a wholly owned subsidiary of the Unite union."
PCS
Who are they?
Founded 12 years ago, the Public and Commercial Services Union is the largest civil service union with more than 300,000 members. They work in Whitehall, HM Revenue and Customs, benefit offices, prisons and call centres.
Mark Serwotka, its general secretary since 2000, has backed George Galloway's Respect Party.
What are they doing?
The PCS is striking over alterations to redundancy pay for civil servants. It claims that some members could lose up to £20,000 from changes coming into force next week. The union said 200,000 of its members took part in a 24-hour walkout on Wednesday, which followed two days of strikes.
The danger for Labour
The scope for embarrassment for Brown, who crossed picket lines outside Parliament to attend the Budget statement, is limited as there are no links between the PCS and the party. But the union is reserving the right to call fresh action: pictures of strikers at government offices could hurt Labour.
RMT
Who are they?
Formed in 1990, the membership of the National Union of Rail, Maritime and Transport Workers now stands at 80,000. It was a thorn in New Labour's side and disaffiliated from the party six years ago. Its long-serving general secretary, Bob Crow, is on the hard-left.
What are they doing?
Network Rail wants to cut 1,500 jobs and revise working practices. The RMT and TSSA, representing white-collar staff, supported strikes in protest. Separately, the RMT is threatening ballot on industrial action on the Tube in response to 880 job cuts.
The danger for Labour
Ministers can insist that RMT hardliners are nothing to do with them, but they will be conscious of the political danger of thousands of travellers having their travel plans disrupted. Large numbers of rail commuters live in marginal seats that Labour needs to retain.
Join our commenting forum
Join thought-provoking conversations, follow other Independent readers and see their replies