Refugee crisis: How one man's new boat design is preventing asylum seekers from drowning
Ben Board was so distraught from seeing the images of young Aylin Kurdi lying face down on the beach, he knew he had to do something
Jamie Merrill
Saturday 26 September 2015 22:37 Comments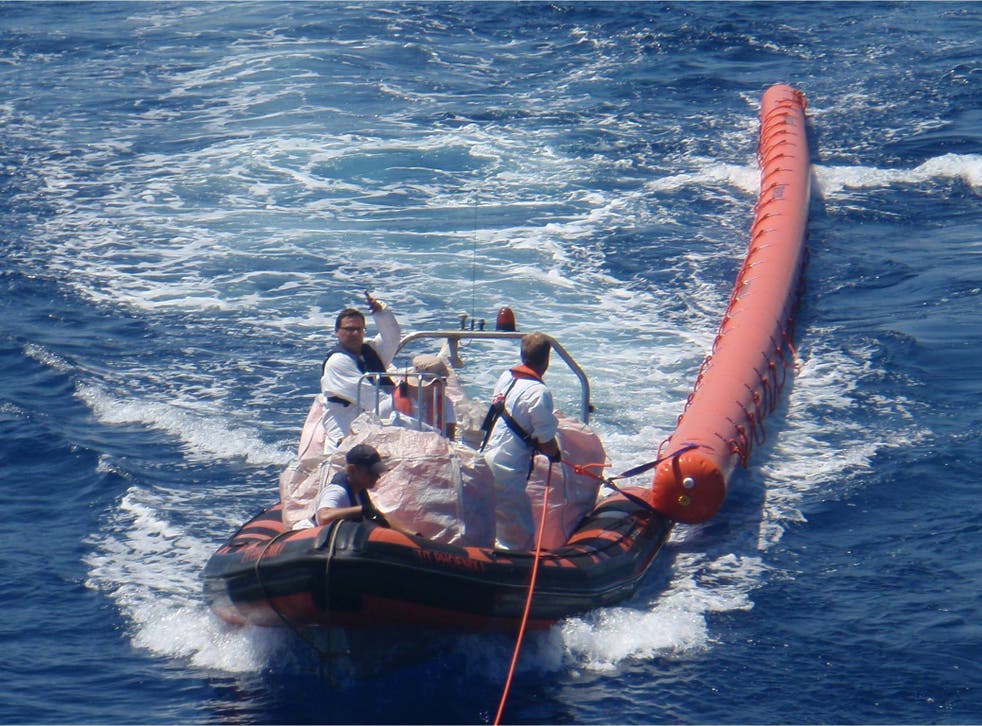 When Ben Board saw the image of three-year-old Aylan Kurdi lying dead face down on the beach, he was distraught – but he also knew that he was in a unique position to do something practical to help save more children from drowning.
As well as being a father-of-two, Mr Board works at Unique Seaflex, an Isle of Wight firm that manufactures life-saving, sea-rescue equipment. He knew he could act quickly and for the last two months, with the firm's support, he and and 10 colleagues have been working into the night to perfect a revolutionary, yet simple, life-saving device.
Many of the more than 2,800 refugees who have died in the Mediterranean drowned after their unseaworthy boats capsized within sight of rescue craft or passing merchant vessels, leaving hundreds of people in the water and overwhelming rescuers.
Mr Board's solution is the Centifloat, a 16-metre, tube-shaped float, with more than 60 grab handles, that can be inflated in three minutes and thrown over the side of high-sided container ships and ferries.
"The problem is that most boats in the Mediterranean - other than the few specialist rescue vessels - aren't able to do much practically to help if they come across 200 or 300 people in the water after their boat has capsized," he said.
The decks of merchant vessels in particular can be up to 20 metres above the water and most vessels only carry enough rescue equipment for their small crew.
"The idea behind the Centifloat is that one or two of them can be thrown over the side quickly to offer time for struggling refugees before rescue boats and helicopters arrive at the scene. And if you link two together it's possible to get children and frail people up out of the water," he added.
So far the small team behind Centifloat, which was originally designed to help 100 people but has been shrunk to make it more manoeuvrable, has shipped four of the £1,500 floats to the Mediterranean where they have been used by the volunteer-run Migrant Offshore Aid Station (MOAS) Foundation to save "dozens of lives".
The refugee crisis - in pictures

Show all 70
Earlier last month, in one incident 10 miles off the Libyan coast, the floats were an "integral part" of an operation to save 604 refugees from a perilously overloaded wooden boat.
This weekend the team at Unique Seaflex finished a run of an additional 14 life-saving floats that it is hoping to ship out to MOAS and Doctors Without Borders vessels in the region, as well as providing them to the over-stretched Greek coast guard on the island of Lesbos, where more than 200,000 refugees and migrants have landed since spring.
It is a "pretty cheap way to save lives", according to Mr Board, who says rescue agencies are keen to get more into operation as they expect large numbers of refugees and migrants to continue attempting to make the dangerous sea journey for months to come. More than 500,000 refugees and migrants have crossed the Mediterranean so far this year, according to officials from the International Organization for Migration.
"The overriding thing for us was that the political situation isn't going to be resolved quickly and our contacts on the ground say they expect boats to come through the winter, and this was something we could do to help right now," said Mr Board. "I can't do anything about the bigger problems in the world, but I could do this."
The Centifloat float was funded entirely by the donations from suppliers and staff working for free, but the team are now trying to raise £15,000 to pay for additional life-saving equipment and life jackets to send to the region (crowdfunding.justgiving.com/Centifloat).
"We are proud of what we've done but we are just doing what anybody else would do in our situation," Mr Board said. "These people desperately need our help. How could we not offer it?"
Register for free to continue reading
Registration is a free and easy way to support our truly independent journalism
By registering, you will also enjoy limited access to Premium articles, exclusive newsletters, commenting, and virtual events with our leading journalists
Already have an account? sign in
Join our new commenting forum
Join thought-provoking conversations, follow other Independent readers and see their replies