British Government continues support for Libyan coastguard despite refugee 'killings' and attacks on rescue ships
Exclusive: Ministry of Defence declines to comment on alleged atrocities as training continues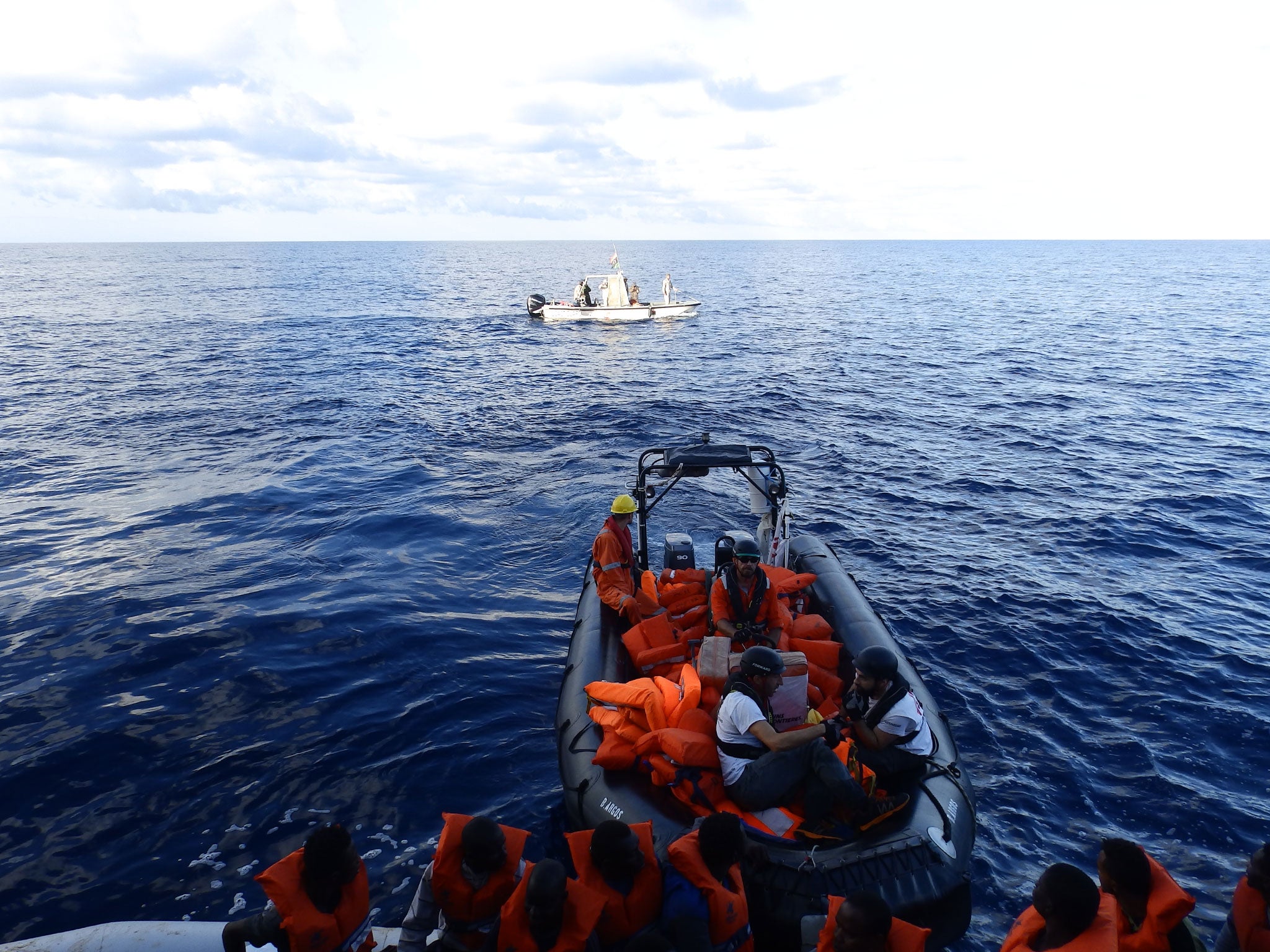 Britain is continuing to support the Libyan coastguard despite accusations its members have killed refugees and attacked international rescue boats attempting to take them to safety, it has emerged.
One organisation is pursuing a legal case against the force for allegedly causing the deaths of up to 25 migrants, while aid workers on another ship say they were shot at in a "serious and worrying attack".
Amnesty International also accuses the force of shooting, beating and torturing refugees who are caught trying to flee Libya and forced back to land, warning that EU nations supporting the operations risk fuelling "rampant ill-treatment" and violations of international law.
But the harrowing tales emerging from asylum seekers who survive the treacherous journey to Europe have garnered no public response from governments supporting the coastguard as attempts to slow boat crossings continue.
The UK is conducting a three-month training programme seeing Royal Navy personnel deployed to pass on "naval expertise", including how to safely approach, board and inspect vessels.
Sir Michael Fallon, the Defence Secretary, said the Government was aiming to prevent people smuggling in the Mediterranean and save lives.
Desperate journeys: Rescued at sea, refugees detail abuse in Libya
"To help prevent more lives being lost, the Royal Navy will provide training support to the Libyan coastguard," he said, announcing the start of operations on 28 October.
"Fighting the smuggling of people and arms will save lives and make Britain safer and more secure."
But one humanitarian organisation accuses the coastguard of causing up to 25 refugees to drown when members boarded an overcrowded migrant dinghy and started beating people on 21 October.
A Libyan navy representative told local television the Sea-Watch boat was not "attacked" but admitted there was an incident, claiming the NGO was in Libyan waters – an allegation denied by the charity.
It was the second potentially deadly incident involving the Libyan coastguard in months, following an attack on a Médecins Sans Frontières (MSF) ship that was fired at and allegedly boarded as international staff took cover in August.
A spokesperson for the Libyan navy claimed the Bourbon Argos was mistaken for an oil smuggling vessel and accused its crew of failing to respond to calls.
In pictures: A day of refugee rescues in the Mediterranean Sea
Show all 7
The ship, marked clearly with MSF banners, is one of several humanitarian vessels conducting rescue operations outside of Libyan territorial waters as more refugees drown attempting treacherous journeys to Europe than ever before.
The passage between Libya and Italy has become the deadliest in the world, claiming the majority of more than 5,000 migrant lives lost in the Mediterranean Sea last year.
But the real total may be far higher, as the number who drown inside Libyan waters or wash up on the country's beaches is not routinely released.
A report by the Office of the UN High Commissioner for Human Rights found that migrants were being imprisoned, robbed, raped and subjected to force labour after "dangerous, life-threatening interceptions" by the Libyan coastguard.
Survivors said they had seen coastguards shoot, murder and torture other migrants, leading the UN to urge Britain and other countries conducting training to ensure its "human rights component is comprehensive".
Relations between Libya and other European nations have also been thawing, with Italy's decision to reopen its embassy in Tripoli sparking speculation it may be aiming to replicate the controversial EU-Turkey deal to slow crossings.
"The EU Turkey agreement cannot be a blueprint for Libya," Vincent Cochetel, the UN Refugee Agency's Europe director told MEPs.
"First there is no government in Libya, so let's not even talk about it."
A spokesperson for the EU told The Independent it was backing "legitimate Libyan authorities" to develop their capacity at sea but had no direct involvement in coastguard operations.
"The EU is aware of the reported incidents which have allegedly occurred," she added.
"The EU's programme of capacity delivery to the Libyan coastguard places particular emphasis on humanitarian and migration issues, as well as on women's rights issues."
When asked under what circumstances the support would stop, she said the EU was ensuring "correct standards are maintained", without providing details.
The Ministry of Defence declined to comment. It is aware of the reported attacks but is understood not to be leading investigations into alleged abuses as it continues its training programme.
Representatives of Libya's Government of National Accord did not respond to The Independent's request for comment.