Refugee crisis: More than 3,500 migrants held in 'wholly unacceptable' conditions after crossing English Channel to UK
New report criticises conditions at short-term immigration centres in Kent as lacking in human decency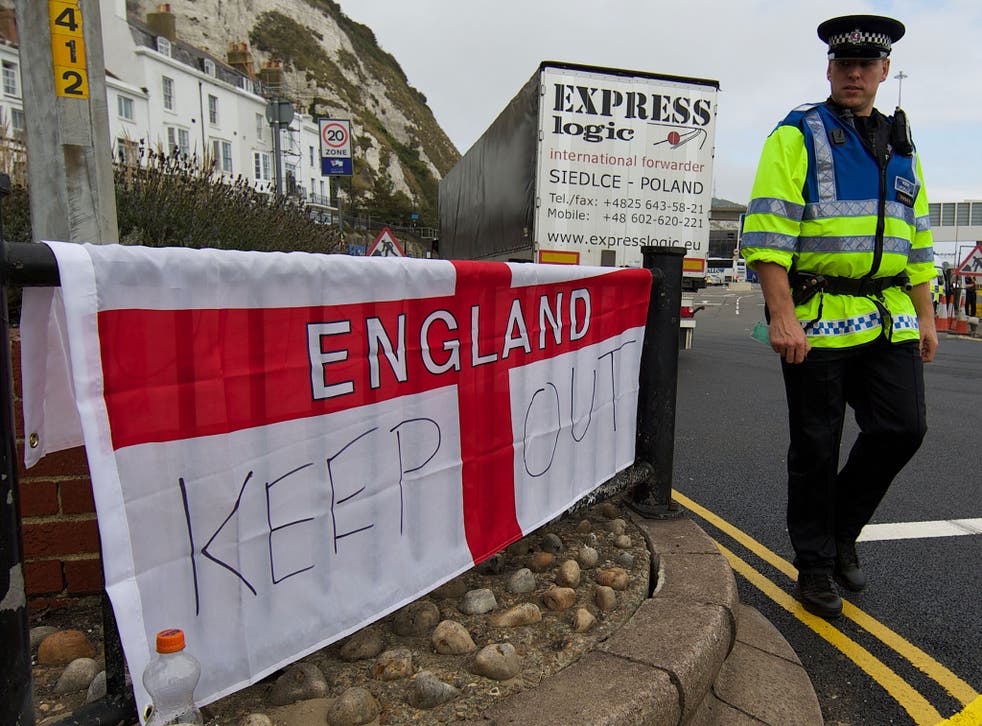 More than 3,500 migrants were detained in "wholly unacceptable" conditions lacking in human decency after crossing the English Channel at the height of last summer's crisis, a new report says.
Inspectors criticised conditions at short-term immigration holding centres in Kent used to confine those who attempt to gain entry into the country without being detected.
The figures emerged as European Union leaders were set to cave in to fresh demands from Turkey for an extra €3bn in aid – double their previous agreed figure – in exchange for help preventing Syrian refugees from leaving Turkish soil.
The last-minute demands came while they met at a summit in Brussels as leaders tried to agree measures to halt the flow of migrants crossing the Aegean Sea from Turkey to Greece.
Last year's refugee crisis led to a 126 per cent increase in detentions at the UK's main holding facility at Dover Seaport last year, the report by HM Inspectorate of Prisons (HMIP) says. In the first nine months of 2014, there were 2,118 detentions, while in 2015 the figure had increased to 4,785.
In the three months to the end of September alone, there had been 2,781 detentions. In addition, 822 men were held at an overflow facility in Folkestone called Frontier House. The combined total is equivalent to 40 people being stopped every day.
David Cameron refers to Calais as 'bunch of migrants'
Throughout the summer migrants massed in Calais made thousands of attempts to reach Britain, with a number dying as they tried to make the journey. The crisis was said to have cost the economy millions of pounds as hauliers were forced to dispose of contaminated goods and wait in lengthy queues on the M20 in Kent.
HMIP described the response to high numbers of migrants arriving through the Channel Tunnel as "inadequate", saying the basic physical needs of detainees were not met and conditions lacked decency. Their report said the Dover Seaport facility was "crowded, poorly ventilated and smelled badly".
It was not designed to hold people for more than a few hours but over the summer detainees were held for an average of 18 hours. The holding room had religious books and a prayer mat, but no compass to indicate the direction of Mecca.
Conditions were equally poor at Frontier House where there was nowhere suitable to rest, no shower facilities and no windows at while the pay phone did not work.
Chief Inspector Peter Clarke said: "There is no doubt that the increases in migration initially overwhelmed the existing facilities and an emergency response was required.
"This inspection took place some months after that emergency response was initiated and it was unacceptable that arrangements were still not in place to process detainees quickly, efficiently and decently, while ensuring that the most vulnerable, such as children, were safe and that the basic physical needs of all detainees for food, rest and clothing were met.
The refugee crisis - in pictures

Show all 70
"The events of the summer and early autumn of 2015, in terms of the numbers of migrants arriving through the Channel Tunnel were indeed unprecedented, but in light of the build-up of activity over several months they were not unpredictable."
The HMIP report said Dover Seaport and Frontier House are contracted out to the private security firm Tascor.
A spokesman for the company said: "Despite the unprecedented influx of migrants in the Dover area, Tascor worked with the Home Office in order to ensure detainee welfare was not compromised. This included providing additional staff to support the increased demand, in line with the Home Office requirement and ensuring employees received training around trafficking issues."
Join our new commenting forum
Join thought-provoking conversations, follow other Independent readers and see their replies