Refugees left suicidal by Government's 'damaging' immigration policy, report finds
Home Office reunification policy leaving refugees in UK 'desperate' – and in some cases suicidal – as close family members are prevented from joining them, warn charities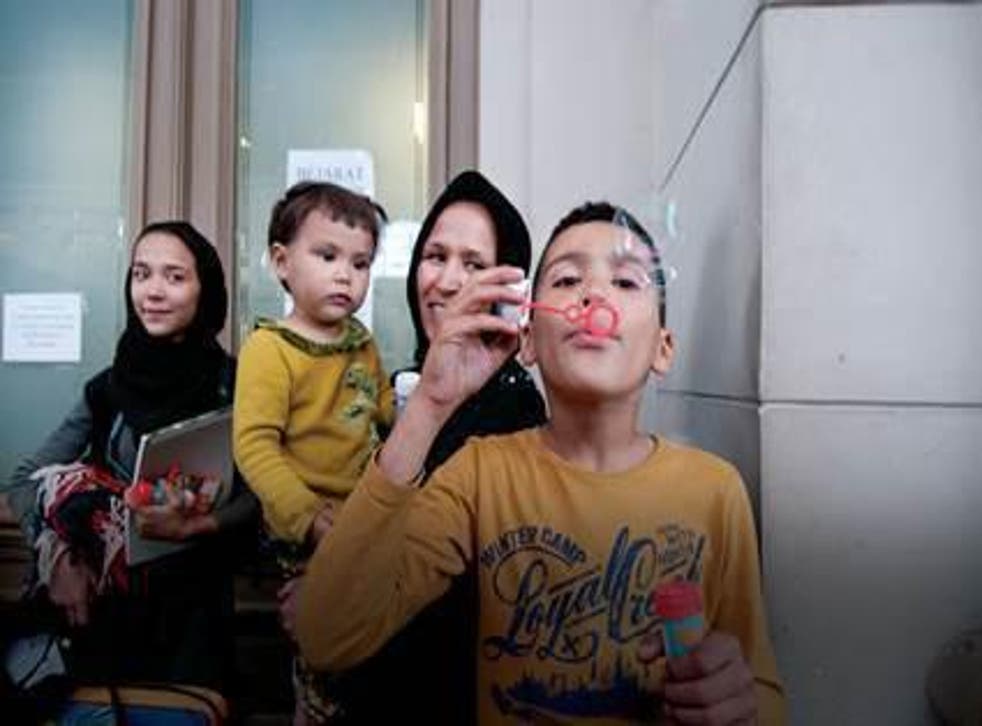 Refugees in the UK are being left "desperate" – and in some cases suicidal – due to government immigration laws which prevent close family members from being reunited.
New research shows people who have fled war torn countries are developing mental health problems as a result of being separated from grandparents, siblings and children because of the Home Office's "damaging" reunification policies.
Many are "plagued" by worry, making it difficult for them to successfully integrate into British life as they struggle to focus on finding work, making friends and learning English. In some cases they are said to be so anxious they rarely leave their homes.
The UK currently only allows adult refugees to apply for their spouses and dependent children under 18 to join them. This means their grandparents, parents, siblings and children above the age of 17 are prevented from coming to Britain to join them in starting a new life.
Additionally, legal aid has not been available for refugee family reunion since 2013, making it even more difficult for families separated by war and persecution to reunite.
The report, by Oxfam and the Refugee Council, finds that three-quarters of refugee families in the UK have separated relatives who are not eligible for family reunification under the UK's existing immigration rules.
Based on interviews with 44 refugee families, the study shows that as well as the emotional trauma of being separated from loved ones, refugees are becoming overwhelmed by extra caring responsibilities that restrict the time they can spend on activities to help them settle in the UK.
The Home Office said it revised its family reunion guidance in July 2016 to make it clear that certain types of cases may be eligible for a grant of leave to remain outside the Immigration Rules where as a result of age, illness or disability they require long-term personal care that can only be provided by their relative in the UK.
It said an increased number of applicants had been referred for a grant of leave outside of the rules since then, including children over the age of 18 from countries such as Syria, Iraq and Sudan who applied as part of a family unit.
But the research suggests many refugees are still facing serious difficulties because they cannot reunite with family who are still trapped in precarious situations overseas.
In one case, a young Syrian man named Joram became the sole carer for his eight-year-old sister and parents, both of whom have serious medical conditions. His brother, who used to share the responsibility of looking after the family, is said to be trapped in Lebanon and ineligible to join them in the UK.
In another case, an Eritrean woman called Aster, who arrived in the UK in 2016 after she was forced to flee or face death on account of her religion, said she was "desperately worried" about her three children, who remain in Africa.
Her daughter faces conscription into Eritrea's military, while her two sons are both seriously ill after escaping to Ethiopia with no one to care for them, she said. Aster knows there is little chance of being reunited with them because two of them are 18 or over.
"When I think of my children, I am always sad and I cannot enjoy life or take any part in anything," she told researchers. "I'm doing my best but I can't fully concentrate on anything I do, all the time I am stressed thinking about the day when I will be reunited with my children."
The report coincides with the launch of the "families together" campaign, which calls for changes to the rules on refugee family reunion and has support from Amnesty International UK, British Red Cross, Oxfam, Refugee Council and UNHCR.
These groups are backing the Refugee Family Reunion Bill, which was introduced by Angus MacNeil MP in support of the campaign and returns to Parliament on 16 March. It is co-sponsored by MPs from all the main political parties.
The bill calls for child refugees to be able to sponsor their parents and siblings under the age of 25 and for adult refugees to be able to sponsor their parents, their children under the age of 25 and their siblings under the age of 25. It also calls for the reintroduction of legal aid for refugee family reunion.
Mr MacNeil, MP for Na h-Eileanan an Iar, told The Independent: "This research just underlines the misery caused by preventing refugee families being together. The current rules do not ensure that refugees can live with their loved ones in safety.
"It is not enough for the Government to say that applications will be looked upon with sympathy. That's why I've introduced a bill to Parliament which will ensure that the fate of refugee families does not rest on the whim of a Home Office official.
"If I had not introduced this I am sure another MP from any other party would have as it is a crying injustice that speaks to everyone. This is about humanity, not party politics. I implore MPs of all parties to join me on March 16th and support the Bill."
In light of the new findings, Maurice Wren, chief executive of the Refugee Council, said: "As this report makes crystal clear, refugee families living in the UK are just like most other families in the UK: the safety of their loved ones is of utmost importance.
"The evidence is clear: reuniting refugee families gives them the best chance of living settled and fulfilling lives. Denying them the chance to restore their family ties condemns then to a future of anguish and guilt, with the anxiety of separation undermining their mental health.
"We urge the Government to do better by refugees and amend the unfair, restrictive UK rules that prevent refugee families from being reunited just when they need each other the most."
Sally Copley, Oxfam's head of policy, programmes and campaigns, said: "We all know how important family are when it comes to feeling safe, loved and secure. Most people would be shocked to discover that families are being torn apart simply because a brother or sister is over 18 and therefore not eligible to join their parents and siblings in the UK.
"Refugees want to be able to play an active role in their communities and be able to learn English, but all too often they face pointless hurdles because of a system that keeps them separated from their family.
Refugees welcome here: Protesters demand UK resettle more migrants in response to refugee crisis

Show all 7
"This in turns destroys their confidence to go out, make friends and be part of their community. As this study shows, it is not only harmful but also damaging to their chances of integrating successfully."
A Home Office spokesperson said: "We support the principle of family unity and have reunited over 24,000 families in the last five years.
"The routes already in place in the Immigration Rules allow extended family members lawfully resident here to sponsor children where there are serious and compelling circumstances. Extended family are also able to come here in exceptional circumstances."
Join our new commenting forum
Join thought-provoking conversations, follow other Independent readers and see their replies