Religious leaders use Christmas messages to call for an end to hatred, tribalism and division
Archbishop of Canterbury calls for end to 'the languages of hatred and tribalism' weeks after urging people to show restraint while discussing Brexit; Cardinal Vincent Nichols says UK faces time of uncertainty and 'absence of consensus', while Pope calls for 'fraternity'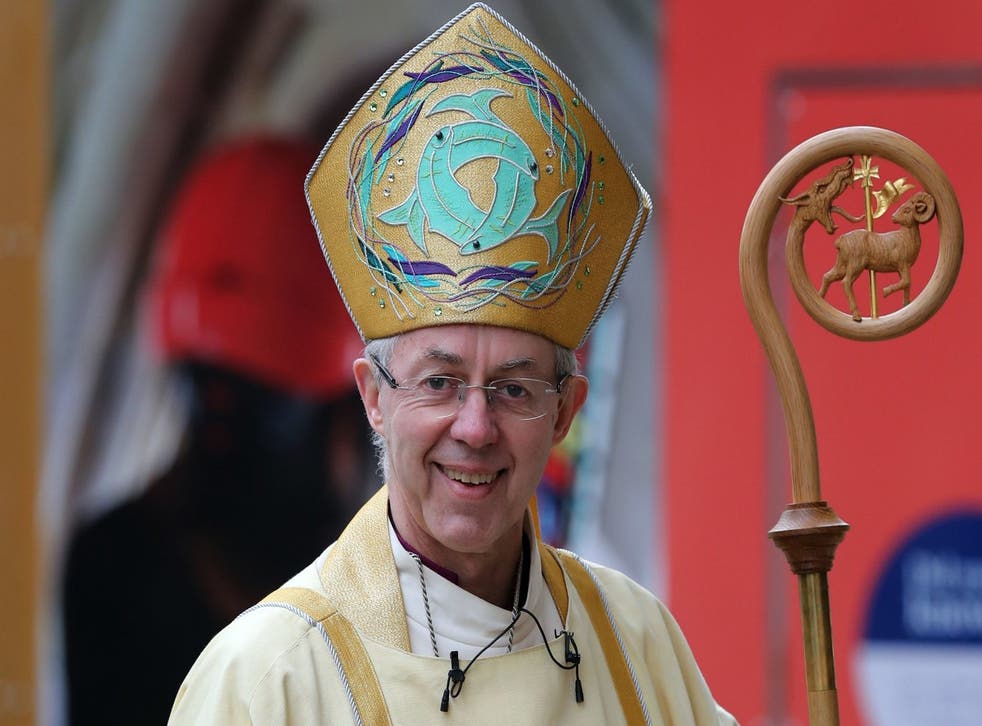 The archbishop of Canterbury has issued a Christmas message calling for "the languages of hatred and tribalism" to be replaced by the language of love, weeks after calling upon the nation to make Brexit "a crisis where we restrain our language".
Justin Welby's message was echoed by other religious leaders who made references to "difficult times" and an "absence of consensus".
At a Eucharist service at Canterbury Cathedral, Mr Welby said the language of love should replace the "languages of hatred, tribalism, rivalry, materialism, pride, greed, and so many more".
And while introducing a Christmas morning service from his London residence, Lambeth Palace, he acknowledged that people may be feeling "unsettled" and unsure about what the next year might bring.
He also spoke of the plight of refugees, of rough sleepers being "ignored by almost every passer-by" and of "those on the margins and those disregarded".
The archbishop's call for an end to tribalism comes three weeks after he used an appearance on The Andrew Marr Show to urge politicians to use calmer language and "move towards reconciliation" despite the differences between the Leave and Remain camps.
Mr Welby, who voted Remain in the 2016 referendum, also urged the show's viewers to remember that whatever their differences over Brexit, they remained part of the same nation.
He told the programme: "As a religious leader I say, yes this is a crisis, but let's make it a crisis where we restrain our language. There needs to be a reluctance to treat the other as an enemy."
The Anglican archbishop's Christmas call for less tribalism appears to have been echoed by the most senior Catholic in England and Wales, Cardinal Vincent Nichols, the archbishop of Westminster.
The cardinal told a congregation at Christmas Eve midnight mass in Westminster Cathedral that "we are in difficult times, times of uncertainty and an absence of consensus".
But he contrasted these divisions by praising the "countless acts of kindness" occurring all over Britain.
"Our society," he said, "Is full of generosity and compassion, although we do not shout about it.
UK news in pictures

Show all 50
"In our parishes, for example, there are over 130 projects responding to food poverty and homelessness.
"So many of our schools provide breakfasts and vouchers for the most needy. Volunteers constantly come forward."
In what could have been interpreted as an allusion to Britain's post-Brexit future, the cardinal added: "If, in the coming year, hardship increases, then we are ready to help in every way we can."
In Rome, Pope Francis adopted a similar theme, offering a Christmas wish for fraternity among people of different nations, cultures, faiths, races and ideas.
He told a 50,000-strong crowd in St Peter's Square that the world's differences were a richness, not a danger.
Without fraternity, the Pope explained, "even our best plans and projects risk being soulless and empty".
He called for fraternity among individuals of "every nation and culture" as well as among people "with different ideas, yet capable of respecting and listening to one another".
"Our differences, then, are not a detriment or a danger; they are a source of richness."
He prayed that all minorities have their right to religious freedom respected, noting that some Christians were celebrating Christmas "in difficult, if not hostile, situations".
Pope Francis urged the international community to end the war in Syria and find a political solution that "can put aside divisions and partisan interests".
He said he hoped an internationally brokered truce for Yemen would bring relief to that country's people, especially children "exhausted by war and famine".
Support free-thinking journalism and attend Independent events
He called for a dialogue among Israelis and Palestinians so they could "undertake a journey of peace".
The pontiff also recalled the millions fleeing warfare or left hungry in Africa, praying for "a new dawn of fraternity to arise over the entire continent".
Pope Francis urged Venezuelans to "work fraternally for the country's development and to aid the most vulnerable".
He spoke at a time when millions of Venezuelans are fleeing their country's economic and humanitarian crisis in what the United Nations has called the largest exodus in modern Latin American history.
Register for free to continue reading
Registration is a free and easy way to support our truly independent journalism
By registering, you will also enjoy limited access to Premium articles, exclusive newsletters, commenting, and virtual events with our leading journalists
Already have an account? sign in
Register for free to continue reading
Registration is a free and easy way to support our truly independent journalism
By registering, you will also enjoy limited access to Premium articles, exclusive newsletters, commenting, and virtual events with our leading journalists
Already have an account? sign in
Join our new commenting forum
Join thought-provoking conversations, follow other Independent readers and see their replies