Replica of Syrian arch of Palmyra that survived Isis attack to be erected in Trafalgar Square and New York
Institute of Digital Archaeology (IDA) will recreate the arch in London and New York using the world's largest 3D printer
Shehab Khan
,
Ian Burrell
Monday 28 December 2015 17:44 Comments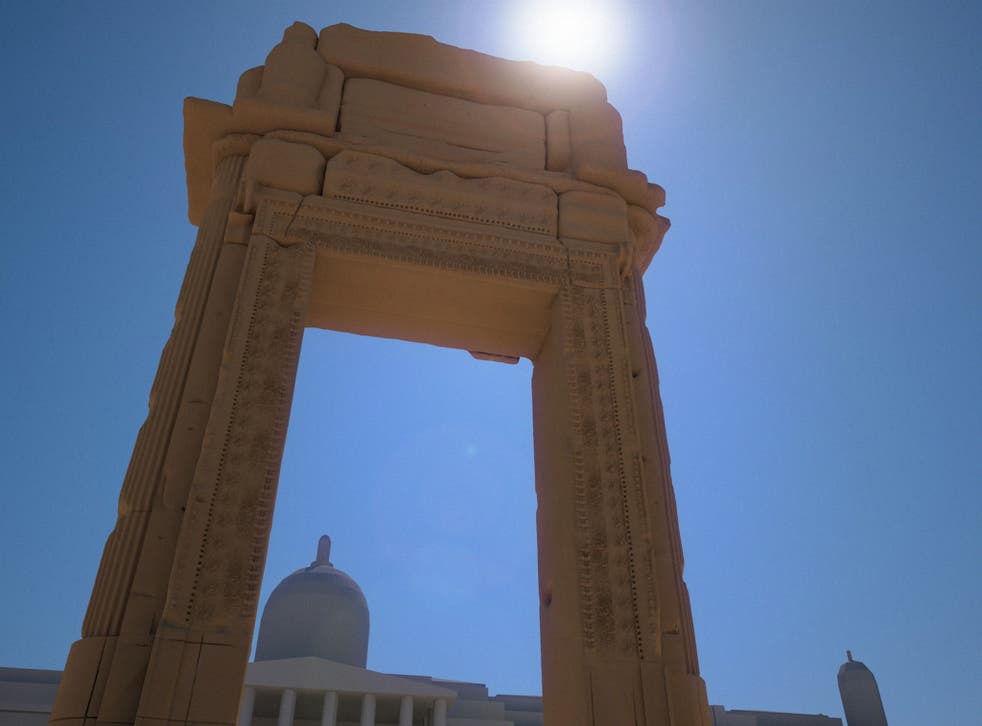 Replicas of the 2,000-year-old Syrian arch of Palmyra, which survived blasts by Isis, will be erected in London and New York, using the world's biggest 3D printer.
The monument was attacked by Islamist fighters and was largely reduced to rubble. One of the 15 metre high arches, which stood at the temple's entrance, survived.
The construction of the temple entrance has been proposed by the Institute for Digital Archaeology (IDA), who will use the world's largest 3D printer for the project.
"The aim of our proposed installation is to draw attention to the global crisis surrounding the looting and despoliation of cultural heritage objects and architecture and the importance of celebrating the beauty and significance of these objects to the everyday lives of modern people." Dr Alexy Karenowska, Director of Technology at the Institute for Digital Archaeology, told The Independent.
The temple was dedicated to the Mesoptamian god Bel in AD32 and was the centre of religious life in the area. It was converted into a Christian church during the Byzantine era and then later into a mosque.
The full-size replicas will be the centrepiece for world heritage week in April and is reportedly being built as a symbol of defiance against Isis's attempts to erase several aspects of Middle Eastern history.
World news in pictures

Show all 50
The arch in Trafalgar Square will be made of a lightweight composite and stone powder.
The printer will work from a 3D image generated from dozens of two dimensional photographs and tourist pictures taken before the temple was blown up with barrels of high-explosive. Khaled al-Asaad, 82, the archaeologist who managed the site for 40 years, was beheaded by Isis in Palmyra's amphitheatre.
Register for free to continue reading
Registration is a free and easy way to support our truly independent journalism
By registering, you will also enjoy limited access to Premium articles, exclusive newsletters, commenting, and virtual events with our leading journalists
Already have an account? sign in
Join our new commenting forum
Join thought-provoking conversations, follow other Independent readers and see their replies