Ice Bucket Challenge: It raised millions for motor neurone disease – but charities told not to waste their time trying to go viral
Good causes warned to avoid wasting time on replicating success of the hit campaign of 2014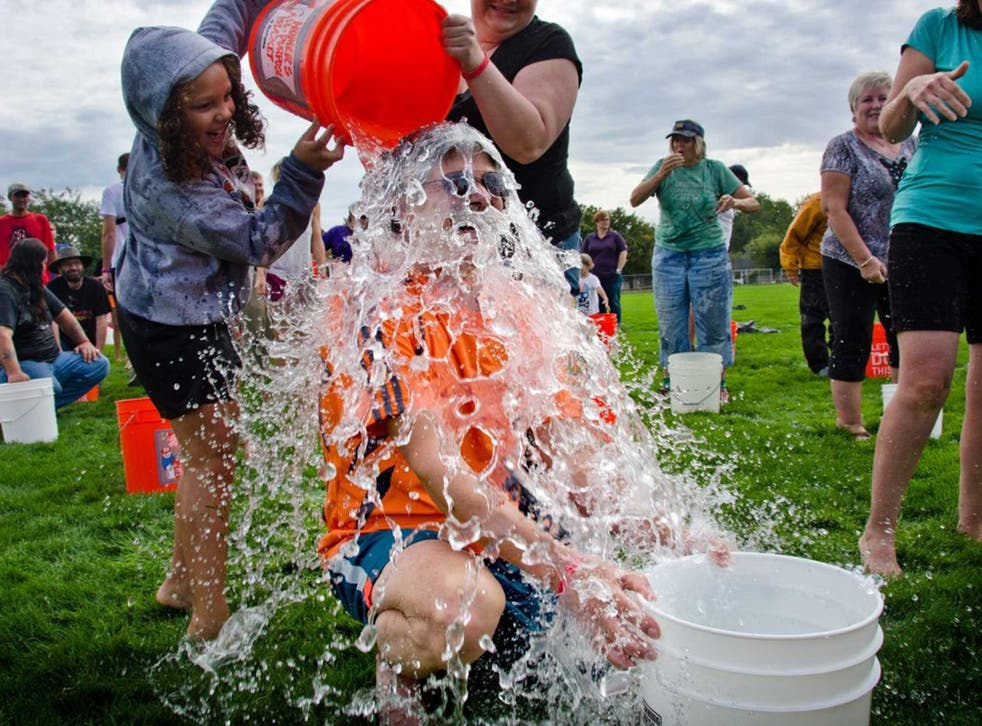 It was the hit charity campaign of last year: pour a bucket of ice-cold water over your head, film it, then nominate friends to do the same – all in the name of giving.
The Ice Bucket Challenge raised hundreds of millions of pounds for the Amyotrophic Lateral Sclerosis (ALS) Association in the US and for the Motor Neurone Disease Association in the UK.
But now charities are being warned to avoid spending too much time and money devising what they hope might be next year's Ice Bucket Challenge and instead concentrate on using social media to raise longer-term awareness for their cause.
Not-for-profits also risk alienating older potential supporters by assuming that only younger people use social media, according to a new report on charities and their digital strategies. Many are also failing to keep up with trends that are seeing more under-25s moving away from Facebook and Twitter into Instagram and Snapchat.
Viral campaigns such as the Ice Bucket Challenge and the #nomakeupselfie helped propel some organisations into the spotlight this year while simultaneously raising awareness and huge sums of money.
In pictures: The famous do the ice bucket challenge

Show all 17
Researchers pointed out: "Most not-for-profits won't experience a craze like the Ice Bucket Challenge, but it is clear that social media has the power to build a brand, raise awareness and reach new audiences, that can lead to bigger supporter and membership base and greater engagement."
The Ice Bucket Challenge went viral last summer. Before it existed the MND Association would receive on average £200,000 a week in donations. From 22 to 29 August, it received £2.7m. While some criticised the challenge, Water Aid saw a spike in donations, including £47,000 in one day – 50 per cent higher than it had ever received in a single day before as people took against "wasted" water. Others said it had a huge impact in raising awareness and on funding.
"The Social Media and Not-for-Profits" report found that 92 per cent of charities surveyed used social media "heavily" or "somewhat" to engage with existing supporters, funders and members. Ninety-one per cent were using Twitter, and 86 per cent Facebook, while start-ups such as WhatsApp and Snapchat were used by less than 4 per cent.
The report showed that 81 per cent of marketing teams devote less than 10 per cent of their budget to social media, and more than half spend less than 10 per cent of their time on it, yet 70 per cent believe these should be increased.
While results showed the overwhelmingly positive impact social media had on charities and membership organisations, researchers said there is a misunderstanding of where their audiences are most often found, with the authors finding a preconception that social media is a preserve of the young. One in five even said that there is no social media channel that is important or applicable to the over-65s.
Howard Lake, publisher of consultants UK Fundraising, said: "Older people are such an important part of many organisations' fundraising – especially when it comes to legacies. [Charities] should start by looking at their own data – have they checked how many of their Facebook supporters are 65 and over?"
Join our new commenting forum
Join thought-provoking conversations, follow other Independent readers and see their replies