Revealed: Police officer Bob Lambert helped to write the leaflet that caused McLibel
Undercover infiltrator was the co-author of defamatory pamphlet about US fast-food giant
Tom Bawden
Friday 21 June 2013 19:16 Comments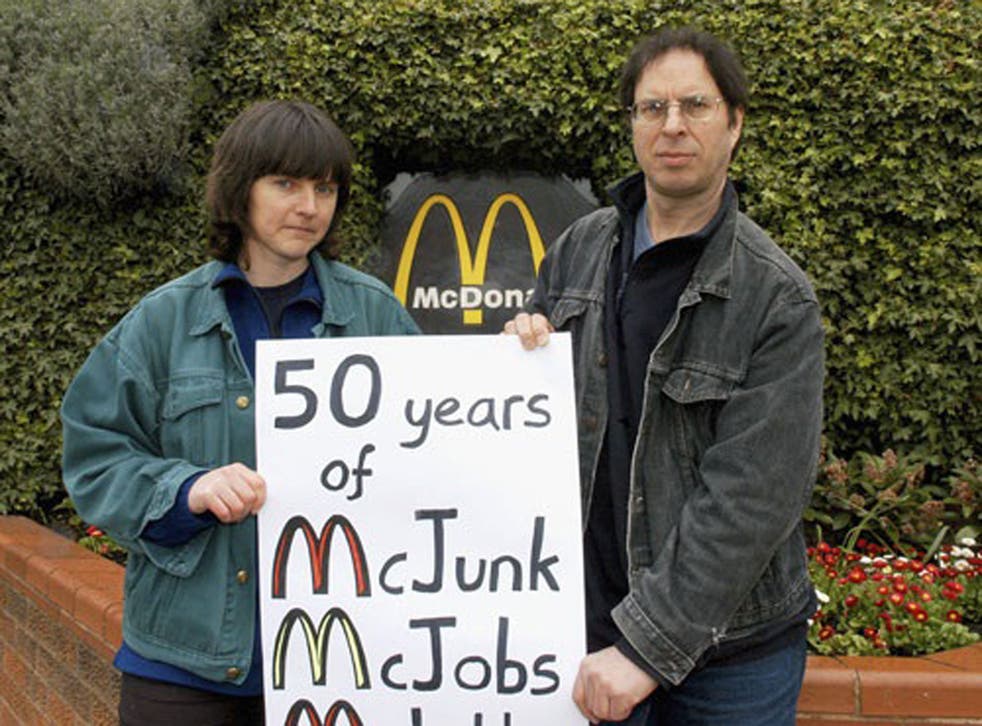 An undercover police officer who famously infiltrated the anarchist movement London Greenpeace also helped to write the anti-McDonald's leaflet which led to the David-versus-Goliath "McLibel" trial, it emerged.
A new book about undercover policing reveals that Bob Lambert, who used the name Bob Robinson during his five years at London Greenpeace, which is not affiliated with the Greenpeace environmental movement, was the co-author of the libellous leaflet.
In the 1990s, McDonald's sued a group of activists for distributing a pamphlet critical of the US fast-food giant and its ethical standards. Although the company won the trial, its reputation and balance sheet were harmed. It spent an estimated £10m on the three-year case – while the defendants received pro-bono assistance from a sympathetic barrister – and it never collected the £40,000 the judge ruled that it was due.
Mr Lambert's involvement in the case was known only to a few people until now and gives a further twist to two stories that have captured the public imagination – his own and the McLibel trial.
He was one of about five authors who wrote the defamatory, roughly typed leaflet over several months in 1986. It was only after his covert
deployment ended in 1989 that McDonald's decided to take action – even though London Greenpeace could only afford to distribute a few hundred copies.
The six-page leaflet made a wide range of accusations of McDonald's, accusing it of destroying the environment, exploiting workers and selling junk food. One anonymous close friend from the time said Mr Lambert was really proud of his leaflet. "It was like his baby, he carried it round with him," he told The Guardian, which has seen extracts from the book.
The Metropolitan Police said: "[The force] recognises the seriousness of the allegations of inappropriate behaviour and practices involving past undercover deployments. At some point it will fall upon this generation of police leaders to account for the activities of our predecessors, but for the moment we must concentrate on getting to the truth."
A review and investigation into these matters – Operation Herne – is being overseen by Derbyshire Chief Constable Mick Creedon. Mr Lambert is under investigation for sexual relationships with four women while undercover, fathering a child with one of them before he left in 1989.
Mr Lambert declined to comment about his role in the production of the McLibel leaflet. However, he previously offered a general apology for deceiving "law-abiding members of London Greenpeace", which he said was a peaceful campaign group. His role in the McLibel leaflet is exposed in Undercover: The True Story of Britain's Secret Police by Rob Evans and Paul Lewis, out next week.
Register for free to continue reading
Registration is a free and easy way to support our truly independent journalism
By registering, you will also enjoy limited access to Premium articles, exclusive newsletters, commenting, and virtual events with our leading journalists
Already have an account? sign in
Join our new commenting forum
Join thought-provoking conversations, follow other Independent readers and see their replies