Revealed: UK sells tear gas and rubber bullets to regimes 'on Foreign Office blacklist'
Items on display to delegations from governments likely to include Saudi Arabia, Kazakhstan and Egypt are sniper rifles, computer and phone-hacking tools and a crowd-control sonic 'projector'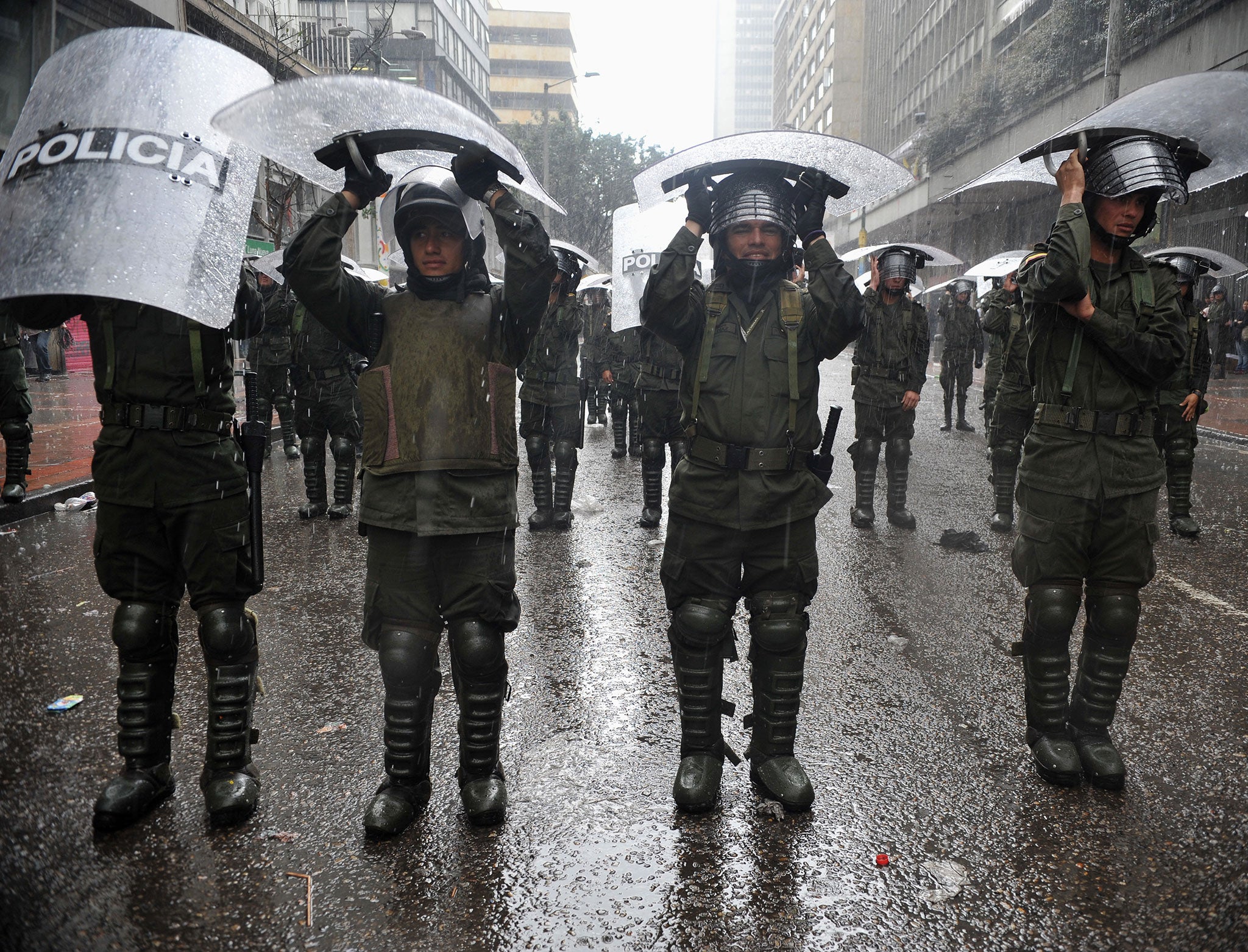 The Coalition has approved the sale of £16m of crowd-control and anti-riot equipment, including tear gas and rubber bullets, to countries whose regimes are on its own human-rights blacklist, The Independent can reveal.
Figures detailing the export of material implicated in the quelling of internal dissent in locations from Egypt to Hong Kong are made public ahead of a Home Office-organised business fair held behind closed doors this week which will showcase British arms and security companies to dozens of foreign governments.
The three-day, Security & Policing Event, which is closed to the public and press, is billed by the Home Office as a unique opportunity for manufacturers to market products "which would be too sensitive to show in a more-open environment".
Among the items being displayed to delegations from governments likely to include Saudi Arabia, Kazakhstan and Egypt are sniper rifles, computer and phone-hacking tools and a crowd-control sonic "projector" described by its manufacturer as "extremely unpleasant" at ranges of 20 metres or less.
Tear gas use across the world
Show all 12
Campaigners said the figures showing Britain's vigorous trade in crowd-control and anti-riot materials with countries where internal repression has been widely documented showed the Government is putting commercial interests ahead of its human-rights obligations and running the risk of failing to abide by its own export rules.
Since the Coalition came to power in 2010, export licences for at least £15.9m of crowd-control goods from riot shields to "irritant ammunition" to more than 100 countries have been approved by Vince Cable's Department for Business, Innovation and Skills (BIS). They include £10m of tear gas or anti-riot irritants, £640,000 of "crowd-control ammunition" and £3.1m of riot shields. None of the exports are unlawful and much of the material goes to established democracies and close allies from France to the US.
But crowd-control supplies have also been cleared for export to countries and territories with authoritarian regimes and questionable human-rights records including Libya, Saudi Arabia, Pakistan, Hong Kong and Egypt.
Nine of the countries to receive export approvals – Afghanistan, Bahrain, Colombia, Iraq, Israel, Libya, Pakistan, Russia and Saudi Arabia – feature or have featured on the Foreign Office's human rights blacklist of "countries of concern" over the past five years.
The figures – compiled from Government data by the Campaign Against the Arms Trade (Caat) – show that goods worth £6.7m were cleared for shipping to the nine countries between 2010 and last September, including £2.95m of tear gas to Saudi Arabia and £2.93m of tear gas and £228,000 of "crowd-control ammunition" to Libya while Muammar Gaddafi remained in power (both licences were later revoked following the fall of the dictator).
Andrew Smith, from Caat, told The Independent: "This is a sign of a system that puts arms-company profits ahead of human rights. Weapons like tear gas have an indiscriminate effect and are synonymous with internal repression.
"The Government may have revoked the licence for tear gas to Libya, but it should never have been signed in the first place. Gaddafi was a brutal tyrant from day one, and this is a reminder that acts of oppression by his regime were carried out with British support."
British goods are suspected to have been used in quashing internal dissent in several human-rights hotspots in recent years, including the use of tear gas in Bahrain, Egypt, Libya and Hong Kong.
A Hampshire-based company, Chemring, said it would be reviewing its sales policy after tear gas was used against pro-democracy protesters in Hong Kong last October. The Government, which cleared the export of tear gas worth £147,000 to the former colony in 2011, later insisted there was no proof that the 87 rounds used by police on demonstrators were of British origin.
A licence for tear gas to Bahrain was revoked following allegations British supplies were used against protesters while armoured, crowd-control vehicles supplied by a UK company were implicated in the crushing of protests against the Gaddafi regime during which 200 people died in 2011.
The Government has long judged its arms exports on a policy which states that a licence will not be granted when there is a "clear risk" that the exported goods "might be used to facilitate internal repression".
In a statement, BIS said: "We rigorously examine every licence application on a case-by-case basis against internationally recognised criteria. Risks around human-rights abuses are a key part of our assessment and we do not grant licences where there is a clear risk that it might be used for internal repression."
Join our commenting forum
Join thought-provoking conversations, follow other Independent readers and see their replies