US takes full responsibility for Manchester attack intelligence leaks, Rex Tillerson says
Police briefly suspended intelligence sharing following the leaks
Will Worley Comments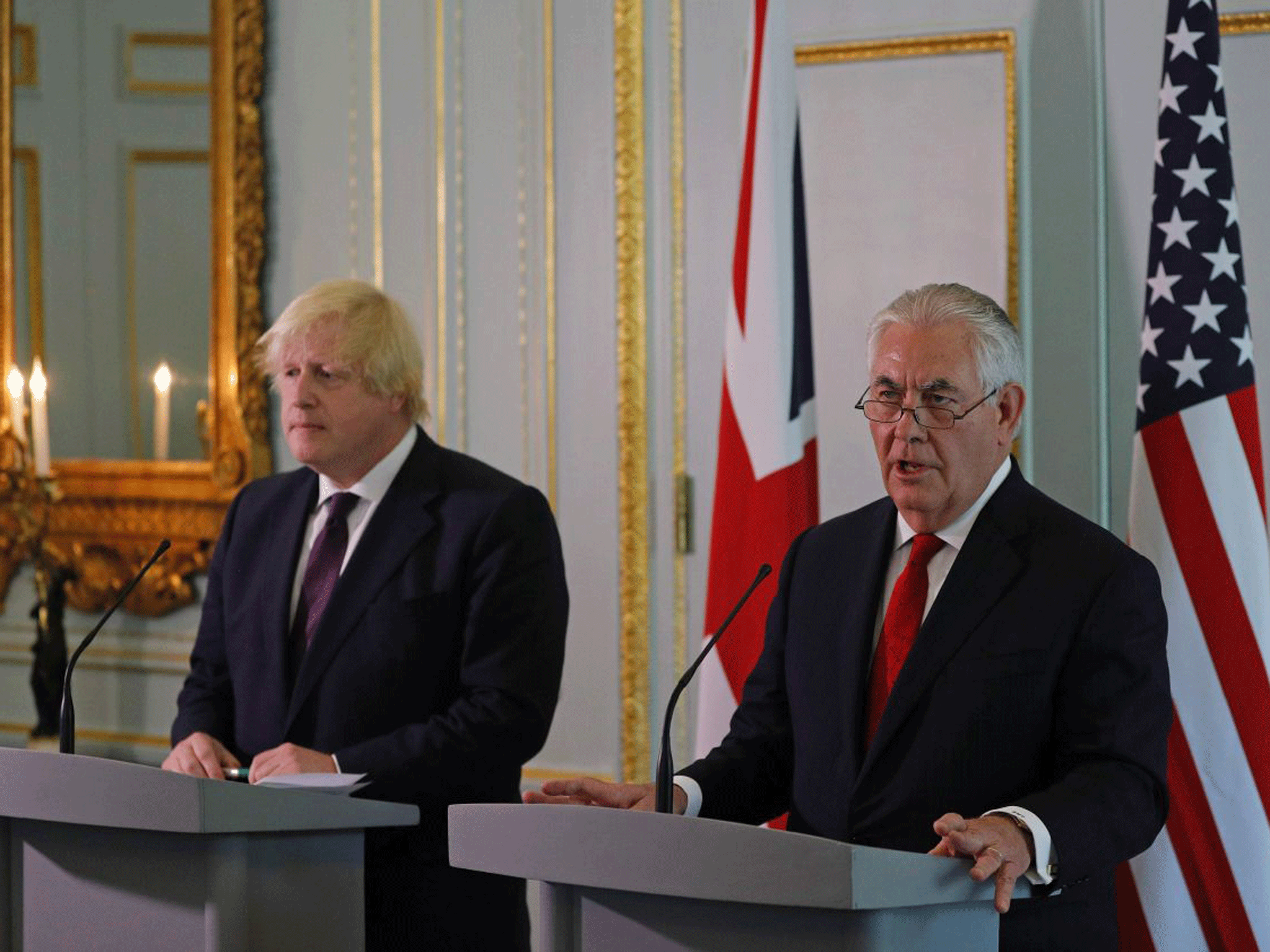 The US government takes full responsibility for the leaked information on the police investigation into the Manchester bombings, Rex Tillerson has said.
The American Secretary of State made a snap visit to the UK after the intelligence dispute between the two countries threatened to escalate into a diplomatic row.
Key details of the investigation into the attack, which killed 22 people, were withheld by investigators in the UK but revealed to American journalists, apparently from US government sources.
Election campaigning restarts after Manchester attack
"We take full responsibility for that and we obviously regret that that happened," Mr Tillerson said as he met with Boris Johnson.
"With respect to the release of information inappropriately ... certainly we condemn that."
Mr Tillerson, who is also expected to visit Manchester, added that "all across America, hearts are broken" following the attack.
The name of the attacker, Salman Abedi, was first published in the US press. British investigators were reportedly even more shocked to discover The New York Times had published photos from the scene, including of the bomb's detonator; a battery thought to have been used in the bomb and the bag it was carried in.
In response, police briefly suspended sharing intelligence with the US, although MI6, MI5 and GCHQ did not.
A senior intelligence told the BBC the move was an "unprecedented halt in intelligence-sharing".
It was significant, albeit brief, because the UK is a member of the "Five Eyes" security alliance, along with the US, Australia, New Zealand and Canada. The countries share intelligence as a matter of routine.
Manchester explosion in pictures

Show all 37
Mr Tillerson said that the US-UK special relationship would withstand the leaks and said focus would turn to intensifying the fight against Isis on the battlefield.
He added that immigration was "clearly a significant challenge" in how the West fights terrorism.
Register for free to continue reading
Registration is a free and easy way to support our truly independent journalism
By registering, you will also enjoy limited access to Premium articles, exclusive newsletters, commenting, and virtual events with our leading journalists
Already have an account? sign in
Join our new commenting forum
Join thought-provoking conversations, follow other Independent readers and see their replies