Experts scramble to decipher mysterious inscription on ancient stone discovered in Mesopotamia
Sir Richard Francis Burton 'wanted to be a legend' and may have invented artefact's back-story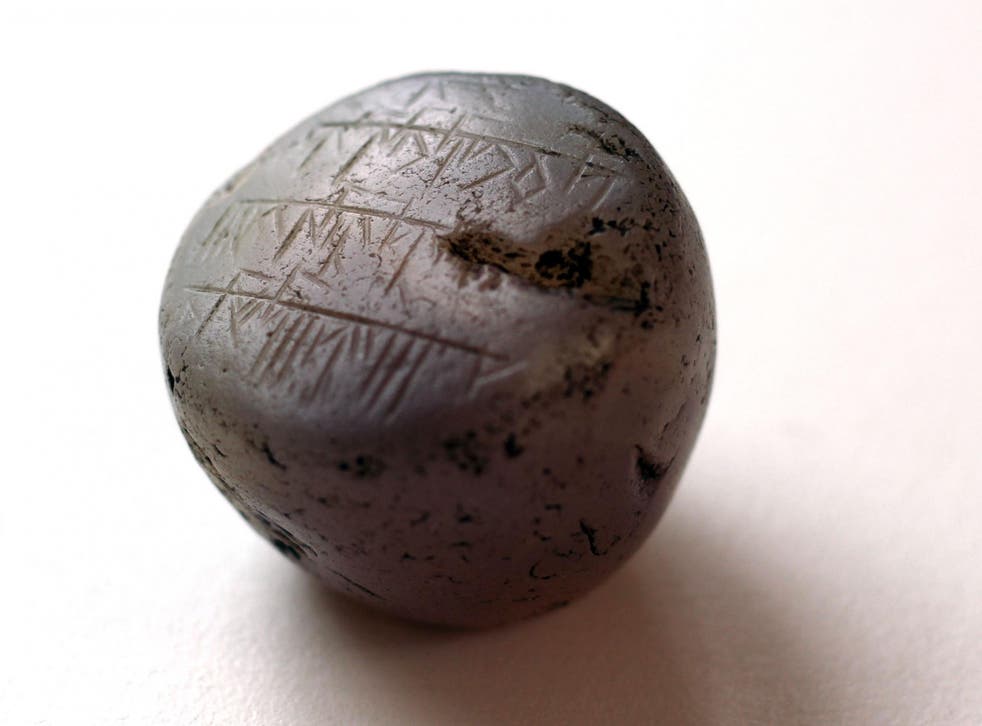 Experts across London are joining forces to unravel the mystery surrounding a "meteorite" bearing an ancient inscription, thought to have been found in Mesopotamia by a famous 19th century explorer.
The V&A and Natural History Museum are among the institutions hoping to shed light on the artefact, which belonged to Sir Richard Francis Burton, a prolific explorer known for translating Arabian Nights and the Kama Sutra.
After being held by the borough of Richmond for 60 years alongside many of Burton's possessions the relic was put on display for the first time, prompting Mark De Novellis, curator of Richmond's art collection, to discover more about the object.
While the investigation has disproved some of fantastical claims made about the stone, its newly-suspected origins are no less intriguing.
Burton believed or simply claimed the object was a meteorite and it was logged as such by his wife Isabel, who sold his findings to the state following his death in 1890.
This week, more than 120 years later, the Natural History Museum confirmed it stone was in fact terrestrial and likely a type of quartz. However, further research showed the artefact was no mere piece of stone.
The V&A has identified the inscription as Kufic, the oldest calligraphic form of Arabic. One of the earliest existing copies of the Quran is written in Kufic script. Mr De Novellis believes this would place the stone's origins between the 7th and 12th century.
While Mr De Novellis is currently appealing to the public for help translating the Kufic script, he believes the artefact was probably a talisman. In the medieval Middle East, certain crystal and semi-precious stones were deemed to have supernatural properties and the stone's Kufic inscription is thought to match that of a similar talisman currently housed in the V&A, he said.
"If you've got a talisman it is a sacred mystical object. I've got a feeling that when we get this translated it will be of a mystical or spiritual nature," Mr De Novellis said.
The curator is hopeful that these recent discoveries could shine more light on Burton's life and character, which was shrouded in controversy and is still the topic of much historical interest.
"In 1853 he was one of the first Englishmen to actually enter Mecca, in disguise. It might have been part of his costume and persona, as something he wore round his neck," explains Mr De Novellis.
"When he went to Mecca he went to the Kaaba, which is in the Grand Mosque and he saw the sacred Black Stone. Most people think that's made out of volcanic rock and he jumped to the conclusion, 'that's a meteorite'.
"I think it just appealed to Burton's imagination. I think he had that sort of mindset where any stone that is sacred or mystical is potentially extra-terrestrial so he interprets that as being a meteorite."
UK news in pictures

Show all 50
Meteorites had been first proposed as a concept by Ernst Florens Chladni in 1794 and Mr De Novellis believes that Burton "would have wanted to discover or possess one".
He also suggests that as a man "renowned for self-mythologising" and "carefully crafting his image as a daring, risk-taking linguist and anthropologist", the explorer may have had an eye on his future legacy.
"He wanted to be a legend," Mr De Novellis explains. "Burton was extremely media savvy for his day and wanted to present himself in a certain way in his numerous popular publications.
"Was he a manipulative myth-maker, a misinformed fantasist or maybe an early exponent of post-modern fake news?"
Register for free to continue reading
Registration is a free and easy way to support our truly independent journalism
By registering, you will also enjoy limited access to Premium articles, exclusive newsletters, commenting, and virtual events with our leading journalists
Already have an account? sign in
Register for free to continue reading
Registration is a free and easy way to support our truly independent journalism
By registering, you will also enjoy limited access to Premium articles, exclusive newsletters, commenting, and virtual events with our leading journalists
Already have an account? sign in
Join our new commenting forum
Join thought-provoking conversations, follow other Independent readers and see their replies