Richard III Society turns its attention to who killed the princes in the Tower
After finding their man more than 500 years after he was killed, the group will now examine the fate of the king's nephews
Paul Gallagher
Sunday 05 April 2015 00:00 Comments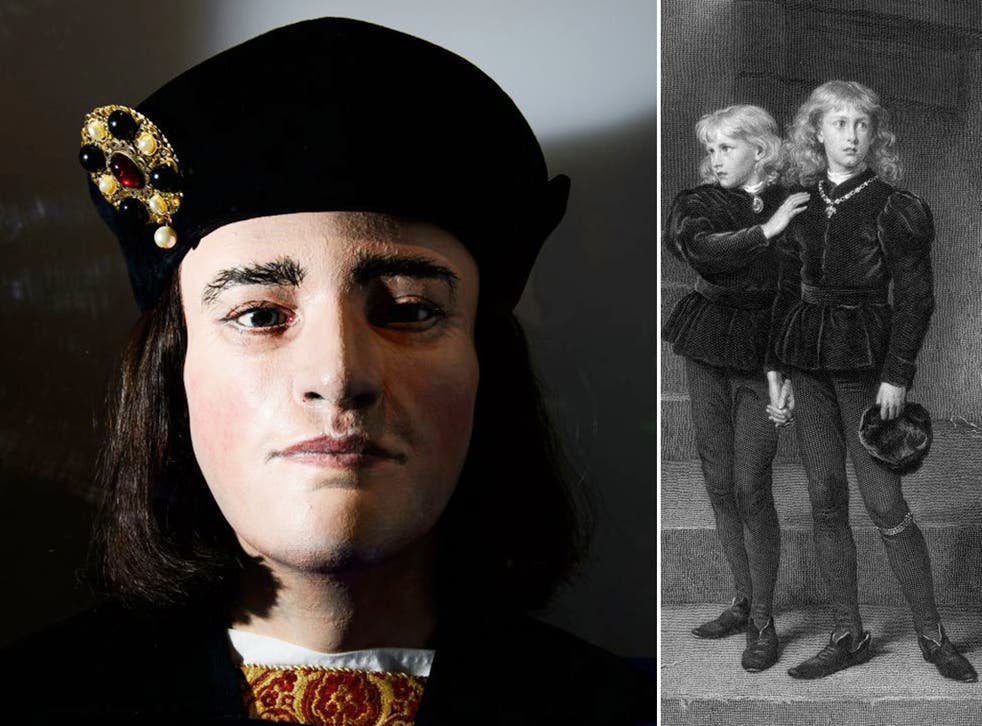 Having finally found their man more than 500 years after he was killed in battle, sleuths at the Richard III Society have turned their attention to another enduring mystery – what really happened to the princes in the Tower?
Most historians believe Richard killed his nephews in the summer of 1483 after their father, Edward IV, died unexpectedly, although there is no hard evidence linking him to the murders.
The boys, Edward V and Richard of Shrewsbury, Duke of York, were 12 and nine respectively when their father died. They were taken one by one to the Tower of London in expectation of Edward V's coronation. This never took place.
Philippa Langley, the historian and screenwriter whose determination led to the 2012 discovery of Richard III's body beneath a car park in Leicester, has vowed to uncover the truth.
In pictures: The remains of King Richard III

Show all 8
"This is the last big question around Richard III," she told The Independent on Sunday. "We need to look at what happened to the princes in the Tower because most of the Establishment always state that Richard was the murderer, yet there is absolutely no evidence to support that. Nothing.
"Nobody has put this to the top of their agenda before, but we're going to now. It was the same with the search for Richard's remains – everyone presumed they were in the river Soar. Nobody was particularly interested in searching for his lost grave."
Officially, the princes' remains were found in 1674, when workmen at the Tower dug up a wooden box containing two skeletons. Four years later, the bones were placed in an urn and interred in Westminster Abbey on the orders of King Charles II.
A request by the Richard III Society to remove the urn to allow carbon dating and other scientific analysis was rejected by the Queen. Ms Langley believes the urn does not contain the princes' remains, because the depth at which the box was found – 10ft under the staircase leading to the chapel of the White Tower – makes it unlikely.
"That depth is Saxon/Roman level and a skeleton of another child found a few decades ago in that area was carbon-dated to the Stone Age," she said.
Richard III's loyal servant, Sir James Tyrell, has been named as the boys' killer, after a confession, obtained under torture, before his execution for treason in 1502. But this is dismissed by Ms Langley. For it to have been worthwhile for Richard to kill the princes he had to display their bodies, she argues, "otherwise he did it for no reason", putting himself in jeopardy.
According to Ms Langley, the society has been invited by some of Britain's "big families" to inspect their archives in the hunt for the princes' killer. One example is the Brackenbury family – Robert Brackenbury was Constable of the Tower of London.
National archives in Spain, Portugal and the Low Countries are also being searched and Ms Langley called on the Vatican to open its archives. "We're going to get into it pretty soon and the specialists will start looking – we want to discover the truth."
Register for free to continue reading
Registration is a free and easy way to support our truly independent journalism
By registering, you will also enjoy limited access to Premium articles, exclusive newsletters, commenting, and virtual events with our leading journalists
Already have an account? sign in
Join our new commenting forum
Join thought-provoking conversations, follow other Independent readers and see their replies