Richard Okorogheye missing: Mother 'heartbroken' after 'police say they won't be able to find him if she can't'
Nineteen-year-old 'has never done anything like this', she says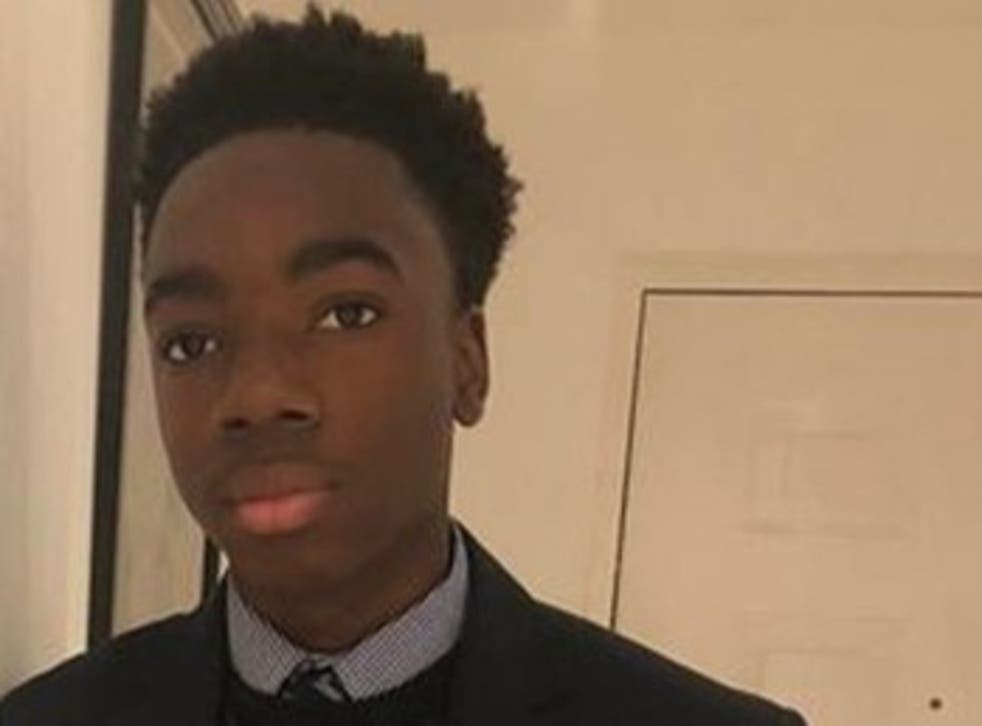 Leer en Español
A mother has said her "heart was broken" after police allegedly told her they would be unable to locate her missing son if she couldn't find him.
Police have said they are increasingly concerned about 19-year-oldRichard Okorogheye, who was last seen a week ago.
Appealing for help to find her missing son, who she said was "struggling to cope" with university pressures, his mother, Evidence Joel, told Sky News on Tuesday that: "I told a police officer that my son was missing, please help me find him, and she said 'if you can't find your son, how do you expect police officers to find your son for you?'"
She added: "I was expecting assurance. My son was missing and it broke my heart."
A Metropolitan Police spokesperson said the force "is committed to providing the best possible service to families of missing people".
Read more:
These families "should always be treated with respect and dignity by officers, and have confidence that officers will make every effort to investigate the circumstances of the disappearance with a matter of urgency", they said.
The teenager was shielding due to health reasons during the coronavirus lockdown and had told her he was "struggling to cope" with university, which he had been attending virtually.
Mr Okorogheye is believed to have left his family home in the Ladbroke Grove area of west London on 22 March.
He was reported missing on 24 March.
Ms Joel earlier told the MyLondon website her son has "never done anything like this".
"Something has gone wrong," she added.
Ms Joel recalled him saying he was going to visit a friend, although none of them have seen him, telling her to drive safe and that he would "see me later", she told the website.
She returned home from a nursing shift at around 9pm and assumed he was in his room.
She cooked him a meal but found he was not there when she knocked on his door and he did not answer his telephone.
The alarm was raised after a locksmith helped her gain entry to the room, which was empty, and Mr Okorogheye's wallet, bus pass and bank card were left behind.
The teenager was last seen leaving his home and heading in the direction of Ladbroke Grove on 22 March at around 8.30pm, police said.
Officers added that he was known to frequent London's Westminster and Hammersmith and Fulham areas.
"Our officers have been working tirelessly to locate Richard, using all investigative opportunities and data inquiries, speaking with witnesses and trawling CCTV," Chief Inspector Clare McCarthy from the Met's Central West Command Unit said.
"We are following every lead possible and are appealing for the public to help us in our work."
She asked people who may have seen the student to contact police.
"If Richard is safe and well, we ask him to contact us as a matter of urgency so that we can put his family's minds at ease," she added.
The Metropolitan Police spokesperson added: "The investigation into the disappearance of Richard Okorogheye remains ongoing - his family are being supported by a dedicated Family Liaison Officer while all available resources are being utilised in the search."
Anyone with information is asked to call police on 101 quoting 21MIS008134. In an emergency, please call 999.
Information may also be given to the charity Missing People.
Additional reporting by Press Association
Register for free to continue reading
Registration is a free and easy way to support our truly independent journalism
By registering, you will also enjoy limited access to Premium articles, exclusive newsletters, commenting, and virtual events with our leading journalists
Already have an account? sign in
Register for free to continue reading
Registration is a free and easy way to support our truly independent journalism
By registering, you will also enjoy limited access to Premium articles, exclusive newsletters, commenting, and virtual events with our leading journalists
Already have an account? sign in
Join our new commenting forum
Join thought-provoking conversations, follow other Independent readers and see their replies