RideLondon 2016 crash: Hundreds of cyclists affected as 'nasty' accident brings event to halt in Surrey
Riders delayed for up to an hour as an air ambulance attends scene of pile-up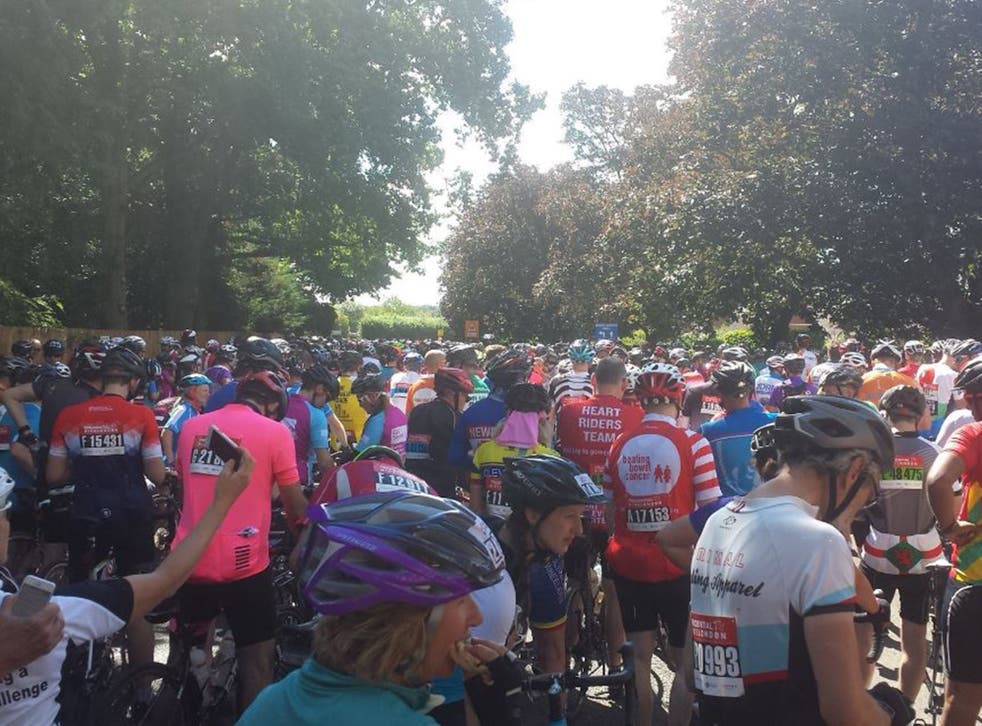 A "nasty crash" between Pyrford and Ripley, Surrey has brought the annual RideLondon cycling event to a halt.
Cyclists queued for up to an hour after the crash at around the 40 mile mark as paramedics and an air ambulance attended the scene.
Route organisers were eventually forced to open an alternative route from West Byfleet to Ripley to allow riders to get through but many cyclists had already past the diversion point.
Locals reportedly handed out water to stranded cyclists while they waited on the route.
Cyclist Sally Hughes said she had been stopped at the front of the huge queue.
She said: "Hope it's not too serious - sounds nasty".
Another, David Long, said: "Big crash at Pyrford, been waiting for an hour - hope all involved are OK".
Tim Sculthorpe reported that a police helicopter could be seen hovering overhead.
A spokeswoman for the South East Coast Ambulance Service said the rider had crashed into a tree in near Pyrford and was airlifted to St George Hospital in Tooting, south London.
A second rider also came off his bike in the Thames Ditton area.
She said: "He is suffering a head injury and will be transferred to one of the London Hospitals."
The ride reportedly began moving again at around 10:45am after organisers opened the contingency route.
At around 11:15am the route was reopened.
Rider Sharif Hossain told The Independent cyclists were beginning to move again.
He said they were "crawling, but moving".
Additional reporting by PA
Register for free to continue reading
Registration is a free and easy way to support our truly independent journalism
By registering, you will also enjoy limited access to Premium articles, exclusive newsletters, commenting, and virtual events with our leading journalists
Already have an account? sign in
Register for free to continue reading
Registration is a free and easy way to support our truly independent journalism
By registering, you will also enjoy limited access to Premium articles, exclusive newsletters, commenting, and virtual events with our leading journalists
Already have an account? sign in
Join our new commenting forum
Join thought-provoking conversations, follow other Independent readers and see their replies