Riot police called in as demonstrators clash at anti-Muslim protest
Skirmishes after London mosque is targeted on anniversary of 9/11 attacks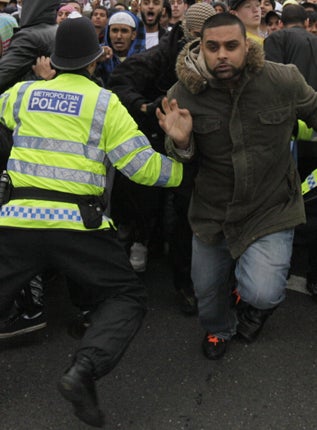 Hundreds of Asian youths threw rocks, bottles and fireworks at riot police last night as anger over an anti-Muslim demonstration spilled onto the streets of Harrow.
Police made ten arrests and fought a series of skirmishes with masked protesters close to Harrow Central Mosque, which had been targeted by demonstrators.
The demonstration was organised by two groups, the English Defence League and Stop the Islamisation of Europe. It was called off after the first 15 supporters to turn up were chased off by counter-demonstrators who outnumbered them heavily.
Anti-Islamic protesters had to be sheltered by riot police who formed a cordon round them and rescued one from a beating after he was caught and set upon by a crowd of Asian youths. As police protected the men, further violence broke out when a number of masked protesters started hurling bottles, rocks and fireworks at officers. The masked youths ignored pleas by a larger crowd of Muslims who urged them to keep the protests peaceful.
The violence came just a few days after an anti-Islamic protest organised by the English Defence League in Birmingham descended into running street battles which led to 90 people being arrested, with more anticipated as CCTV footage is examined. The group said it planned to organise more demonstrations across the country.
In Harrow, several of the Asian youths making up the bulk of 1,500 counter-protesters armed themselves with sticks and metal poles. Nine of the arrests were for the suspected possession of offensive weapons.
The town's central mosque is still under construction and is expected to provide a enough prayer space for the area's 35,000 Muslims.
Elders at the mosque said the timing of the protests were particularly insensitive because it fell not just on the anniversary of the 11 September attacks, but also during Ramadan, a deeply spiritual month where Muslims fast from dawn until sunset.
The violence which erupted in the early evening came in stark contrast to the peaceful mass protest earlier in the day before the anti-Islamic demonstrators had arrived.
John Denham, the Communities Secretary, compared the protests organised by groups such as the English Defence league to the rise of Oswald Moseley's blackshirts in the 1930s and its role in provoking violent street fights, particularly the Battle of Cable Street in 1936.
He made his comments in a newspaper interview as he unveiled government plans to tackle the problem of alienation felt by white, working class people leading to them being exploited by far-right groups.
Mr Denham later clarified that he did not believe we were facing a situation like the 1930s. "It's nothing like the 1930s," he told the BBC Radio 4 Today programme. "All we are facing at the moment is small. But I think we need to take it seriously enough to say that there are obviously people who would like to be provocative, hope that there is not just a reaction but there is an overreaction, then people blame the people who overreact and the situation gets out of control."
In an emotional speech during midday prayers, the mosque's imam, Ajmal Masroor, called on his followers to ignore any anti-Muslim protesters and resist the temptation to retaliate. He prompted laughter when he told listeners: "My father always said to me, 'If a dog bites your leg do you turn around and bite the dog back?' Of course not."
But he could do little to prevent hundreds of angry young Muslims gathering to defend the mosque, which they believed would be attacked by Islamophobes. Mahmood Abdullah, a 17-year-old student, travelled up from Morden in south London. He said: "We don't want to start a fight but we are willing to defend our brothers and sisters if we have to. We want to show them that for every protester they bring, we'll bring 10."
By early evening hundreds of young Asians had taken over Station Road, the main thoroughfare that runs parallel to the mosque, and frequent cries of "Allahu Akbar!" (God is Greatest) could be heard.
The small group of white men who were protected by the police from the mob were largely reluctant to speak. One, who said he was from Middlesex but declined to give his name, simply stated: "We've become a minority in our own country."
The English Defence League first surfaced as an organisation in the spring and has been banned from holding any marches in Luton for three months. Activists have been using social networking sites such as Facebook to spread their protests across the country.
Stop the Islamisation of Europe, which boasts 2,300 supporters on its Facebook page, is inspired by a right-wing group in Denmark of the same name who have held regular protests outside mosques ever since cartoons depicting the Prophet Muhammad appeared in a newspaper sparking riots across the Muslim world.
Unlike far-right groups such as the British National Party, which campaigns on an anti-immigration ticket, the EDL and SOIE have concentrated on campaigning against Islam.
Their emergence has alarmed anti-racism campaigners, who fear a return to the days of the National Front when regular street battles broke out between its members and immigrant groups in the 1970s and 1980s.
Tony McNulty, the MP for Harrow, said: "Emotions are running high. But most of the protesters are not even from here. A load of young teenagers chasing ghosts should not detract from an overwhelmingly peaceful, multi-racial protest."
Join our commenting forum
Join thought-provoking conversations, follow other Independent readers and see their replies