Riots, revolution and Ukip on steroids: what activists say will happen if Brexit is blocked
Parliamentary vote against Brexit would be 'ultimate political hand grenade', say grassroots Leave campaigners 
Adam Lusher
Thursday 03 November 2016 20:28 Comments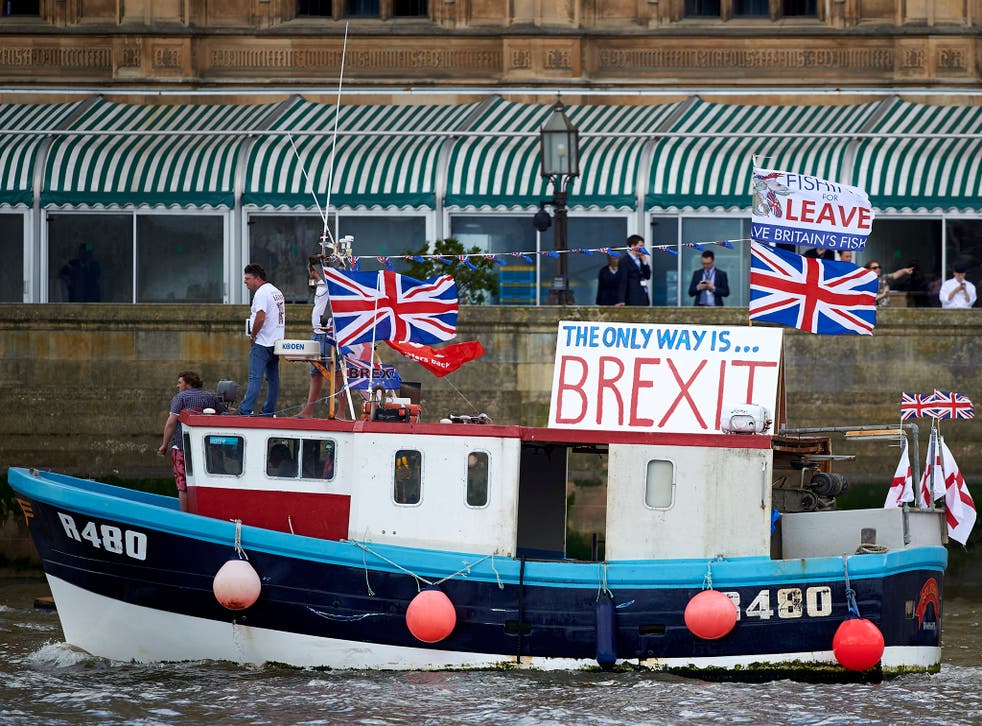 The Brexit heartlands of Britain have reacted with fury to the High Court ruling that Article 50 could not be triggered without Parliamentary approval, with one senior Ukip councillor warning of riot and revolution if the UK is stopped from leaving the EU.
Other grassroots Brexiteers warned of "hell on Earth" and "Ukip on steroids" if "the elite" stopped Brexit from happening.
Stephen Raven, a borough councillor in Boston, the town which recorded the UK's biggest Brexit vote, went as far as warning that if Brexit were blocked: "Eventually we are going to have a civil riot. That's my honest opinion. You have got 17 million people [who voted Brexit] who are not going to be very happy at all if the decision gets overturned.
"If Brexit doesn't go ahead, you are going to get civil uproar. It's not a word I use lightly, but there is going to be a revolution. There will be a revolution."
His comments came as Nigel Farage, who led Ukip through the EU referendum campaign, reacted to Thursday's High Court ruling by saying that if "the political class" make every attempt to block or delay Article 50, "they have no idea of the level of public anger they will provoke."
Mr Raven, joint deputy leader of the Ukip group on Boston Borough Council, said even before the judgement had been given, the court case about Article 50, which would formally start the Brexit process, had caused anger in a town where 75.6 per cent of people voted for Brexit.
"They have been saying to me 'It sounds like Brexit is being overturned.' They have been asking 'Is this a stitch-up?'"
Explaining exactly what form the revolution might take, Mr Raven, 47, who works as a web designer said: "I am not saying it will [necessarily] be a revolution as in people walking through the streets – [although] it might be. It might be people campaigning for the Government of the day to step down. It could be as controversial as that.
"You can't have something you believe in so strongly and then suddenly have it ripped away from you."
In other parts of the country, grassroots Brexiteers predicted fury while stopping short of following Mr Raven in warning about the possibility of revolution.
In Sunderland, where the hefty 61 per cent Brexit vote provided the first clear indication of the way the nation was voting on referendum night, Alan Davies, chair of Houghton and Sunderland South UKIP constituency association, reserved particular anger for those who brought the Article 50 court case.
He said: "They are not doing what is right for democracy, for the country. They just want to have their own way – they don't want the majority to have its way."
He added: "It's big business, the elite, who want to delay and cancel the Brexit decision. The judges are part of that system, so I am not surprised they have taken the view of the elite and big business – but I am pretty peeved about it."
"The judges' decision hasn't cancelled anything," said Mr Davies, 62, the managing director of an electrics and communications company, "But if Brexit does get reversed, it will be hell on Earth. We will be shouting from the rooftops, fighting – legally – to make sure the will of the people is done."
"And I tell you what," he added, "If they do try to stop Brexit, Ukip will become a very, very strong force. Our membership will rocket."
His views were echoed by Victoria Ayling, a Ukip county councillor in Lincolnshire, who said that if Brexit was blocked: "Ukip will be on steroids. There would be huge support for Ukip, because the establishment parties would be so discredited."
Mrs Ayling added that she had already seen anger at the High Court judgement in Lincolnshire, the county containing both Boston and South Holland, the areas which recorded the first and second highest Brexit vote on referendum night.
"I have seen people talking about an establishment stitch-up. There is a feeling that the Prime Minister, who was in the Remain camp knew what was going to happen all along. I believe the Government has lost a lot of credibility and Ukip is needed more than ever to make sure that Brexit happens – and we're not just talking about Brexit-lite. We need to be out of the single market."
If Brexit was blocked, she said, there might be scenes "like the [2002] Countryside March", where rural protesters against the Labour government converged on London from all over the country. Only the existence of Ukip, she added, would stop riot or revolution.
"It is because people have that outlet – the chance to vote Ukip and speak through the ballot box – that you will prevent riots and civil unrest."
In Thurrock, Essex, which recorded a 72.3 per cent Brexit vote on June 23, the fourth largest in the country, Graham Snell, the leader of the Ukip group on the council, said: "The word being used a lot is "elite": we knew we couldn't trust them, seems to be the gist of it."
Brexit racism and the fightback

Show all 9
Mr Snell, 51, remained confident Thursday's judgement would be overturned on appeal. But if Brexit were stopped by a pro-Remain Parliament, he said, voters would defect to Ukip in droves.
"It would be the ultimate political hand grenade."
Register for free to continue reading
Registration is a free and easy way to support our truly independent journalism
By registering, you will also enjoy limited access to Premium articles, exclusive newsletters, commenting, and virtual events with our leading journalists
Already have an account? sign in
Join our new commenting forum
Join thought-provoking conversations, follow other Independent readers and see their replies