Rochdale fire: Families flee homes as huge mill blaze breaks out
Building's roof collapses as 30 houses nearby evacuated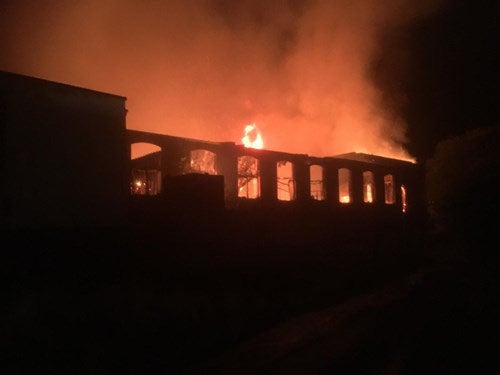 Scores of families have fled their homes after a huge fire broke out at a mill in Manchester.
More than 50 firefighters tackled the blaze after being called to the mill on Greenfield Lane in Rochdale at just before 10.35pm on Monday, Greater Manchester Fire and Rescue Service said.
About 30 nearby homes were evacuated and the roof of the mill – used to store candles – collapsed, the service said.
Bury and Rochdale Magistrates' Court was opened as a shelter, although residents were allowed to return to their homes shortly before 1am.
Pictures from the scene on Monday night showed the building engulfed in fire, with flames visible from miles around. There were no reported injuries.
Photographs from the mill on Tuesday morning showed smouldering rubble and twisted metal.
The fire service said in a statement: "Crews are using two jets and using water from height to dampen down the mill which was used to store candles and vehicles.
The roof of the building has collapsed inwards and firefighters are arranging demolition of the building so they can reach the pockets of fire that remain inside the building."
Station Manager Nick Hince, who is in charge of the responses, said: "Crews have made great progress and we have scaled back the incident overnight. Seats of fire remain in the building and will be difficult to reach until the building has been demolished.
"Smoke in the area has been reduced and is currently blowing away from local residents but the safety advice remains the same – please keep your windows and doors closed if you live locally.
"One side of Queensway has reopened but the other side remains closed so please avoid the area if you can. We are working hard to extinguish the fire completely so please bear with us as we do so.
"Crews will remain at the scene throughout the day but I would like to thank all of our firefighters and partner agencies who have worked throughout the night, helping us bring the blaze under control."
In an update posted in on Twitter on Tuesday morning, said: "Crews are making good progress at the mill fire in Greenfield Lane, Rochdale.
"Please can we ask people to continue to stay away from the area and keep windows and doors shut."
Join our commenting forum
Join thought-provoking conversations, follow other Independent readers and see their replies