Roofer's story of homeless man's hard work after finding him sleeping on bench goes viral
'I have never seen anyone so happy to be at work', says man after rough sleeper offers to help out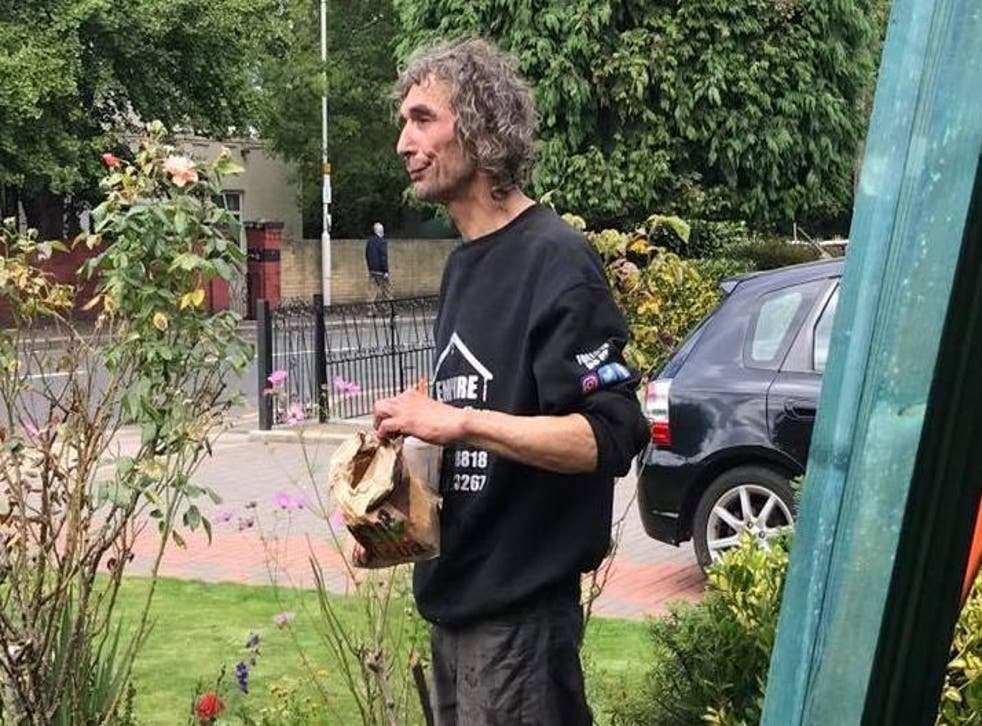 Thousands of people have shared the "inspirational" story of a homeless man given paid work by a group of roofers who found him living on park bench.
The roofers said the man been sleeping rough in a London park near a house they were working on and asked if he could help out after they gave him a cup of tea.
The next day the man, named only as John, returned and "worked non-stop," said one of the tradesman in a Facebook post that has gone viral.
The roofers bought him a Burger King lunch before paying him £70 out of their own pockets for a morning's work, added JayJay Murray.
He said: "We started a new job in London on a high road this week where this homeless man called John was living on a bench in the local park.
"We brought him a cup of tea early in the morning and offered him to come and help the next day. He was first on site and worked non-stop. I have never seen anyone so happy to be at work."
John told the workers £15 "would get him through the week".
"But the boys had a whip round and he set off with £70 at one o'clock and asked when he could come back," said Mr Murray, who works for Empire UPVC and Roofing Specialists.
He added: "His gratitude was a real eye-opener. Keep going John got to be something good around the corner. Nobody willing to work should be living on the streets."
He said John told the roofers before leaving: "Thanks brothers, it's the most love I've ever had."
They have invited John to help out again on Monday.
Mr Murray's Facebook post has been liked more than 23,000 times and shared more than 5,000 times since Tuesday, with many people praising the workers for their kindness.
UK news in pictures

Show all 50
"That restores my faith in humanity. What kindness shown to a complete stranger," wrote Barbara Rose. "Those great guys may have changed the homeless man's life forever."
"Inspirational humanity," added Carol Davies.
Empire said several people had come forward to offer John a home after reading the post.
Sharing his story online, the Hertfordshire roofing company said: "We can't believe how this selfless gesture from the Empire team has gone so far.
"We couldn't be prouder of the team, well done boys."
Join our new commenting forum
Join thought-provoking conversations, follow other Independent readers and see their replies