Royal Marine Andy Grant's Liverpool FC tattoo reads 'You'll never walk' after leg amputation
But the athlete, who won gold medals in the Invictus Games and is planning on rowing across the Atlantic, said he saw the funny side of the situation
Loulla-Mae Eleftheriou-Smith
Friday 06 February 2015 17:18 Comments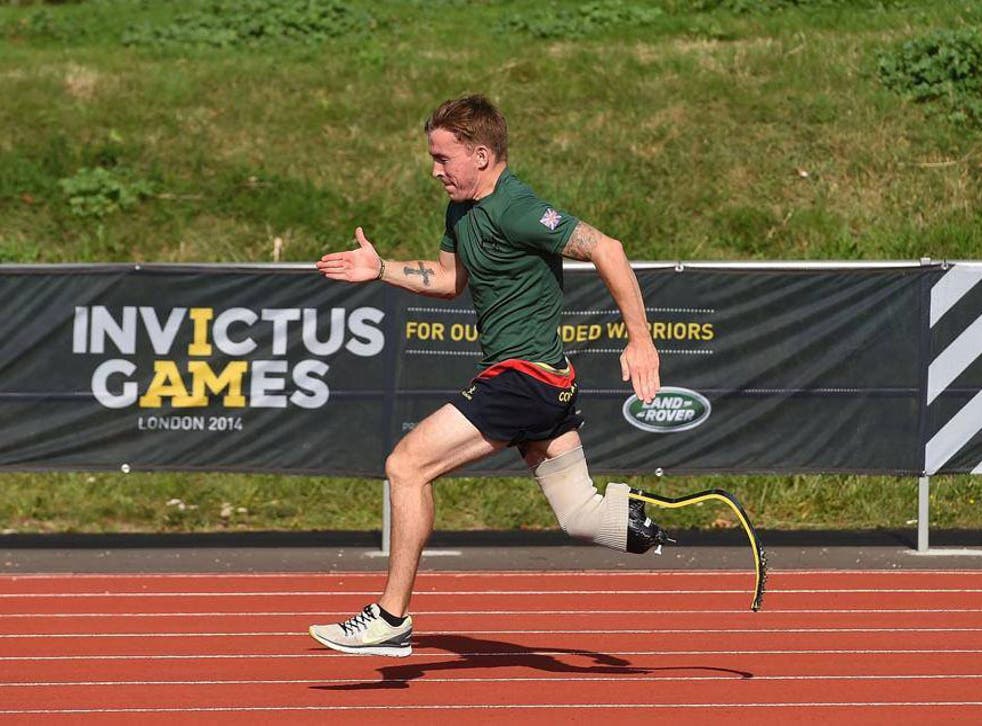 An ex-Marine and Liverpool fan whose life was changed after he stepped on an IED in Afghanistan has managed to see the funny side of an awkward situation when the word "alone" was removed from his leg tattoo after his amputation, leaving it reading: "You'll never walk".
Andy Grant, 26, who was injured in 2009, chose to have his leg amputated after he spent two years in a wheelchair following the accident.
Speaking to The Independent, Grant said he chose to have his leg amputated as he "wanted a better quality of life".
"I almost got jealous of guys who had amputations as they could run, play football go travelling and do the things I couldn't," he said.
Ironically, the amputation has not only let Grant walk again but it has allowed him to become an accomplished athlete. Since competing in Prince Harry's Invictus Games, where he won two gold medals, and running 10k in 40 minutes, Grant is now hoping to make next year's Paralympics team as a sprinter.
He said the tattoo is a "funny and ironic" part of his story, and that ultimately the operation has had a positive effect on his friendship with the surgeon.
"I was already good friends with the surgeon but after he operated on my leg it brought us closer together – his whole family have practically taken me in like one of their own," he said.
In addition to his new career as an athlete, Grant has become a motivational speaker, sharing his story of overcoming adversity to people in schools, sports teams and the corporate world, and is currently in the middle of writing a book.
"It's bittersweet for me because the day I lost my leg lost my career in the marines," he said.
Serving in Iraq and Afghanistan showed Grant "first-hand how hard and unfair life can be," but he maintains that being in the marines "teaches you to see the funny things when times are tough".
Grant, a father of three, said the support from his friends, family and military charities has allowed him to make a successful career for himself and allowed him to push on and lead the active lifestyle he always desired after his injury.
In addition to his considerable success as an athlete, Grant has now signed up for a new challenge: to row across the Atlantic.
"Not only would it be an amazing challenge but it would be further justification that having my leg amputated was the correct decision – I wouldn't have been able to even dream about doing such a crazy challenge if I had kept the leg," he said.
And it's not just his career that has changed since his injury, but his whole outlook on life: "I now use the expression that life is 10 per cent the situation you are in," he said, "and 90 per cent what you do about it".
"Me being blown up was my 10 per cent, and what I'm doing now – rowing the Atlantic, training for Rio, my new career in motivational speaking, this is the 90 per cent I control," he said.
Register for free to continue reading
Registration is a free and easy way to support our truly independent journalism
By registering, you will also enjoy limited access to Premium articles, exclusive newsletters, commenting, and virtual events with our leading journalists
Already have an account? sign in
Join our new commenting forum
Join thought-provoking conversations, follow other Independent readers and see their replies