Royal Marines in danger of being sacrificed to 'short-term bookkeeping', says Defence Committee report
Leaked reports say up to 2,000 Marines out of a total force of 6,600 could be axed
Kim Sengupta
Defence Editor
Sunday 04 February 2018 01:25 Comments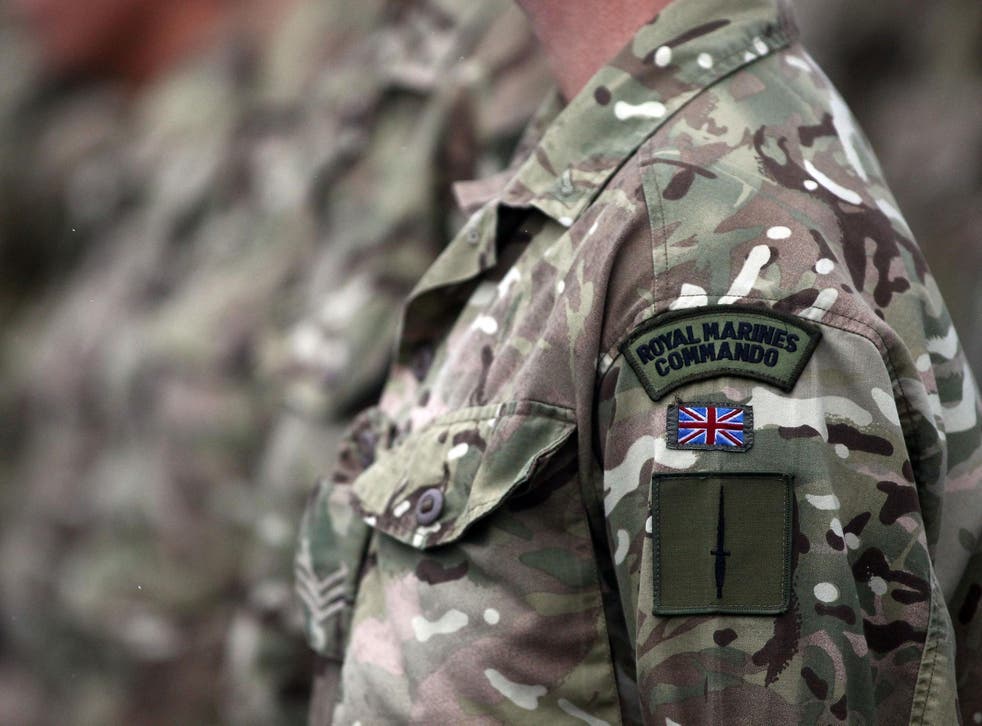 After more than three-and-a-half centuries of service to the nation, Her Majesty's Corps of Royal Marines is in danger of being sacrificed to "short-term Treasury bookkeeping", according to a highly critical Commons Defence Committee report that warns of the damage which may be caused to the nation's security in an ongoing government review.
The MPs hold that proposals to cut the numbers of the Marines and drastically reduce the size of the amphibious fleet "would be an irreparable act of folly" and a "militarily illiterate" act. It continues: "The UK is one of the few nations that have a sovereign capability in this specialism. Reductions of the type and scale that are reportedly being contemplated would wipe this out, and there would be no going back."
There have been leaked reports that up to 2,000 Marines out of a total force of 6,600 may be axed and the Royal Navy's two amphibious assault ships, HMS Albion and HMS Bulwark, could be put out of service in a cost-based restructuring process. The money saved is supposed to be used to free up crew for the two new aircraft carriers, HMS Queen Elizabeth and HMS Prince of Wales.
Theresa May's national security advisor, Mark Sedwill, is carrying out a National Security Capability Review which is aiming to provide greater resources to counter-terrorism and cyberwarfare at a time when around £20bn needs to be saved from the defence budget.
A key problem had been the fall in the value of sterling since the EU referendum which, by some estimates, has added up to £700m to defence costs with military equipment, including warplanes for the new carriers, having to be bought from the US priced in dollars.
These will rise even more with the possibility of a further fall of the pound due to the continuing uncertainties surrounding the terms of Brexit.
The Defence Committee report, titled Sunset for the Royal Marines?, maintains that losing amphibious capability jettisons both security and public money.
It said: "Disposing of our amphibious capability would not only put the interests of this country at serious risk, but would also be a drastic waste of tailor-made vessels, expensively refitted for another 15 years' use, and of a military specialism that has been fostered across all three services."
It continues that losing specialist amphibious vessels may put the lives of servicemen and women in jeopardy: "There is no substitute for these dedicated and sophisticated platforms. Attempts to create stop-gap solutions, with vessels that are not designed for the purpose, will result in the assumption of wholly unacceptable levels of operational risk."
The report concludes: "At a time when the UK is seemingly considering divesting itself of these units and platforms, virtually every other international defence power is investing in them.
"The world is changing and the Royal Navy and Royal Marines need to change with it. However, if the price of such change is the sacrifice of this country's amphibious capability, we can only conclude this to be a short-sighted, militarily illiterate manoeuvre totally at odds with strategic reality."
World news in pictures

Show all 50
Major General Julian Thompson, who commanded the Marines in the Falklands War, and is now professor of war studies at King's College London, told The Independent: "It seems crazy to contemplate losing these great assets we are fortunate to have. As far as cost is concerned, these ships have already been built, it's not as if you have to have them built or buy them.
"These are very short-term, blinkered measures. We may well find that we shall need such a force again in the future. Then we will have to end up paying for new ships. But what you can't buy at short notice are trained, experienced Marines. We need very careful thinking in this review. The ultimate decision, of course, is the Prime Minister's."
Dr Julian Lewis, Defence Committee chair, said: "In January, we were told that the Albion and Bulwark were not due to leave service until 2033 and 2034 respectively. That such irreplaceable ships are in line for deletion 15 years early demonstrates, yet again, the desperate inadequacy of the defence budget.
"We must reinstate a target of around 3 per cent of GDP – the percentage which we spent right up to the mid-1990s, long after the 'peace dividend' cuts, at the end of the Cold War, had been made."
Nia Griffith MP, the Shadow Defence Secretary, said: "This report underlines yet again that any more cuts to the Royal Marines would have a profound impact on our national security and any decision to sell off our amphibious assault ships would also compromise our ability to conduct essential operations and leave us trailing behind other defence powers.
"The Government cannot continue to dodge scrutiny and attempt to pass the buck on to the service chiefs. It is this Conservative Government who have forced through damaging defence cuts and it is the Defence Secretary who will have the final say.
"The defence review that is currently underway must be driven by strategy and a clear sense of the personnel and equipment that are necessary to Britain's defences. This cannot simply be about making further short-sighted and damaging cuts to our national security, the sad hallmark of Conservative defence policy to date."
Register for free to continue reading
Registration is a free and easy way to support our truly independent journalism
By registering, you will also enjoy limited access to Premium articles, exclusive newsletters, commenting, and virtual events with our leading journalists
Already have an account? sign in
Join our new commenting forum
Join thought-provoking conversations, follow other Independent readers and see their replies