Royal Navy base construction begins in Bahrain as Britain seeks a return to 'East of Suez'
The major strategic shift has dismayed human rights campaigners
Jamie Merrill
Sunday 01 November 2015 14:14 Comments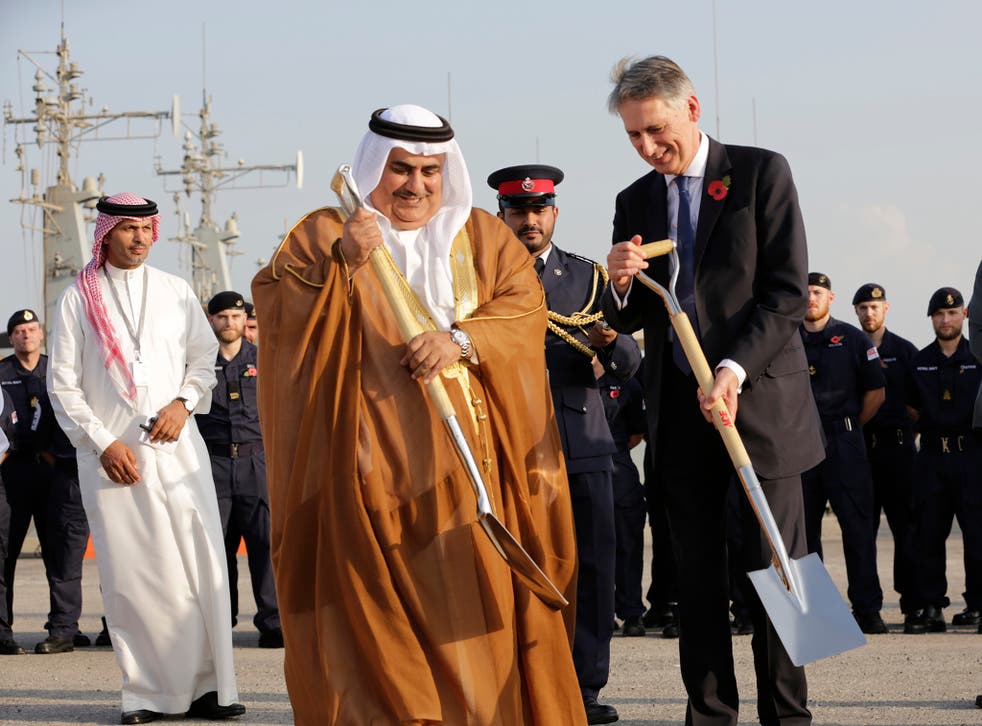 Construction has begun on a controversial Royal Navy base in Bahrain, as Britain's seeks a return to "East of Suez" in a major strategic shift that has dismay human rights campaigners.
Foreign Secretary Philip Hammond travelled to the Gulf kingdom this weekend to break ground on HMS Juffair, the first major naval base opened by Britain in the east of the Suez canal since 1971.
The ceremony Mina Salman Port in Bahrain comes as the UK is pushing to strengthen economic and military ties in the region, but has prompted outcry from human rights campaigners who say the ruling Al Khalifa family in Bahrain is overseeing an on-going crackdown on human rights and freedom of expression.
Mr Hammond said the beginning of construction at Mina Slaman Port marked a "watershed moment" in the UK's commitment to the region and ensuring stability in the Gulf.
He said: "The presence of the Royal Navy in Bahrain is guaranteed into the future, ensuring Britain's sustained presence east of Suez. The new facility will enable Britain to work with our allied to reinforce stability in the Gulf and beyond."
The Royal Navy base was first announced in December last year, amid allegations the base was "reward" for Britain's silence over on-going human rights violations in the Gulf state. Since then the Amnesty International and Human Rights Watch have noted with growing concern that the Bahraini government has arrested a sting of political leaders.
This weekend's announcement that construction has started on the base, which will support four UK minesweeper as well as visiting frigates and destroyers, has provoked fresh criticism as it comes after a major Amnesty International report found that human rights abuses continued "unabated" in Bahrain.
The report, which was released earlier this year, documented dozens of cases of detainees being beaten, deprived of sleep and adequate food, burned with cigarettes, sexually assaulted and subjected to electric shocks.
"All the British government's policies show is a commitment to military expansion at the cost of human rights," said Sayed Ahmed Alwadaei, director of Advocacy at the Bahrain Institute for Rights and Democracy. "Bahrain continues to systemically arbitrarily arrest, torture and silence any critic of the government. This new base is totally inappropriate."
Campaigners are also dismayed that the Royal Navy has chosen to name HMS Juffair after a 1930s colonial base in the country, amid suggestions that the UK is "celebrating a legacy of repression".
Mr Hammond admitted that "Bahrain is not perfect by any means", but told BBC News that the ruling family was "taking steps" to improve its human rights record.
The base will provide support and accommodation for around 80 UK military personnel based in Bahrain, and end a British reliance on the facilities of the far larger US Navy Fifth Fleet which is also based at the port. It is expected to be complete by autumn 2016 and will eventually provide port facilities for the Royal Navy's new generation of aircraft carriers.
It is expected to be opposed by Labour leader Jeremy Corbyn, who put down an Early Day Motion in Parliament against the new base in February. It argued that the base would be "deeply upsetting for those who suffered human rights abuses by the government of Bahrain" and would "exacerbate tensions in the region."
A Foreign Office spokesperson said the Government did not "shy away" from challenging Bahrain on human rights issues.
UK-saudi talks on 'judicial co-operation'
Britain is still in discussions with Saudi Arabia about co-operating on justice issues despite cancelling a bid to run prison training services in the Gulf state, the Human Rights minister has revealed.
Dominic Raab said the British Embassy in Riyadh was in "ongoing discussions" with the Saudi authorities on possible areas of judicial co-operation but that the Government has not yet carried out any work in the country.
The talks relate to a memorandum of understanding signed in September 2014 designed to foster "dialogue on human rights and an exchange of expertise on justice and legal matters", according to the Government.
The admission – in a series of written parliamentary answers to Labour's justice spokesman Andy Slaughter – comes just weeks after the Justice Secretary, Michael Gove, succeeded amid cabinet opposition in cancelling the £5.9m prison training bid in Saudi Arabia – a country notorious for public beheadings, floggings and torture.
Arj Singh
Register for free to continue reading
Registration is a free and easy way to support our truly independent journalism
By registering, you will also enjoy limited access to Premium articles, exclusive newsletters, commenting, and virtual events with our leading journalists
Already have an account? sign in
Join our new commenting forum
Join thought-provoking conversations, follow other Independent readers and see their replies