Rupert Murdoch 'heckled with abuse on trip to Hackney cinema'
'We are the majority now you, c***!' says fellow cinema-goer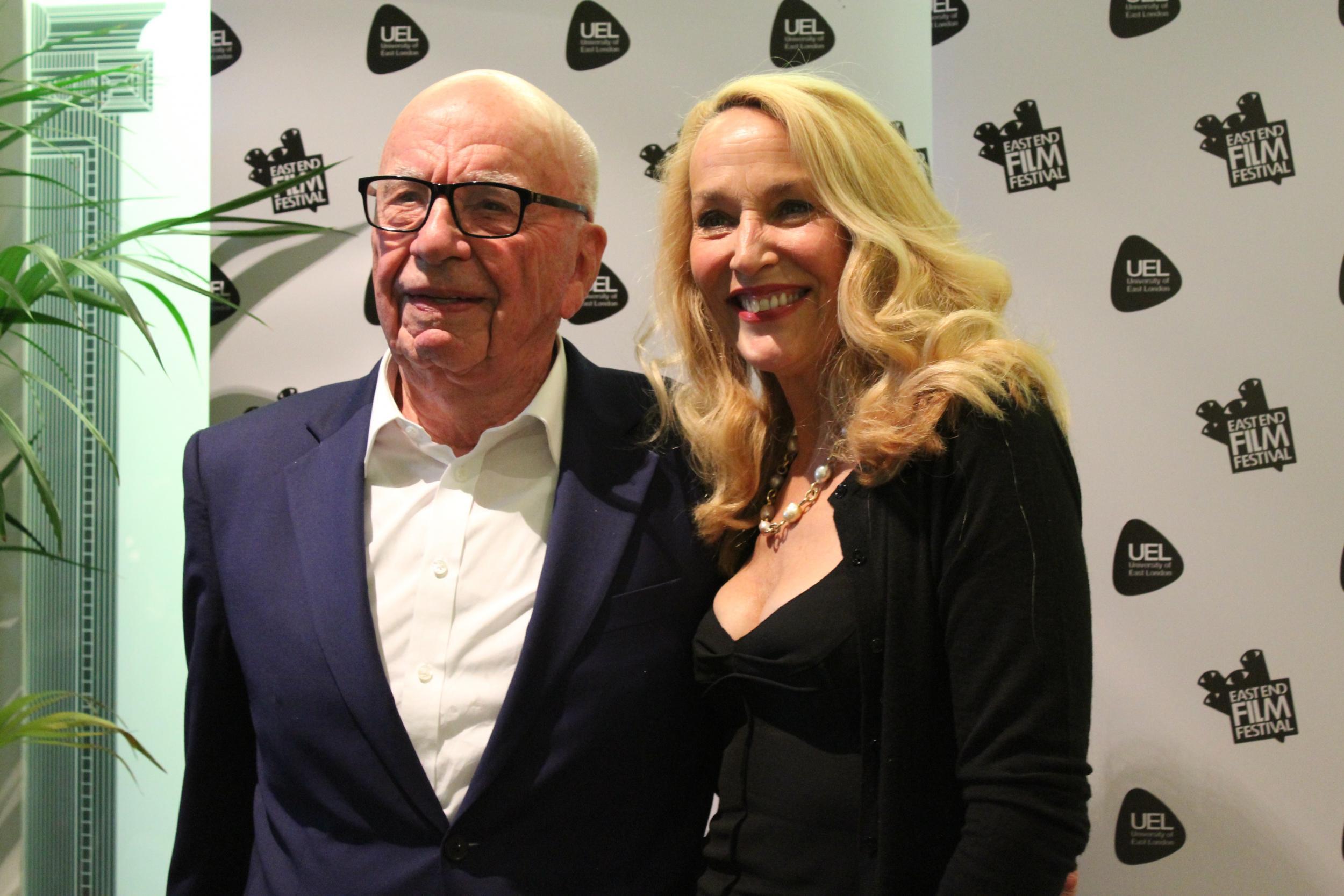 The borough of Hackney might be routinely cited as one of the plainest examples of gentrification in London but few would say it has reached the stage where you rub shoulders with Rupert Murdoch on an outing to the local cinema.
Nevertheless, it seems the North-East Inner London borough has reached this curious yardstick. The media mogul and his wife Jerry Hall took a trip to Hackney Picturehouse to watch The Forgotten Man – a film about homelessness in contemporary London – in which Hall has a brief cameo.
The irony of Murdoch's presence was not lost on fellow cinema-goers, with one spectator reportedly throwing some casual abuse at the billionaire businessman.
Michael Gove and Rupert Murdoch's relationship should be investigated, says Private Eye editor Ian Hislop
Murdoch and Hall apparently attempted to make a discreet exit just before the question and answer session hosted by East End Film Festival (EEFF) kicked off but had no such luck.
According to local Hackney news site Loving Dalston, the pair were spotted by a young Corbynista who shouted: "We are the majority now, you c***!"
It goes without saying this was a nod to Jeremy Corbyn's success in the recent general election in spite of the unfavourable coverage meted out to him in Murdoch's papers. The Sun newspaper featured an election day front page showing the Labour leader residing in a rubbish bin, simply because his name rhymes with "bin".
Addressing his constituents at the count for his West Bromwich East seat, the Labour's deputy leader, Tom Watson, argued the British public "saw through the lies of the Murdoch machine" that attempted to "frighten" people into voting for the Tories. Defying party expectations, Mr Corbyn's party grew its share of the vote by 9.6 per cent, increasing the Labour vote by the largest margin in any election since 1945.
Arriving at the cinema, which is opposite Hackney Town Hall and next to what is arguably one of London's most raucous and "colourful" Wetherspoons, the Australian mogul and his fourth wife watched the on-screen black-and-white portrayal of a struggling young actor in a theatre group for homeless people.
The fictional group is based on Cardboard Citizens – Britain's only professional theatre company for homeless people. Adrian Jackson, the artistic director and CEO of Cardboard Citizens, was also in the audience to witness the abuse levied at Murdoch.
"Jerry Hall makes a cameo appearance in the film so appeared at Hackney Screening with her husband (a certain Rupert Murdoch)," he noted in a Facebook post. "As he slid off (slithered?) a cry of C**t went up. I doubt he will come back to Hackney."
East End film festival director, Alison Poltock, told The Independent it was a shame Murdoch had not been able to stay for the Q&A session, saying: "It would have been good if he had been there for the debate but at least he saw the film."
She added: "As a festival EEFF is committed to inclusivity, equality and championing the viewpoints of the marginalised. As such, we're fundamentally opposed to voices that preach division, discrimination and prejudice.
"We welcome any opportunity to host debate with people pursuing that agenda. Unfortunately Mr Murdoch left the screening before that debate could begin. The film in question, Forgotten Man addressed the stigma of homelessness so I truly hope it gave him a perspective on how destructive stigma can be."
Murdoch and Hall wedding blessing
Show all 14
Murdoch, who according to Forbes' real-time list of world's billionaires is the 34th richest person in the US, backed Donald Trump during the presidential election. This alliance is reported to have been partially instigated by Mr Trump's son-in-law and senior aide, Jared Kushner, who is friends with Murdoch.
A day after the Brexit result, President Trump dined with Murdoch; the President also tweeted his support for the press baron in January, saying: "Rupert Murdoch is a great guy who likes me much better as a very successful candidate than he ever did as a very successful developer!"
The pair, who were both media celebrities in New York, have known each other for decades.
Representatives for Hackney Picturehouse and for Murdoch did not immediately respond to requests for comment.
Join our commenting forum
Join thought-provoking conversations, follow other Independent readers and see their replies